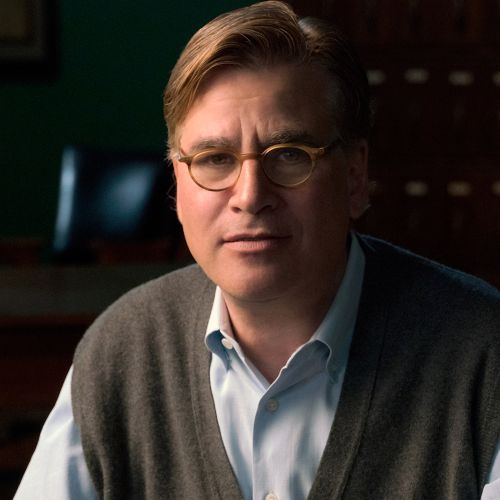 Inquire below to book
Aaron Sorkin
Academy Award-Winning Writer
At a Glance
Aaron Sorkin

: Biography at a Glance
Aaron Sorkin is the renowned writer and playwright best known for works including A Few Good Men, The Newsroom, The Social Network, Moneyball, Steve Jobs, Molly's Game, and The West Wing.
Sorkin also wrote and directed The Trial of the Chicago 7, which was nominated for 6 Academy Awards, and Sorkin himself won a Golden Globe for Best Screenplay.
Created and produced the NBC series The West Wing, which won a total of 26 Emmy Awards, including the prize for "Outstanding Drama Series" four consecutive times.
His Broadway adaptation of the classic novel To Kill A Mockingbird has been nominated for nine Tony awards.
Won the Academy Award, Golden Globe, Critics Choice, and BAFTA Award for "Best Adapted Screenplay" for The Social Network - which appeared on over 350 critics' lists of the top ten films of 2010.
Won the Critics Choice Award and New York Film Critics Award for "Best Adapted Screenplay" for Moneyball, also earning four Academy Award nominations including "Best Picture" and "Best Adapted Screenplay."
Made his Broadway debut at the age of 28 with A Few Good Men, for which the film adaptation was nominated for 4 Academy Awards, including "Best Picture," and 5 Golden Globes, including "Best Screenplay."
Biography
Academy-Award® winning writer and renowned playwright Aaron Sorkin graduated from Syracuse University with a B.F.A. in Theatre.
He made his Broadway playwriting debut at the age of 28 with the military courtroom drama, A Few Good Men, for which he received the John Gassner Award as "Outstanding New American Playwright." The following year saw the debut of his off-Broadway play, Making Movies, and in 2007 he returned to Broadway with The Farnsworth Invention, directed by Des McAnuff.
In 1993, Mr. Sorkin's film adaptation of A Few Good Men was nominated for four Academy Awards®, including "Best Picture," and five Golden Globes, including "Best Screenplay." He followed this success with the screenplays for Malice, starring Alec Baldwin and Nicole Kidman, The American President, starring Michael Douglas and Annette Bening, and Charlie Wilson's War, starring Tom Hanks, Philip Seymour Hoffman, and Julia Roberts.
In 2011, Mr. Sorkin won the Academy Award®, Golden Globe, Critics Choice, and British Academy of Film and Television Arts Award (BAFTA) for "Best Adapted Screenplay" for The Social Network. In addition, he also won the Writers Guild Award and the USC Scripter Award. The film, directed by David Fincher, was nominated for eight Academy Awards including "Best Picture," was named "Best Drama" at the Golden Globes and appeared on over 350 critics' lists of the top ten films of 2010.
In 2012, Mr. Sorkin adapted Moneyball along with Steve Zaillian and story by Stan Chervin. The film, which was directed by Bennett Miller and starred Brad Pitt, won Mr. Sorkin the Critics Choice Award and New York Film Critics Award for "Best Adapted Screenplay." It also earned four Academy Award® nominations including "Best Picture" and "Best Adapted Screenplay."
Mr. Sorkin wrote the feature film Steve Jobs, based on the Walter Isaacson biography of the late Apple co-founder. This adaptation garnered him a Golden Globe award for "Best Screenplay," as well as nominations for a Broadcast Film Critics' Association (BFCA) Critics' Choice Award, Writers Guild Award, and multiple regional critics' association awards.
For television, Mr. Sorkin created and produced the NBC series "The West Wing," which earned nine Emmy nominations in its first season. The series went on to win a total of 26 Emmy Awards, including the prize for "Outstanding Drama Series" four consecutive times. For his work on the series, Mr. Sorkin twice received the Peabody Award and the Humanitas Prize, as well as three Television Critics Association Awards and Producers Guild Awards, a Golden Globe Award, and a Writers Guild Award. He also produced and wrote the television series "Sports Night" for ABC, which won the Humanitas Prize, the Television Critics Association Award, and garnered eight Emmy nominations. Additionally, Mr. Sorkin created the series "Studio 60 on the Sunset Strip." The series took place behind-the-scenes of a live sketch-comedy show and received five Emmy nominations in 2007.
In 2012, Sorkin made his return to television with the HBO drama, "The Newsroom," bringing in an average of 7 million viewers per episode. Set behind-the-scenes of a cable news show, the ensemble cast is led by Jeff Daniels, who went on to win an Emmy Award for "Best Actor" for his performance on the show, Emily Mortimer, and Sam Waterston. The show won a Critics Choice Television Award for "Most Exciting New Series" and has been nominated for numerous awards, including five Primetime Emmy Awards, a Golden Globe Award for "Best Television – Drama," a WGA, and DGA Award. The third and final season aired on HBO in 2014, closing the series on a ratings season high. 
In 2018, Sorkin's stage adaptation of Harper Lee's iconic American novel "To Kill a Mockingbird" opened on Broadway with Scott Rudin producing. The production was staged by Tony-nominated director Bartlett Sher, best known for his Broadway revivals of The King and I and Fiddler on the Roof. Sorkin also wrote and directed The Trial of the Chicago 7, which was nominated for 6 Academy Awards, and Sorkin himself won a Golden Globe for Best Screenplay.
For speaker-related inquiries, email speakers@caa.com, or send us a message using the form below.