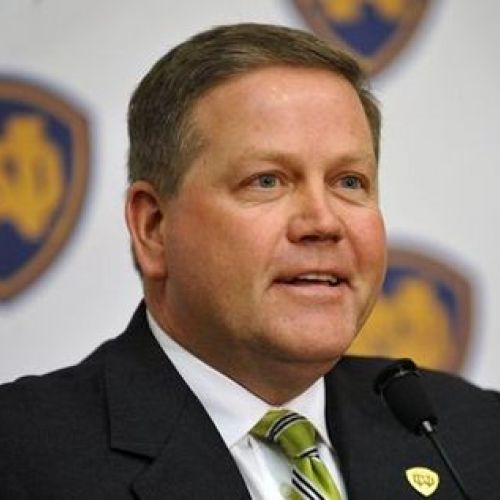 Inquire below to book
Brian Kelly
Head Football Coach, University of Notre Dame
At a Glance
Brian Kelly

: Biography at a Glance
Head coach of the Notre Dame Fighting Irish football team
Led the Fighting Irish to an undefeated season and the National BCS Championship game in 2012
Former head coach of the University of Cincinnati
Established the Kelly Cares Foundation to support organizations that closely align with the Kelly family goals and values relating to health, education, and community 
Biography
Brian Kelly built a fabled career of taking struggling teams and rebuilding them from the ground up into championship caliber powerhouses in a short time. Currently serving as the Head Football Coach at the University of Notre Dame, Kelly led the once struggling Fighting Irish to an undefeated 2012 season heading into the National BCS Championship game in only his third year. An avid student of the game, Kelly has clear strategies to building a winning team by preparing every member, whether on the field or from the sidelines, with equal urgency–a successful formula that's earned him eleven Coach of the Year honors.
At the heart of Kelly's philosophy is his "Next Man In" credo. An essential aspect of his long-term strategy, Kelly trains every member of his team to "be ready when your time comes" both physically and mentally. Kelly says, "We start in the offseason building trust with the entire group that when it's your time, you better be ready, and that means you better do all the things that are necessary. There are going to be injuries. There are going to be times you're called upon. You can't let your teammates down."
Prior to joining the University of Notre Dame, Kelly was the Head Coach at the University of Cincinnati where he led the Bearcats to two straight Big East Conference Championships and BCS appearances in the 2008 FedEx Orange Bowl and 2009 Allstate Sugar Bowl.
In addition to his coaching accomplishments, Kelly spends his time in various philanthropic areas. Along with his wife, Paqui, Kelly established The Kelly Cares Foundation to support organizations, initiatives, and programs that closely align with the Kelly family goals and values relating to health, education, and community. One of the foundation's greatest emphasis is the fight against breast cancer, a personal battle for Paqui, a two-time survivor. Brian is passionate about not only helping others during their struggle with cancer, but sharing how he and Paqui were able to overcome the disease together.
Kelly understands how to plan, build and execute a winning program. Furthermore, as a coach, he knows how to communicate and transfer these ideas to others.
Kelly and Paqui have three children: Patrick, Grace, and Kenzel. They currently live in Notre Dame, Indiana.
Reviews
Brian did a great job – his presence was extremely appreciated.
USG
To book a speaker, or for more information, call 424-288-2898, or send us a message using the form below.