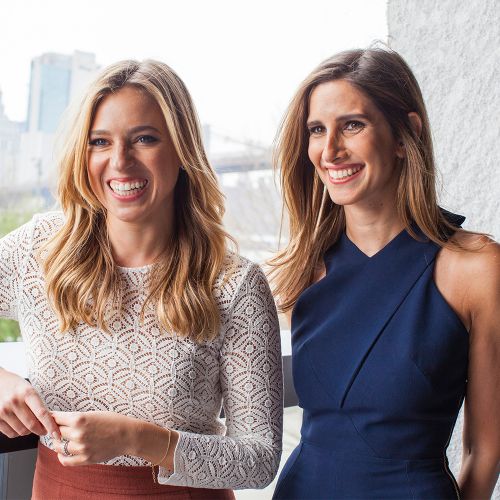 Inquire below to book
Carly Zakin & Danielle Weisberg (theSkimm)
Co-Founders & Co-CEO's, theSkimm & Bestselling Authors
New & Noteworthy
theSkimm's latest book, "How to Skimm Your Life," became an instant #1 New York Times bestseller
At a Glance
Carly Zakin & Danielle Weisberg (theSkimm)

: Biography at a Glance
Carly Zakin and Danielle Weisberg are co-founders and co-CEOs of theSkimm, a membership company dedicated to helping female millennials live smarter lives

theSkimm's book, How to Skimm Your Life, became an instant #1 New York Times bestseller

The two former news producers launched theSkimm from their couch and have built a brand that continues to be a trusted source to their more than 7 million daily subscribers

Carly and Danielle have been featured on Forbes 30 Under 30 in Media, Vanity Fair's The Next Establishment, Fortune's 40 Under 40, Adweek's Young Influentials, TIME's Most Influential People, Marie Claire's New Guard and were named one of the most 100 Intriguing Entrepreneurs by the Goldman Sachs Builders and Innovators Summit

Since the last presidential election the company's civic engagement campaign – No Excuses – activated theSkimm's audience to get involved in the political process by getting over 300,000 people registered to vote

Both Carly and Danielle will share their experience and advice of "The Entrepreneurial Journey", "Connecting with Your Consumers" and their trademark "How to Skimm Your Life"
Biography
About Carly and Danielle
Carly Zakin and Danielle Weisberg are co-founders and co-CEOs of theSkimm, a membership company dedicated to helping female millennials live smarter lives. The two former news producers launched theSkimm from their couch in 2012 and have built a brand that continues to be a trusted source to their more than 7 million daily subscribers. Carly and Danielle have been featured on Forbes 30 Under 30 in Media, Vanity Fair's The Next Establishment, Fortune's 40 Under 40, and Adweek's Young Influentials; TIME's Most Influential People, Marie Claire's New Guard and were named one of the most 100 Intriguing Entrepreneurs by the Goldman Sachs Builders and Innovators Summit. They still prefer to work from a couch.
About theSkimm
theSkimm is a membership company dedicated to helping female millennials live smarter lives. By seamlessly integrating into the existing routines of female millennials, theSkimm has become a trusted source for its community of more than seven million daily subscribers. With its suite of products, theSkimm is fundamentally changing the way this audience consumes news, considers products or services, and takes action in their own lives.
Founded in 2012 by Carly Zakin and Danielle Weisberg, theSkimm is committed to helping its members tackle big decision-making moments in life by giving them the information they need to make informed and empowered choices whether that be in civic engagement, finance, career, health, and more.
theSkimm's flagship product, the Daily Skimm, is still the fastest growing newsletter on the market, and the company's product suite has grown to engage with members at home, work, and on-the-go. This includes theSkimm app and Skimm Studios, an in-house production team for video and audio content including the podcast "Skimm'd from The Couch." The company's civic engagement campaign – No Excuses – activated theSkimm's audience to get involved in the political process by getting 100,000 people registered to vote in 2016, and 200,000 to the polls for the 2018 midterm election.
Reviews
Carly and Danielle did an amazing job. Everyone involved was just blown away.
University of North Carolina
Watermark Conference for Women
For speaker-related inquiries, email speakers@caa.com, or send us a message using the form below.