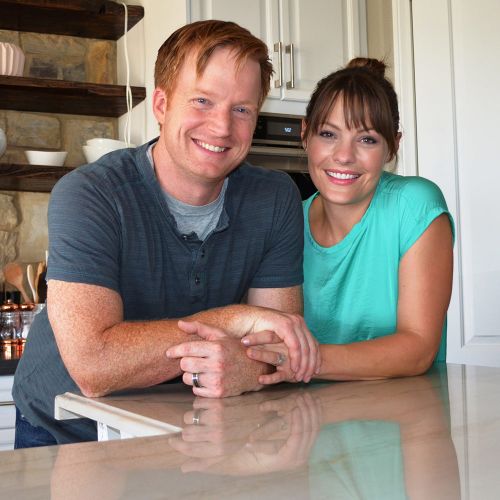 Inquire below to book Eric & Lindsey Bennett
Stars, HGTV's "Desert Flippers"
Eric & Lindsey Bennett: Biography at a Glance
Co-hosts of HGTV's home renovation show Desert Flippers
Desert Flippers takes place in the sunny city of Palm Springs, where triple digit weather calls for the highest quality homes
Both Eric and Lindsey are experienced real estate agents
Regularly renovate 20 properties a year
Stars, HGTV's "Desert Flippers"
Eric and Lindsey Bennett have gone from "under the radar" home flippers in sunny Palm Springs, CA to HGTV's Desert Flippers. The perfect marriage of family and flipping, Desert Flippers follows the Bennetts while they work alongside Lindsey's brother, "Uncle Mike" Schneider and his team of local tradesmen and tradeswomen, to battle whatever obstacles the desert throws their way. They encounter 115+ degree heat, spiders, snakes, scorpions, rodents, even squatters, but when the dust finally settles, Lindsey's attention to detail and Eric's budget minded sensibilities prove to be a winning combination.
Eric, gets his real estate prowess from his mother, a successful broker, and his knack for numbers from his father, the math teacher. He got his start selling real estate in Wisconsin and ten years ago decided to transition to mortgage lending. Lindsey, a licensed real estate agent and seasoned flipper in her own right, also comes from a family of agents, developers, and contractors. But it's her loving heart, and ability to transform an empty house into a welcome home that sets her apart. Little did Eric and Lindsey know when they flipped their first starter home back in Verona, WI, that just ten years later they would be living in Palm Springs, CA raising three beautiful children, running a booming renovating business and hosting their own television show.
Renovating 20 properties a year leaves little leisure time. However, the Bennetts like to spend their free time surrounded by family, whether at church, or at the baseball field where Eric plays and coaches his boys. They also enjoy taking family hikes along the wonderful trails in the Coachella Valley, riding the Palm Springs aerial tramway and spending time outdoors.
Season 1 of Desert Flippers wrapped shooting and premiered in August 2016. When not filming, the Bennetts are busy buying and renovating homes, working with their clients, basking in the 350 days of sunshine and spending time with their wonderful, young family.
To book a speaker, or for more information, call 424-288-2898, or send us a message using the form below.