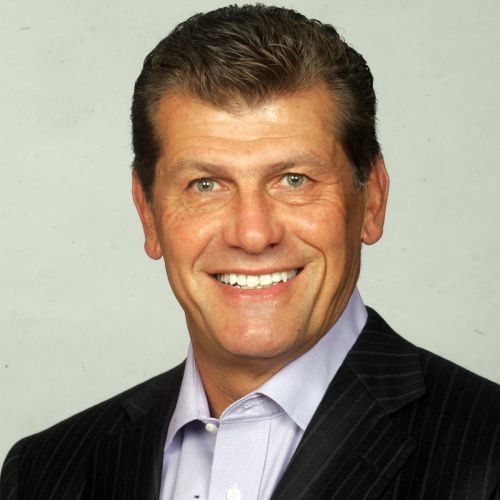 Inquire below to book
Geno Auriemma
Head Women's Basketball Coach, University of Connecticut Huskies
At a Glance
Geno Auriemma

: Biography at a Glance
Geno Auriemma has led the Connecticut Huskies women's basketball team to 11 national titles, 20 Final Fours, six perfect seasons and more than 47 conference titles
Head coach of the U.S. National Team, which won the gold medal at the 2012 Olympics in London and 2016 Olympics in Rio
Eight-time National Coach of the Year and 15-time Conference Coach of the Year
First coach in women's basketball history to guide a team to five consecutive Final Four appearances on two separate occasions
Inducted into the Naismith Memorial Basketball Hall of Fame and the Women's Basketball Hall of Fame
Biography
Geno Auriemma has redefined the meaning of success in women's college basketball in his 34 years as head coach of the University of Connecticut.
During his illustrious tenure, Auriemma has transformed the UConn program into the standard that all others are measured, both on and off the court.
Under his guidance, the Huskies have been transformed from a program with only one winning season, to its current state, which includes 11 national titles, 20 Final Fours, six perfect seasons (1995, 2002, 2009, 2010, 2014, 2016) and 47 Conference titles, all since Auriemma's arrival in 1985.
On the court, his success includes 11 national championships, including a record 90-game winning streak and a record fourth-straight national title in 2016. Off the court, success means a flawless, 100 percent graduation rate among four-year players and one of the most beloved and followed sports teams in the country.
This unmatched success, which is the standard for collegiate programs nationally, was recognized with Auriemma's induction into both the Naismith Memorial Basketball Hall of Fame (Springfield, Massachusetts) and the Women Basketball Hall of Fame (Knoxville, Tennessee) in 2006.
In addition, Auriemma recently finished a successful eight-year term as the head coach of the U.S. National Team, which won the gold medal at the 2012 Olympic Games in London and the 2016 Games in Rio. Auriemma's squad included six former Huskies and posted a spotless 16-0 record en route to the gold medals. Auriemma also led Team USA to gold at each of the last two FIBA World Championships.
He is the first coach in women's basketball history to guide a team to five consecutive Final Four appearances on two separate occasions and a run of 12 consecutive Final Four appearances is also a record. Auriemma is an eight-time national coach-of-the-year and has been named the Conference coach-of-the-year 15 times. In all Auriemma has garnered a combined total of 27 National Coach of the Year honors.
Auriemma became just the fourth women's basketball coach to reach 1,000 career wins on Dec. 19, 2017. He was the fastest coach to reach the mark, doing so in his 1,135th career game, and owns the best win percentage in the sport (.884).
Since joining the American Athletic Conference, UConn has won the league's regular season and tournament titles in each of the last six seasons while not dropping a game in conference play. UConn has swept both conference titles in the same year 21 times under Auriemma and a total of 24 Huskies have been named conference player of the year.
Auriemma is a 1981 graduate of West Chester with a B.A. in political science. He resides in Manchester, Connecticut, with his wife Kathy. They have three children and three grandchildren.
For speaker-related inquiries, email speakers@caa.com, or send us a message using the form below.