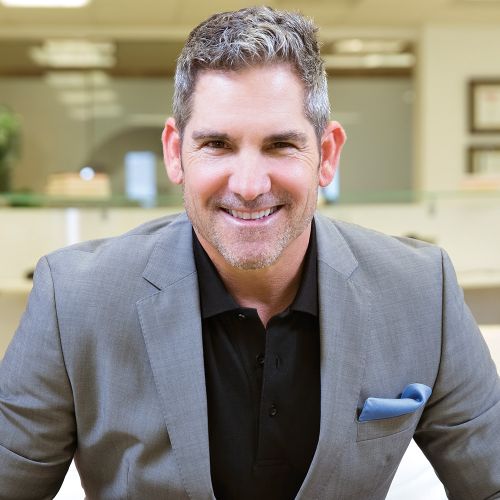 Inquire below to book Grant Cardone
CEO & Bestselling Author
Grant Cardone: Biography at a Glance
Business strategist, marketing and branding expert, the leading international sales expert in the world
Bestselling author of seven books, including the "10X Rule," "If You're Not First, You're Last," and "Sell or Be Sold"
Owner of Cardone Training Technologies, Inc., Cardone Group, Grant Cardone TV, and Cardone Acquisitions
Named #1 Marketing Influencer to Watch by Forbes in 2017
CEO & Bestselling Author
Grant Cardone is an internationally renowned business and sales expert, speaker, and author of several bestselling books. He is the creator of customized sales training programs used by Fortune 500 companies, small businesses, success-minded individuals, and entrepreneurs alike.
Cardone works with companies to grow sales by finding overlooked opportunities and customizing the sales process to be more effective. He also urges his followers and clients to make success their duty, responsibility, and obligation in order to achieve true economic freedom.
Cardone is the industry leader in corporate sales training with the most viewed online sales training sites in the world. Cardone's sales training sites have thousands of content segments used by companies like Ashley, Aflac, All State, Google, MIT, Inside Sales, Udemy, Chrysler, Toyota, Morgan Stanley, T-Mobile, AT&T, Sprint, Fran Tarkenton Companies, and many more.
Beyond Cardone Training Technologies, his sales training platform, Cardone owns several other companies including: Cardone Group, a successful software and technology firm; Cardone Acquisitions, a national real estate company that owns over 3,500 units throughout the United States; and Grant Cardone TV, a leading entrepreneur television network with popular programs such as "Whatever it Takes," "Cardone Zone," "Power Players," "Young Hustlers," "The G&E Show," "Confessions of an Entrepreneur," "Real Estate Investing," "Network Marketing Moguls," and "Ask the Pro."
Cardone is the author of seven sales and business books, including New York Times bestseller "If You're Not First," "You're Last, 10X Rule," and Axiom Award Winner "Sell or be Sold."
Cardone is renowned as a dynamic, highly sought after international speaker who captivates and motivates audiences with his engaging, entertaining and informative speaking style. Cardone also regularly appears on Fox News, Fox Business, CNBC, and MSNBC, and contributes to Entrepreneur.com and Huffington Post as a sales and marketing expert.
In 2017, Forbes named him the #1 Marketing Influencer to Watch, and in 2016 Richtopia named him one of the Top 10 Most Influential CEO's.
To book a speaker, or for more information, call 424-288-2898, or send us a message using the form below.