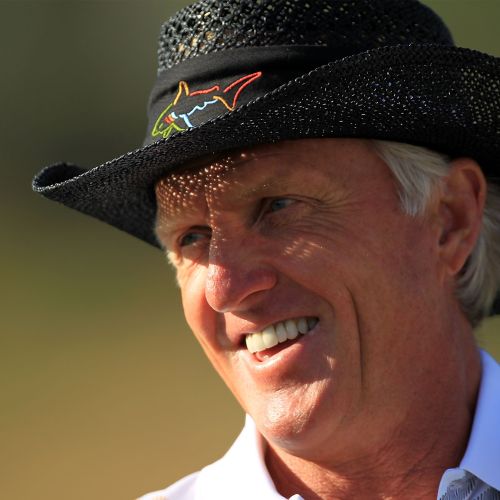 Inquire below to book
Greg Norman
Golf Legend
At a Glance
Greg Norman

: Biography at a Glance
Winner of 90 professional events around the world, including two British Open championships
Inducted into the World Golf Hall of Fame in 2001
Lead golf analyst for FOX's United States Golf Association coverage
Chairman and CEO of Great White Shark Enterprises, a mini-conglomerate with a diverse portfolio of companies ranging from lifestyle-driven consumer products, golf course design, event management to asset-based debt lending
Raised more than $12 million for charities
Biography
Arguably the most successful athlete-turned-businessman in the world, Greg Norman is known as much for his entrepreneurial spirit in the boardroom as his dominance on the golf course. The internationally recognized "Great White Shark" won more than 90 tournaments worldwide, including two British Open Championships, and claims the distinction of having held the No. 1 position in the world rankings for 331 consecutive weeks.
As one of the most prolific players in the game's history, the culmination of an astounding career came in 2001 when he was inducted into the World Golf Hall of Fame. In 2009 and 2011, Greg served as the Presidents Cup Captain of the International Team and his strong influence in the game continues today as lead golf analyst for FOX's USGA coverage.
Legendary for his tenacity and pursuit of perfection, Greg Norman has approached business with the same vigor with which he attacked the golf course and has parlayed his success into a multi-national corporation, Great White Shark Enterprises, which he currently serves as Chairman & CEO. With 20 different businesses today, GWSE is a mini-conglomerate with a diverse portfolio of well-established and successful companies ranging from lifestyle-driven consumer products (apparel, wine), to golf course design (95 international courses), to event management (3 PGA TOUR events), to asset-based debt lending (Great White Shark Opportunity Fund).
Additionally, his philanthropic efforts have quietly raised more than 12 million dollars for charities including CureSearch for Children's Cancer and the Environmental Institute for Golf promoting sustainability and environmental responsibility.
While his well-documented accomplishments on the golf course have assured his place in sporting history, his sound business acumen has established him as world-class entrepreneur.
Reviews
Greg was a HUGE hit! He was so personable and accommodating to all of our guests. His talk was a fireside chat and it was amazing. It could not have gone better. Thanks again for everything and I hope we can work together again in the future.
Manager, Brand and Marketing Communications, North America, Tata Consultancy Services
For speaker-related inquiries, email speakers@caa.com, or send us a message using the form below.