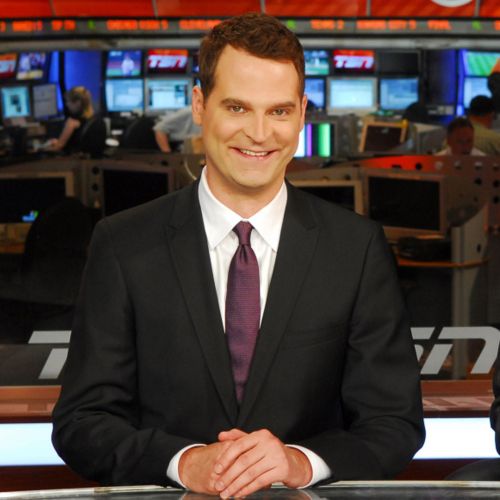 Inquire below to book Jay Onrait
Co-Host, TSN's "SportsCentre"
Jay Onrait: Biography at a Glance
Co-host of the weekday broadcast of TSN's "SportsCentre" alongside Dan O'Toole
"SportsCentre" brings viewers a complete summary of the day's sports events, including highlights and post-game reports
Former co-host of Fox Sports Network's "Fox Sports Live"
Previously hosted TSN's "Sportscentre Morning Rush", the NHL Network's "NHL on the Fly" and "Molson That's Hockey 2" and "A-Channel's Big Breakfast"
Co-hosted daily live editions of "SportsCentre" from London during the 2012 Summer Olympics
Co-Host, TSN's "SportsCentre"
Jay Onrait and Dan O'Toole currently host SportsCentre on TSN.
Onrait is a native of Athabasca, Alberta. Onrait first joined TSN in 1996 as an editorial assistant while attending Ryerson University (Toronto). He later went on to become sports director at CFSK-TV in Saskatoon and then spent two years as the host of the Big Breakfast on the A-Channel in Winnipeg. Onrait then joined NHL Network in 2001 as host of both the network's flagship show NHL on the Fly and Molson That's Hockey 2. He moved to TSN in 2002 and began co-hosting SportsCentre alongside Dan O'Toole in 2003. In 2006, Onrait began blogging at TSN.ca. Topics included the Stanley Cup and the NBA, as well as an all-day blog about the NHL trade deadline. His posts were spiced with references to pop culture. In October 2010 he also became the host of the Sportscentre Morning Rush on TSN2 until it was taken off the air in October 2011.
During the 2010 Winter Olympics in Vancouver, Onrait served as co-host of Olympic Morning alongside Beverly Thomson. During the 2012 Summer Olympics in London Onrait co-hosted daily live editions of SportsCentre from London alongside O'Toole.
In 2013, O'Toole and Onrait left TSN and Canada to join the newly created Fox Sports 1 channel based in Los Angeles. There they were the hosts of Fox Sports Live. In early 2017, after FSN cancelled their show, O'Toole and Onrait both re-signed at TSN in their previous roles.
To book a speaker, or for more information, call 424-288-2898, or send us a message using the form below.