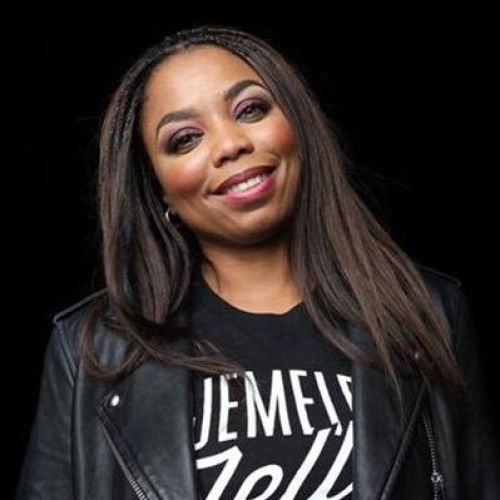 Inquire below to book Jemele Hill
Emmy Award-Winning Journalist; Host, "Jemele Hill is Unbothered"
Jemele Hill: Biography at a Glance
Contributor to ESPN's The Undefeated, a platform that fuses sports, race and culture
Hosted ESPN's flagship SportsCenter and His and Hers, a statistics-based sports discussion program that got its start as a podcast created by Hill and Michael Smith
Joined ESPN as a national columnist, where she regularly wrote a column for ESPN.com's Page 2
Made regular appearances across a variety of television programs, including ESPN First Take, Outside the Lines and The Sports Reporters
Awarded the inaugural Van McKenzie Cup, which was created to recognize a journalist who best exemplifies the traits of the innovative sports editor
Biography
Emmy Award winning journalist, Jemele Hill is the co-founder of Lodge Freeway Media and a staff writer for The Atlantic.
Hill was previously the chief correspondent and senior columnist for The Undefeated, ESPN's content initiative exploring the intersections of sports, race and culture. While at the Undefeated, Hill wrote, conducted newsmaker interviews, offered commentary of content for The Undefeated's digital, television and audio platforms. She also hosts events and other important initiatives, including The Undefeated town halls and television specials.
Prior to joining The Undefeated, Hill co-anchored SportsCenter for a year with her longtime friend and colleague Michael Smith. SC6 with Michael & Jemele debuted in February 2017 as a more personality driven approach to the traditional 6 p.m. SportsCenter. Focusing on sports, music, movies and more, SC6 was born from Hill and Smith's popular His & Hers podcast and weekday television show, which debuted on ESPN2 in 2014.
In August 2018, the National Association of Black Journalist awarded Hill with Journalist of the Year Award. In July 2016, Hill participated in The President and the People: A National Conversation – a one-hour town hall with President Barack Obama on race relations, justice, policing and equality .
Before joining ESPN, Hill was a sports columnist for the Orlando Sentinel from 2005–06 – the lone African-America female sports columnist in the country.
A native of Detroit, Hill is a Michigan State Alum.
"Everyone loved her. All of our employees said they felt inspired and that she helped shape their perspectives. She had quite the impact on people here."

W+K
"The students really enjoyed having her. She is a very intelligent and observant person, with a really interesting perspective to offer."

Emory University
"Jemele was truly amazing. She electrified the crowd, inspired us with her thoughtful message and challenged us all to give our very best each and every day."

Atlanta Hawks
To book a speaker, or for more information, call 424-288-2898, or send us a message using the form below.