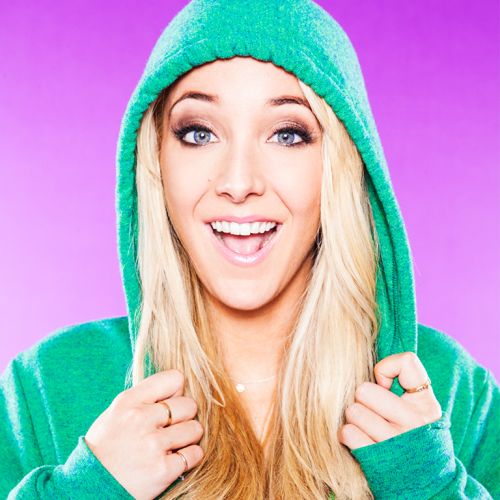 Inquire below to book
Jenna Marbles
Social Media Personality & Blogger
At a Glance
Jenna Marbles

: Biography at a Glance
Runs one of the most popular YouTube channels with more than 15 million subscribers
Drew more than 5.3 million views in a week with the video "How To Trick People Into Thinking You're Good Looking"
Hosts SiriusXM's "The YouTube 15," which features emerging and trending music
Won the Young Hollywood Award for "viral superstar" and the Streamy Award for top "first person" channel
Biography
Jenna Marbles is an American YouTube personality. Jenna attended Brighton High School in Rochester, New York. Later, she moved to Boston, Massachusetts to attend college at Suffolk University, obtaining a B.S. in Psychology. She then attended Boston University and obtained her Master's in Sport Psychology and Counseling. Jenna initially started her blogging career with Barstool Sports in Boston, where she wrote for their female counterpart StoolLaLa. Jenna was born Jenna Mourey but later took her dog Marbles' name as her pseudonym, Jenna Marbles.
Jenna's video "How To Trick People Into Thinking You're Good Looking" had over 5.3 million views in its first week. Her video "How To Avoid Talking To People You Don't Want To Talk To" was featured in an August 2011 article in the New York Times and ABC News in which she said: "I'm sick and tired of guys thinking that just because I showed up at a club or a dance or a bar, that I want to have their genitalia touching my backside."
Jenna releases a new video every Wednesday aka #SexualWednesday, in which she films, edits and uploads the videos independently from her home. Jenna also has a show on SiriusXM's Hits 1, 'The YouTube 15' featuring emerging and trending music.
In 2013 Jenna released a brand of dog toys called Kermie Worm & Mr. Marbles. The toys' appearances are based upon her real dogs. She has also created assorted items with some of her most memorable quotes on them (e.g. 'what are this?' and 'Pipe The F Down')
In March of 2013 Jenna flew to Dublin, Ireland to accept two prestigious awards, the James Joyce Award from the University College Dublin and the Bram Stoker Award from Trinity College Dublin. In July of 2014 Jenna received the Young Hollywood award for 'Viral Superstar'. In September of 2014 Jenna received the Streamy Award for 'First Person'.
Jenna resides in Los Angeles, California with her two dogs, Mr. Marbles, a Chihuahua and Kermit, an Italian Greyhound. Jenna is not signed to a network resulting in her working completely independently. Jenna's YouTube channel currently has over 15.4 million subscribers, making it one of the most subscribed to channels on YouTube and the top channel operated by someone working independently of a network, Jenna is also the only female in the top channels.
Jenna has appeared in many YouTube video collaborations and television shows and movie cameos including, The Show With Vinny (MTV), Annoying Orange (YouTube), Epic Meal Time (YouTube), Epic Rap Battles of History: Adam vs Eve (YouTube), Rob Dyrdek's Ridiculousness (MTV) and Road Hard (Adam Corolla movie).
Reviews
The event went great!!! We had a 1,000+ people in attendance which was right at our capacity. Jenna was great with our students and answered questions honestly and offered some wise words in her own special way. We have no complaints!
University of Illinois
The talk went phenomenal, we've had amazing responses from our students who attended the discussion. We were able to touch on a lot of topics that were directly relevant to our institution. Jenna was amazing to work with, super friendly, and if given the chance (and if the cold didn't scare her off) we'd love to have her back one day. All in all, nothing but good things to say!
University of Lethbridge
For speaker-related inquiries, email speakers@caa.com, or send us a message using the form below.