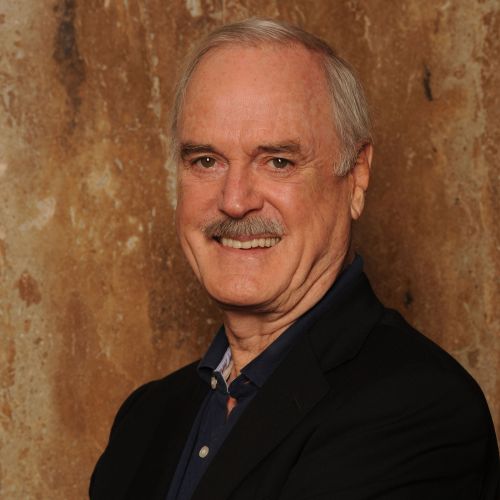 Inquire below to book
John Cleese
Actor & Comedian
At a Glance
John Cleese

: Biography at a Glance
John Cleese co-founded the legendary comedy troupe Monty Python
Co-wrote and starred in British sitcom "Fawlty Towers," won the BAFTA for Best Entertainment Performance
Co-wrote and starred in "A Fish Called Wanda," won the BAFTA Award for Best Actor
Founder of Video Arts, the world's largest provider of business training programs
Author of the bestselling memoir "So, Anyway..."
Biography
John Cleese is both a versatile comedic actor and a leading business motivator. Through the legendary Monty Python Troupe, classic sitcom "Fawlty Towers," and acclaimed film "A Fish Called Wanda," Cleese created a unique comedic style that has inspired countless writers and comedians.
John Cleese's influence is also felt in the corporate world as the founder of Video Arts, the world's largest provider of business training programs. Established in 1972, Video Arts has gained an international reputation as the premier source for business know-how.
Cleese attributes his success at making hit training programs to his fascination with psychology and his love for teaching and making people laugh. He believes that "humor in training increases retention and decreases anxiety. When the training point is surrounded with humor, it can be readily digested, remembered and applied." As a frequent lecturer and public speaker, Cleese's boundless energy and inimitable sense of humor create a hilarious exploration of business basics, from corporate etiquette and customer service to creative thinking and problem solving.
"The world's funniest man" first made his mark as a member of the legendary Monty Python troupe in the 1960s, starring on Monty Python's Flying Circus, which aired from 1969 to 1984 on the BBC. The troupe was behind the legendary comedies "Monty Python and the Holy Grail," "Life of Brian," and "The Meaning of Life."
After Monty Python, Cleese rose to even greater prominence through his role as the neurotic hotel manager Basil Fawlty in British sitcom "Fawlty Towers," which he created and co-wrote. "Fawlty Towers" won three BAFTA Awards and topped the British Film Institutes list of 100 Greatest British Television Programs compiled in 2000.
Cleese went on to write, produce, direct, and star in some of the greatest comedic hits of the last forty years, including the landmark film "A Fish Called Wanda," for which Cleese won the BAFTA Award for Best Actor, and was nominated for the Academy Award for Best Original Screenplay and the Golden Globe for Best Comedic Actor.
Beyond comedy, Cleese has been able to successfully parlay his enormous talents into advancing the political causes he believes in (he is a vocal supporter of the UK's Labour Party), promoting education (a former Rector of the University of St. Andrews, he served as a professor-at-large at Cornell University from 1991 through 2006), and teaching business skills (the training videos created by his Video Arts production company are viewed by millions of people in the UK and abroad).
In fall 2014, Cleese released his New York Times bestselling memoir, "So Anyway...," which shares his ascent in the entertainment world, from his humble beginnings in a sleepy English town and his early comedic days at Cambridge University (with future Python partner Graham Chapman), to the founding of the landmark comedy troupe that would propel him to worldwide fame.
Reviews
Let me just say that John Cleese was exceptional in every way. Our best speaker to date.
SIA
John did an excellent job for us. What a delightful man! We really appreciated working with him. The attendees really enjoyed his presentation and interview.
Content Marketing Institute
He was AMAZING. We LOVED it. It was a great, great event.
University of Buffalo
For speaker-related inquiries, email speakers@caa.com, or send us a message using the form below.