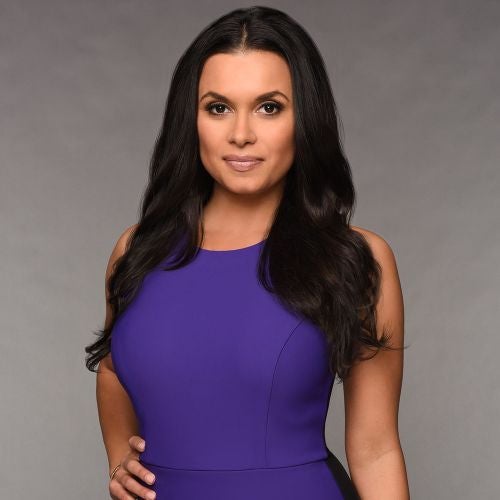 Inquire below to book Joy Taylor
Co-Host of FS1's THE HERD, Host of "Maybe I'm Crazy" Podcast
Joy Taylor: Biography at a Glance
As the co-host of THE HERD on Fox Sports 1 as well as the 'Maybe I'm Crazy Podcast,' Joy Taylor has quickly become a fixture on the national sports media scene

She was previously host of UNDISPUTED with Skip and Shannon, covering some of the biggest events in sports including the Super Bowl, NBA Finals, MLB All-Star Weekend, the U.S. Open and the Floyd Mayweather-Conor McGregor fight

Her comfort in diverse subject matter is reflected in the eclectic list of individuals Joy has interviewed, including the likes of Basketball Hall of Famer Kareem Abdul-Jabbar, Super Bowl MVPs Eli Manning and Drew Brees, boxing champion Oscar De La Hoya, rapper and entertainers Snoop Dogg, Ice Cube, LL Cool J, and the Reverend Jesse Jackson
Co-Host of FS1's THE HERD, Host of "Maybe I'm Crazy" Podcast
With a quick wit, sharp tongue, and some legendary football DNA, Joy Taylor kicked the doors down on the boy's club that is sports talk radio and has never looked back. Now, as the co-host of THE HERD on Fox Sports 1 as well as the 'Maybe I'm Crazy Podcast,' Joy has quickly become a fixture on the national sports media scene.
Originally from Pittsburgh, Joy fell in love with South Florida after frequently visiting her big brother, Pro Football Hall of Fame Defensive End, Jason Taylor. That Hall of Fame lineage helped Joy develop a great knowledge and understanding of pro sports, but it was Joy's "Steel City" grind that guided Joy as she built her career. Working in both FM and AM radio, Joy started her career while at Barry University, interning and producing for a variety of Miami radio giants before landing a position as co-host of 790 AM 'The Ticket's Morning Show', as well as host of 'Thursday Night Live' and 'Fantasy Football Today' on CBSSports.com. After three years of entertaining listeners each weekday morning, Joy traded coasts and moved to Los Angeles to join FS1.
Before starting on THE HERD June 2018, she was the host of UNDISPUTED with Skip and Shannon, where she sparred with Skip Bayless and Shannon Sharpe on a daily basis and covered some of the biggest events in sports including the Super Bowl, NBA Finals, MLB All-Star Weekend, the U.S. Open and the Floyd Mayweather-Conor McGregor fight. Her comfort in diverse subject matter is reflected in the eclectic list of individuals Joy has interviewed, including the likes of Basketball Hall of Famer Kareem Abdul-Jabbar, Super Bowl MVPs Eli Manning and Drew Brees, boxing champion Oscar De La Hoya, rapper and entertainers Snoop Dogg, Ice Cube, LL Cool J, and the Reverend Jesse Jackson.
To book a speaker, or for more information, call 424-288-2898, or send us a message using the form below.