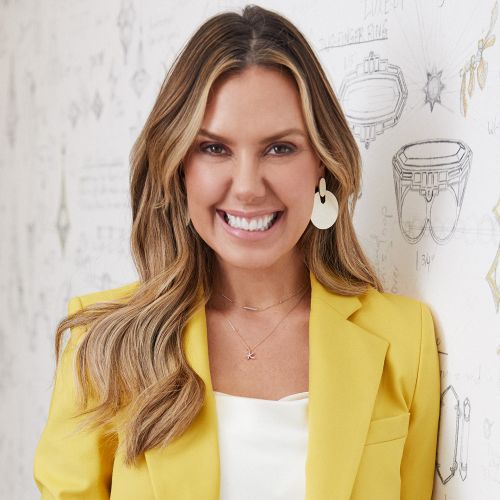 Inquire below to book
Kendra Scott
Chairman, CEO, and Founder of Kendra Scott, LLC
At a Glance
Kendra Scott

: Biography at a Glance
Kendra Scott is Chairman, CEO, and Founder of Kendra Scott, LLC, an American fashion and lifestyle brand with over 100 stand-alone retail stores across the United States. Her products are sold internationally in the finest specialty and department stores, as well as online at kendrascott.com
With just $500, she built the brand into a billion-dollar company spanning fashion jewelry, fine jewelry, home and beauty.
An active philanthropist with a history of supporting women and children's causes. Since 2010, the company has given back over $30 million to local, national and international causes. Kendra Scott has given over $9 million in in-kind donations, volunteered over 2,000 hours, and partnered with more than 10,000 philanthropic organizations in the last year alone.
In 2019, Kendra was inducted into the Texas Business Hall of Fame. She has been awarded with the EY Entrepreneur of the Year 2017 National Award; the Breakthrough Award from the Accessories Council Excellence Awards; named Outstanding Mother of the Year by the Mother's Day Council; awarded Texas Businesswoman of the Year by the Women's Chamber of Commerce; listed by Forbes as one of America's Richest Self-Made Women; listed among the Top 100 Entrepreneurs of the Year by Upstart Business Journal; and named Best CEO by Austin Business Journal.
Kendra is a member of the board of directors for the Breast Cancer Research Foundation and is a member of the Council of Fashion Designers of America.
Biography
Kendra Scott is a talented designer, loving mom, passionate philanthropist and driven entrepreneur. 
As a creative mind with a love of natural gemstones, Kendra designed her first collection of jewelry in 2002 with just $500. Determined to maintain growth and preserve the vision of her business, Kendra waited over 10 years to accept outside investments. She has since grown the company to a billion-dollar valuation with over 100 stores nationwide and a thriving e-commerce and wholesale business. According to a 2018 PitchBook study, Kendra is among only 16 women in the United States to carry the title of founder of a company valued at one billion dollars.   
Inspired by the guidance she received during the early days of her business, Kendra actively seeks out opportunities to mentor and support other entrepreneurs, especially women leaders. Beginning September 2019, she is proud to give new life to this passion through a new program at the University of Texas at Austin: The Kendra Scott Women's Entrepreneurial Leadership Institute. Uniquely positioned to address the challenges women often face in business, this program will build a pipeline of courageous, creative female leaders who will change the world – in business and beyond.  
With Family and Fashion as two core pillars of her business, Kendra maintains a focus on her other core pillar of Philanthropy in all she does. Since 2010, the company has given back over $30 million to local, national and international causes. In 2018 alone, the company gave over $5 million in monetary donations, almost $10 million in in-kind donations, over 2,000 volunteer hours to philanthropic organizations, and partnered with more than 8,000 philanthropic organizations nationwide.  
Reviews
She was a hit!! Such a lovely woman. Everyone loves her.
International Financial Organization
For speaker-related inquiries, email speakers@caa.com, or send us a message using the form below.