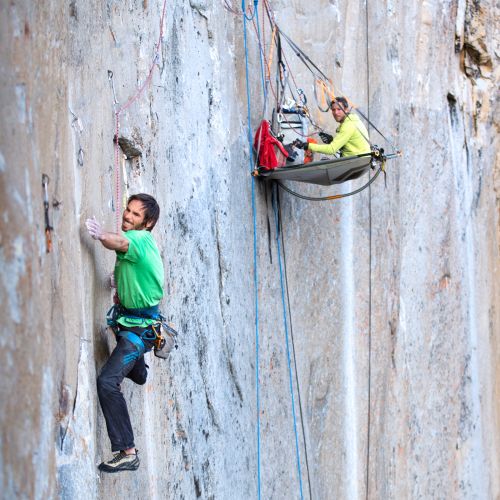 Inquire below to book Kevin Jorgeson & Tommy Caldwell
Legendary Climbers
New & Noteworthy
"The Dawn Wall" documentary is now available worldwide on Netflix
Kevin Jorgeson & Tommy Caldwell: Biography at a Glance
Completed the historic first ever free ascent of El Capitan's Dawn Wall in Yosemite National Park, considered the hardest climb in the world
Endured 19 days of climbing and living on the side of the 3,000' tall cliff face
The Dawn Wall, the award-winning documentary following Tommy and Kevin's legendary climb, premiered in theaters across the world to overwhelming critical acclaim
Inspired millions of followers around the world following the ascent
Featured by every major news outlet, including The New York Times, National Geographic, TIME, Vanity Fair, Good Morning America, CNN, ESPN, and more
Legendary Climbers
Kevin Jorgeson and Tommy Caldwell are two of the best big-wall rock climbers in the world, renowned for their free climbing abilities and impressive list of climbing achievements.
After a seven-year quest to find a way to free climb the steepest, blankest face of Yosemite's monolithic El Capitan, considered the hardest climb in the world, Kevin and Tommy finally stood atop the Dawn Wall with the world watching. Even President Barack Obama was moved by their 19-day climb, stating, "You remind us that anything is possible."
To accomplish the seemingly impossible feat, the duo spent 19 days living on the side of the 3,000 foot cliff of El Capitan, slowly but surely making their way with nothing but their grit, determination, and first class skill keeping them moving upward. The story became a global inspiration, garnering over 34 billion media impressions, and was covered by every major news outlet, including The New York Times, National Geographic, TIME, Vanity Fair, Good Morning America, CNN, ESPN, and more.
Kevin grew up spending time in the outdoors with his dad, hiking, white water rafting, fishing, hunting, and camping. At age 10, he discovered the sport of rock climbing and never looked back. By age 17, he was an International Champion and by age 25 was considered one of the strongest climbers in the world.
Tommy also grew up with the great outdoors as his playground, establishing the hardest roped climbs in the United States as a teenager and quickly rising to the top of the competition circuit. On an expedition to southwest Kyrgyzstan in 2000 Tommy and three other climbers were taken hostage. For six days they survived on no food and little water and eventually escaped when Tommy pushed their remaining captor off of a cliff and they ran 10 miles to a military outpost. Just one year after his hostage epic Tommy had a home remodeling accident and cut off his index finger with a table saw. This only increased his resolve and pushed Tommy to become the world's most proficient big wall free climber.
After free climbing the most routes on El Capitan, including many first ever ascents, Tommy ultimately came to the seemingly impossible Dawn Wall, never yet dared to be free climbed. It was obvious this climb couldn't be accomplished alone. Tommy knew the route required the strength of a partnership. Kevin Jorgeson joined the efforts in 2007, and the pair started to tackle the project move by move. "For years we mostly failed, but occasionally we would make breakthroughs. As a team we became stronger than I ever could have been on my own." Seven years later, they stood atop the Dawn Wall, victorious.
"Tommy and Kevin did so much for Samsung during their time at the conference. We really appreciated that their storyline was so well told and received by the guests. They have a lot of fans at Samsung."

Samsung
"It was great!"

Chick-fil-A
"They were AWESOME!!! "

Demarest Event Marketing
To book a speaker, or for more information, call 424-288-2898, or send us a message using the form below.