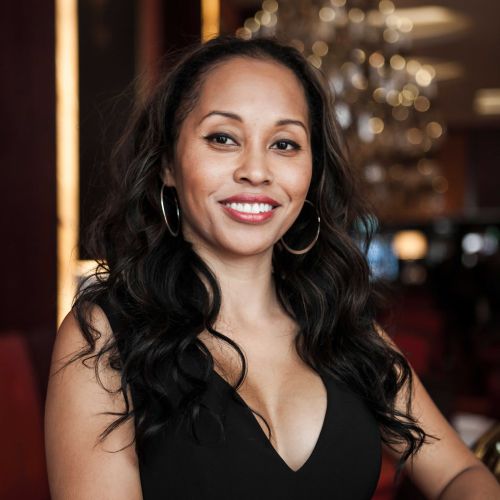 Inquire below to book Kimberley Cy Motley
Founder, Motley Legal Services
Kimberley Cy Motley: Biography at a Glance
The only Western attorney to ever litigate in the Afghan courts and one of Kabul's most respected international attorneys
Founder of Motley Legal Services, which has offices in the U.S., Afghanistan and Dubai
Spends nine months a year in Afghanistan defending foreign residents, Fortune 500 companies, embassies, ambassadors and women and children in human rights cases with a 90 percent success rate
Represents more than 20 embassies, including the U.S., U.K., France, Italy and Germany
Featured in The New York Times, Vanity Fair, The Guardian and the Washington Post
Founder, Motley Legal Services
Armed with an unwavering determination and a passion for justice, American Attorney Kimberley Motley navigates Afghanistan's legal system with incredible success.
After a 40-year-old man raped his fifteen-year-old cousin, according to Afghan customs, the victim, who became impregnated, was thrown in jail for ten years for having sex out of wedlock. Nearly two years after the girl was imprisoned, Kim heard about the case and signed on to defend her. She fought the case all the way to the Supreme Court and was able to get the court to agree to reduce her sentence to three years and to prevent the impending forced marriage. Kim refused to give up and drafted a Presidential Pardon to Hamid Karzai. Fighting the case all the way to the Presidential Palace Kim finally emerged victorious. The pardon was surprisingly granted, it was the first and only presidential pardon given to a woman for a moral crime in Afghanistan's history, and the victim was exonerated of her charges and granted freedom. This case is just one example of the incredible effects Kim's efforts have on her clients and the legal system.
Kim is the daughter of a Korean mother and an African American father. Following graduation from Marquette Law School in 2003, she applied for a State Department funded legal-education program in Afghanistan. She traveled the country visiting some of Afghanistan's notoriously rough male prisons, women's prisons, and juvenile detention centers. She discovered there was a dire need for good western lawyers to represent foreigners in trouble with the corrupt judicial system. This prompted Kim to open a branch of Motley Legal Services in Afghanistan in 2009.
Affectionately nicknamed "911," Kim spends nine months of the year defending foreigners, Fortune 500 companies, Embassies and Ambassadors, and women and children in human rights cases. Bringing her uncommon ethical standards to each case, she challenges outdated cultural norms and focuses on human rights. This former beauty queen, crowned Mrs. Wisconsin in 2004, has secured the freedom of countless victims, such as a seven-year-old child bride, a fifteen-year-old girl raped and imprisoned, and a British ex-soldier accused of bribery. She is also the registered attorney for over 20 embassies, including The United States, United Kingdom, France, Italy and Germany.
Her work has received international attention with segments on CNN, BBC, NBC, Dan Rather Reports, as well as articles in The New York Times, Vanity Fair, The Guardian, Washington Post, and Huffington Post. She is currently penning a book chronicling her experiences as a western attorney in the Middle East. From the lectern, Kimberley shares her breadth of international law covering criminal, commercial, contract, civil, employment and tax law.
With a 90% success rate, Kim has certainly earned her title as one of Afghanistan's most respected Attorneys.
To book a speaker, or for more information, call 424-288-2898, or send us a message using the form below.