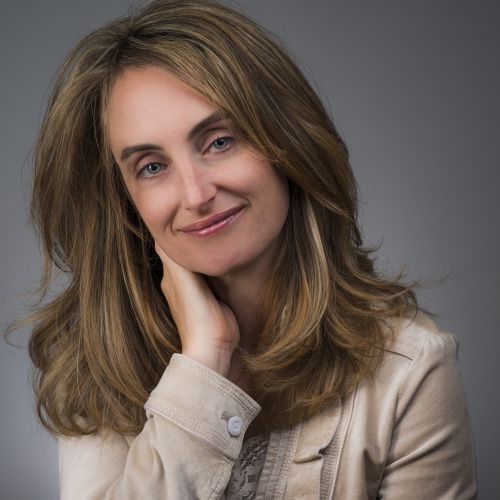 Inquire below to book
Lisa Fenn
Former ESPN Producer
At a Glance
Lisa Fenn

: Biography at a Glance
Three-time Edward R. Murrow and six-time Emmy Award-winning feature producer with ESPN for 13 years
Produced the ESPN story "Carry On," about the heartwarming friendship of Dartanyon Crockett and Leroy Sutton, two disabled and impoverished high school wrestlers
USA Today and Sports Illustrated have called "Carry On" "the best story ESPN had ever aired"
Author of the memoir, Carry On, which was nominated for an NAACP Image Award
Biography
A three-time Edward R. Murrow and six-time Emmy Award-winning feature producer, Lisa Fenn reported on major league sports and interviewed every big name in the game during her 13-year tenure with ESPN. She was also behind a number of successful human-interest features for the sports network.
In 2009, Lisa met two inspiring young boys and decided to make a feature about their story. The relationship that followed changed her life, and theirs, forever.
Dartanyon Crockett and Leroy Sutton were two disabled, impoverished high school wrestlers when she met them in her hometown of Cleveland, Ohio. Leroy, who lost his legs in a childhood train accident, was often found on the back of the legally blind and transient Dartanyon. Together, they helped each other through school—Dartanyon carrying Leroy up the stairs as there was no elevator to the weight room, and Leroy reading the print on Dartanyon's assignments. Dartanyon's and Leroy's cheerful and unparalleled friendship added light to the dark and dreary halls of the poor, inner-city public school they attended.
A native Clevelander who was raised on the "other side" of the city, Lisa submerged herself in a world of struggle and poverty that she had been protected from her whole life. Over the course of five months, she became an integral part of the boys' lives—tagging along to their classes, practices and team bus rides. Leroy and Dartanyon graciously accepted Lisa, and Lisa's role in their lives grew from reporter to mother. The initial story, "Carry On: Why I Stayed," aired on ESPN in 2009 and immediately received a tremendous response, as well as the support of thousands of viewers offering their help. Following a 2013 piece detailing how much their lives have changed in the ensuing years, USA Today and Sports Illustrated called "Carry On" "the best story ESPN had ever aired."
In 2009, Leroy became the first person in his family to graduate from High School, and in 2013 he became the first person in his family to graduate from college—receiving a degree in Video Game Production from Collins College in Arizona. Dartanyon's life-changing offer came from the United States Olympic Committee in 2010, when he was invited to learn the Paralympic sport of judo at the Olympic Training Center in Colorado Springs. He trained relentlessly and catapulted past athletes who had been training their whole lives to secure a spot in the on the Paralympic team at the 2012 London games. There, he earned the bronze medal. Dartanyon went on to win the 2014 World Championships and brought home a second Olympic bronze medal from Rio in 2016.
Lisa released a memoir about their experiences together entitled "Carry On: A Story of Resilience, Redemption, and an Unlikely Family," in August 2016. "Carry On" received an NAACP Image Award nomination for Best Literature by a Debut Author.
A sought-after presenter, Lisa speaks with warmth and candor about her experiences with Leroy and Dartanyon. She is also speaker on topics of poverty, education, disability and transracial adoption in addition to her Christian faith and its relevancy in both her media career and daily life. A graduate of Cornell University, Lisa continues to produce sports stories and write about the redemptive power of love. 
Reviews
We were extremely excited to have Lisa share her story of courage and dedication. Lisa, a surprise and relatively unknown speaker to our conference participants, followed one of our nationally recognized plenary speakers and she stole our hearts and challenged our souls. Her humble, disarming and authentic way of communicating left all of us believing that our lives can count for more than we imagine if we only take advantage of the opportunities in front of us each day. Her talk turned into THE talk of our gathering.
Vision New England, GO Conference 2017
Lisa and Dartanyon did a fantastic job in Kentucky! Their message was spot on in my opinion. Not a dry eye in the audience. We loved them! Please let them know that we are looking forward to having them join us again.
Franklin Covey
Lisa and Dartanyon did an AMAZING job! The audience really responded well to their Keynote! There wasn't a dry eye in the house. They even received several standing ovations. I am so happy they were able to come to the event and share their story!




Thank you for all of your help and I look forward to having Lisa back next year!
Franklin Covey
It was the perfect way to start the day. Everyone agreed that her experience with "loving people into leaders" and the importance of being an everyday leader was right on point. All the feedback we have been receiving has been extremely positive.
Westwood International
Even on Saturday as our attendees were preparing to return home, they were still talking about how much you all impacted them. Your session was the highlight of the event.
Cambridge Investment Research
Lisa brought the house down. Two standing ovations.
ADP
We usually get about 30 people at these events; we had about 200 and sold out of all the books. We were thrilled. Leroy and Dartanyon were great - a lot of happy, crying people. It was a success.
Shore School
For speaker-related inquiries, email speakers@caa.com, or send us a message using the form below.