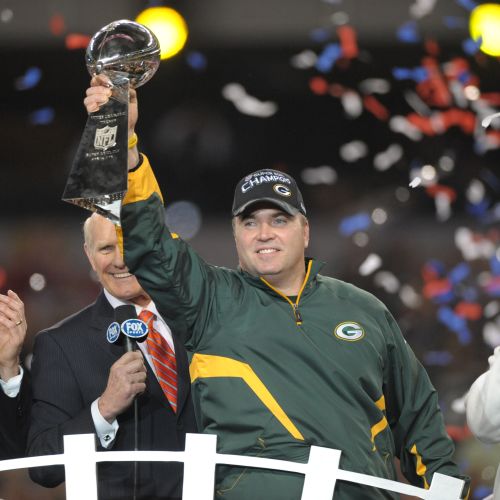 Inquire below to book Mike McCarthy
Former Head Coach, Green Bay Packers
Mike McCarthy: Biography at a Glance
Former head coach of the Green Bay Packers
Led the team to the playoffs in six of the last seven seasons, including the 2011 Super Bowl
Worked with a stable of quarterbacks whose combined records include 38 Pro Bowl selections, 10 Super Bowl starts and seven MVP awards
Shares personal stories from his upbringing that instilled the values of the game and his NFL journey from assistant coach to Super Bowl champion
Former Head Coach, Green Bay Packers
In 2011 the Green Bay Packers won their 4th Super Bowl and 13th NFL title overall led by Head Coach Mike McCarthy. Currently in his 10th season, McCarthy is viewed by many as the leading football mind of his generation.
In 2014, the Packers made their 6th consecutive post-season appearance, falling to the Seattle Seahawks in the NFC Championship game. McCarthy has led the team to the playoffs in six of the last seven seasons (2007, 2009-14). He led the Packers to a top-10 ranking in total offense in eight of his nine seasons (2006-11, 2013-14). He has worked with a stable of quarterbacks that has combined for 38 Pro Bowl selections, 10 Super Bowl starts, and seven Most Valuable Player awards.
A Pittsburgh native, with a personality to match his blue-collar hometown, McCarthy was named the 14th Head Coach of the Green Bay Packers on Jan. 12, 2006, the only step left to take after 13 years as an NFL assistant. While he previously had traveled through NFL cities such as Kansas City, New Orleans and San Francisco, it was Green Bay that most resembled his native Pittsburgh and if there was one word used to describe McCarthy's hiring, it was that he was the right "fit" both for a town and a team looking to turn around a disappointing 4-12 season in 2005.
The way McCarthy fits Green Bay, however, goes beyond the toughness in his personality, down-to-earth demeanor, and pride in his upbringing. Much like those players he worked with who rose to prominence, McCarthy paid plenty of dues along the way to his first head-coaching job. He learned a disciplined and no-nonsense approach to life at an early age. His father, Joe, was a longtime firefighter and police officer who also owned a bar near a Pittsburgh steel mill. McCarthy worked odd jobs at the bar as a teen. It was interacting with the hard-working tavern clientele while also watching a father in uniform dedicated to public service that instilled his Midwestern values and paved the way to his incredible journey culminating with his victory in Super Bowl XLV.
Following his Super Bowl victory, McCarthy has the unique perspective of building a championship team under the spotlight of a storied franchise. Coach McCarthy shares his personal stories from his childhood upbringing that instilled the values of the game, to his NFL journey as an assistant coach and ultimately a Super Bowl Champion. He also shares stories of the people and events that contributed to his success including his time spent working with some of the greatest quarterbacks in the game including Joe Montana, Brett Favre, Aaron Rodgers and others that all told combine for 25 career Pro Bowl selections and eight Super Bowl starts.
You will be inspired by Coach McCarthy's journey, his can-do attitude, roll-up your sleeves management style and his core belief that hard work, determination and a common goal can lead to championship teams.
"Coach McCarthy was a big hit and perfect fit for our sports-centric group of 3,500 beer people! His message of focus, discipline, execution and the importance of team culture formed a powerful metaphor that connected well with our convention themes. I highly recommend him as a speaker, not only for the clarity of his message, but also for the passion of his delivery. Any business leader, at any level, can benefit from his heartfelt message."

Chief Communications, Strategy & Government Affairs Officer, MillerCoors
To book a speaker, or for more information, call 424-288-2898, or send us a message using the form below.