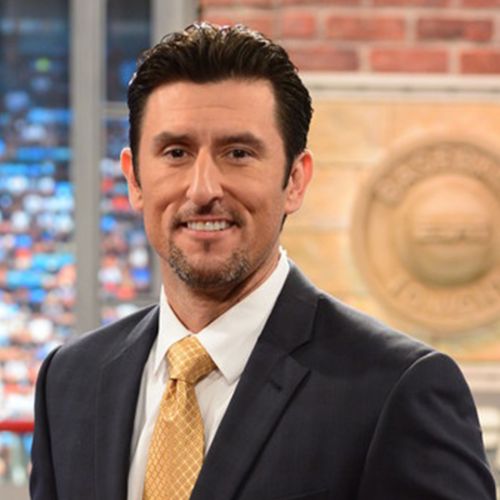 Inquire below to book Nomar Garciaparra
Baseball Analyst, Dodger Network
Nomar Garciaparra: Biography at a Glance
Played a decade for the Boston Red Sox before playing for the Oakland Athletics, Los Angeles Dodgers and Chicago Cubs
First round draft pick and six-time All-Star
Broadcaster for the Dodgers and former ESPN baseball analyst
The only player to hit two grand slams during a single game at his home stadium
Works closely with Little League Challenger Division, which encourages developmental and physically challenged children to get on the field with their helping buddies
Baseball Analyst, Dodger Network
A former Major League Baseball powerhouse, Nomar Garciaparra currently serves as an analyst for the Dodgers Network. After playing a decade as an All-Star shortstop for the Boston Red Sox, he played third base, first base, and designated hitter for the Oakland Athletics, first base and third base for the Los Angeles Dodgers, and shortstop and third base for the Chicago Cubs. He is one of 13 players in Major League history to hit two grand slams during a single game and the only player to achieve this feat at his home stadium.
The former first-round draft pick and six-time All-Star, Nomar's career saw many impressive accomplishments including the 1997 AL Rookie of the Year award as well as back-to-back AL batting championships ('99-'00).
Prior to joining the Dodgers broadcast team, Nomar was an ESPN baseball analyst, contributing for Baseball Tonight, Wednesday Night Baseball, College World Series and the Little League World Series.
Nomar recently participated in the support for the Little League's Challenger Division, which is for developmentally and physically challenged children and their helping buddies. "Little League is about bringing smiles to kids playing this wonderful game," said Nomar, "The Challengers take it to another level. You have these amazing kids and their buddies playing the game. The joy and look on the kids' faces is priceless." Working with a major sponsor in Subway, Nomar participated in several autograph signing and mentoring events during the Little League World Series including the Challenger Division.
"I cannot tell you how amazing he is. He was delightful last night, gracious, spent time afterwards with the executives and did a great job this morning, standing ovation! He truly is one of the nicest people I have had the pleasure to work with. Thank you for all you did regarding Nomar. I can't wait to work with him again!"

MassMutual
To book a speaker, or for more information, call 424-288-2898, or send us a message using the form below.