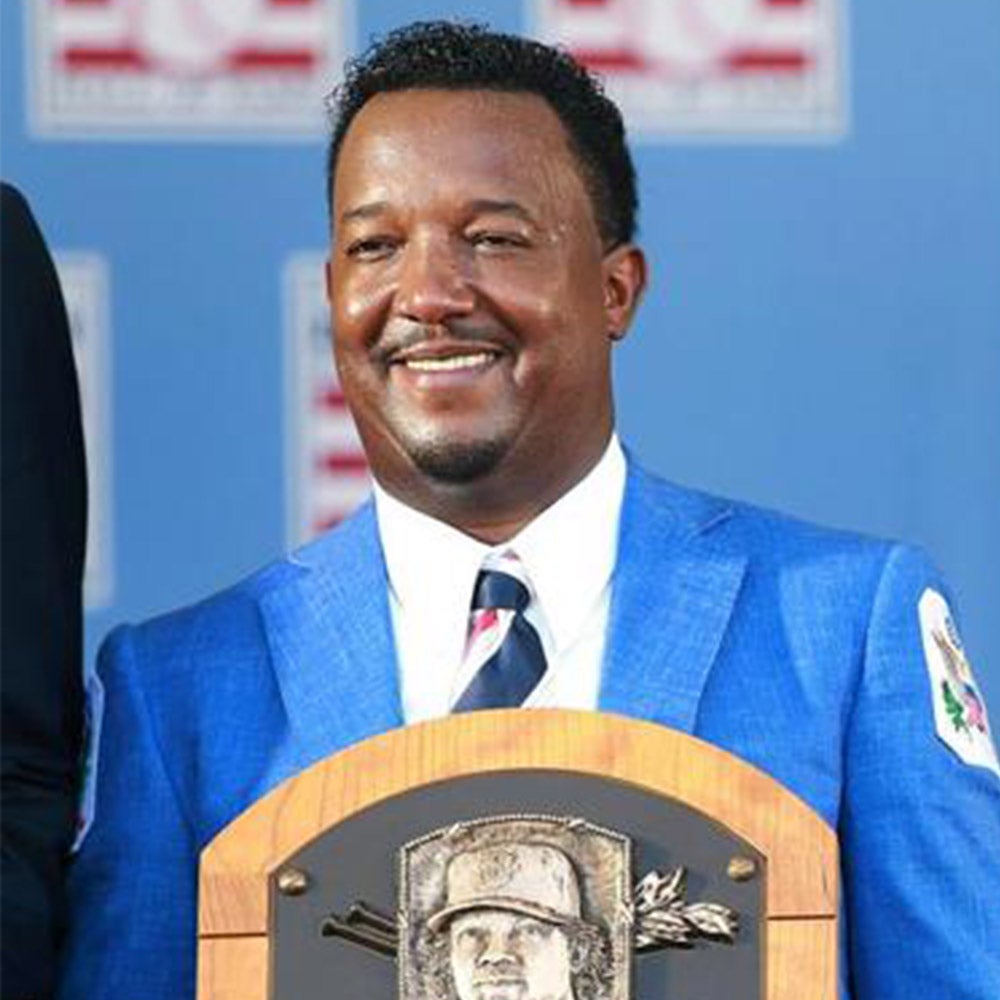 Inquire below to book Pedro Martinez
Legendary Baseball Player
Pedro Martinez: Biography at a Glance
2004 World Series champion with the Boston Red Sox
Inducted into the Baseball Hall of Fame in 2015
Recorded a 2.93 ERA and won three Cy Young awards during his 18-year career
Only pitcher in MLB history to lead in ERA in five different seasons
His 3,154 strikeouts rank 13th of all time and his career WHIP (walks plus hits per inning pitched) of 1.054 is the best of any modern-era starter
Began his career with the Los Angeles Dodgers before playing for the Montreal Expos, Red Sox, New York Mets and Philadelphia Phillies
Studio analyst for the MLB Network
Author of the best-selling autobiography "Pedro"
Legendary Baseball Player
Pedro Martinez, a 2015 National Baseball Hall of Fame inductee, is a studio analyst appearing across MLB Network's programming.
During his illustrious 18-year career, Martinez recorded a 2.93 ERA, won three Cy Young Awards and was a 2004 World Series champion with the Boston Red Sox.
An eight-time All-Star, Martinez posted a 219-100 career record. He is the only pitcher in history to lead the Majors in ERA in five different seasons. Martinez's .687 winning percentage trails only Hall of Famer Whitey Ford's .690 winning percentage among modern-era pitchers with at least 150 victories.
Known as a power pitcher, Martinez captured the 1999 All-Star Game MVP Award at Fenway Park, when he struck out five batters in two scoreless innings, including Barry Larkin, Larry Walker, Sammy Sosa, Mark McGwire and Jeff Bagwell. Martinez's 3,154 strikeouts rank 13th all-time, and his career WHIP of 1.054 is the best of any modern-era starter.
Martinez began his career with the Los Angeles Dodgers (1992-93) before joining the Montreal Expos (1994-97), Red Sox (1998-2004), New York Mets (2005-08) and Philadelphia Phillies (2009).
Martinez's work with MLB Network is in addition to his role as a Postseason analyst with Turner Sports, which he began in 2013.
In Pedro, his best-selling autobiography, the charismatic and always colorful pitcher opens up for the first time to tell his remarkable story.
On behalf of The Pedro Martinez and Brothers Foundation, Martinez is devoted to attacking poverty near his childhood home in the Dominican Republic.
To book a speaker, or for more information, call 424-288-2898, or send us a message using the form below.