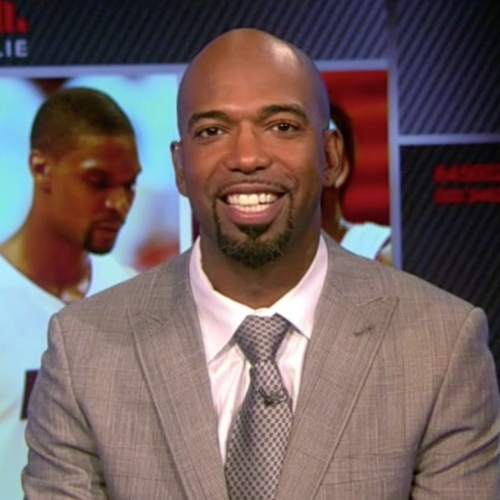 Inquire below to book Richard Hamilton
Former NBA Player
Richard Hamilton: Biography at a Glance
Basketball analyst for CBS Sports and hosts its hit digital show "NBA Crossover"
Played with the Washington Wizards, Detroit Pistons and Chicago Bulls over his 14-year NBC career
Three-time NBA All-Star
Led the 1999 UCONN Huskies to the NCAA Championship and the Pistons to the 2004 NBA Championship
Founded Rip City Foundation to enhance lives through education and recreation with a special emphasis on healthy living
Former NBA Player
Richard "Rip" Hamilton is a recently retired 14-year NBA veteran, born and raised in Coatesville, Pennsylvania. During his 14-year career, Hamilton played with the Washington Wizards, Detroit Pistons, and Chicago Bulls, averaging 17.1 points, 3.4 assists, and 3.1 rebounds.
Hamilton played college basketball at the University of Connecticut from 1996-99, where he led the Huskies to a NCAA Championship in 1999 while earning the Final Four Most Outstanding Player award. In his three years at UCONN, Hamilton was twice named Big East Player of the Year and was a consensus first team All-American.
After a successful college career, Hamilton was selected 7th overall in the 1999 NBA Draft by the Washington Wizards, where he played for three seasons, including one with Michael Jordan. He was later traded to the Detroit Pistons in 2002, where he played for eight seasons and helped lead his team to a NBA Championship in 2004. During his time with Detroit, Hamilton was a three-time NBA All-Star and settled in to become one of the NBA's top shooting guards. In 2011, Hamilton signed with the Chicago Bulls to add veteran leadership to a team looking to make it out of the Eastern Conference and compete for a NBA Championship.
Off the court, Hamilton is very involved in making a difference in the community. Early on in his career he founded the Rip City Foundation to enhance lives through education and recreation with a special emphasis on healthy living. Hamilton's dedication to improving the lives of others continues to motivate him to find fun and innovate ways to help youth embrace a balanced lifestyle.
Hamilton is an outgoing and knowledgeable basketball personality, often appearing on NBA TV's GameTime and ESPN's basketball-related programming.
Hamilton currently resides in Florida, with his wife, T.J., and their three children.
To book a speaker, or for more information, call 424-288-2898, or send us a message using the form below.