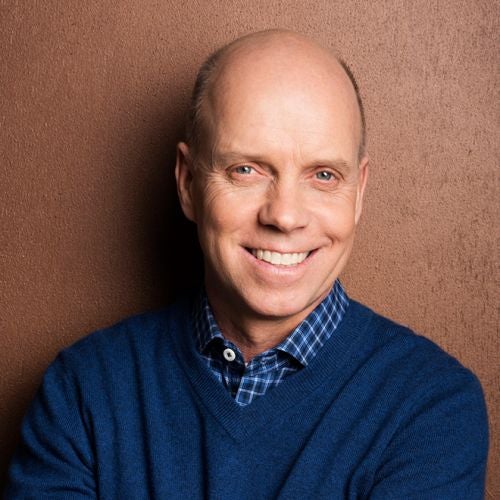 Inquire below to book Scott Hamilton
Olympic Gold Medalist & Cancer Survivor
Scott Hamilton: Biography at a Glance
Founded Stars on Ice, which he performed with for many years and still tours with other celebrated ice skating and ice dancing champions
Olympic gold medal winner
Founded Stars on Ice, which he performed with for many years and still tours with other celebrated ice skating and ice dancing champions
Launched the Scott Hamilton CARES Foundation with a mission to improve cancer patient survivorship by supporting world-class cancer research and the highest quality patient treatment and care
Founded the Scott Hamilton Skating Academy in partnership with the NHL's Nashville Predators
Best-selling author of "The Great Eight: How to Be Happy "
Serves on the board of directors for Special Olympics International
Olympic Gold Medalist & Cancer Survivor
Scott Hamilton is the living example that "good guys CAN finish first!!" He is an Olympic Champion, television broadcaster, philanthropist, motivational speaker, author, husband, father, cancer survivor, and eternal optimist.
In 1984, Scott captured the hearts of millions of viewers worldwide with his incredible Olympic gold medal-winning performance in Sarajevo. Since then he has entertainment millions more with his exciting performances, complete with backflips, artistry and humor. Considered one of the greatest male figure skaters of all time, Scott has spent the last 30+ years providing his infectious analysis of national and global skating competitions and as founder of Stars on Ice, in which he performed for many years and which is still touring with other celebrated ice skating and ice dancing champions today.
Following his mother's passing from cancer and his own highly publicized survival of cancer, Scott launched the Scott Hamilton CARES Foundation (Cancer Alliance for Research, Education and Survivorship) with a mission to improve cancer patient survivorship by supporting world-class cancer research and the highest quality patient treatment and care. The Foundation supports two cancer education websites and a patient mentoring program, as well as spearheading nationwide initiatives, including Skate to Elimin8 Cancer to raise money in turning cancer upside down.
In 2014, he founded the Scott Hamilton Skating Academy, in partnership with the NHL's Nashville Predators, at Ford Ice Center in Antioch, TN to rebuild figure skating from the ground up with his programs that offer fresh and fun ways to help students fall in love with skating, like he did as a child. He can frequently be found coaching Learn to Skate and Advanced students, delighting in the fact that skating in Nashville is quickly becoming something whole families enjoy doing together.
A celebrated author, Scott's two books, Landing It and The Great Eight: How to Be Happy (Even When You Have Every Reason to be Miserable), have both earned critical praise.
Scott serves on the Board of Directors for Special Olympics International, Monroe Carell Jr. Children's Hospital at Vanderbilt and Provision Center for Proton Therapy. He's an active supporter of Second Harvest Food Bank of Middle Tennessee and Best Buddies. He lives outside of Nashville with his wife Tracie and their four children.
"Scott inspired the audience of 500+ cancer survivors and caregivers by sharing his personal stories of hope and determination. Engaging and genuine, Scott immediately connected with the attendees and made a lasting impression through his encouraging words."

Vanderbilt-Ingram Cancer Center
"If you look up the word 'inspiration' in the dictionary, you'll probably see a picture of Scott Hamilton. Scott's attitude and message will motivate all groups. His speech to your audience is truly a gold medal performance."

Martin's Supermarkets
"Scott Hamilton - a gentle soul with a powerful message of hope, endurance, faith and ultimately survivorship. One of the nation's most adored athletes will bring your audience to their feet with his honest and heartfelt delivery of overcoming great obstacles. While his medals are many, his story and second act in life are his greatest achievements. Scott delivers a dynamic call to action to his audience and challenges each person to embrace their obstacles as a way of redirection and change for their life - and he does it all in the way we know Scott Hamilton best – truly Olympic winning style."

Women Survivors Alliance & SURVIVORville
To book a speaker, or for more information, call 424-288-2898, or send us a message using the form below.