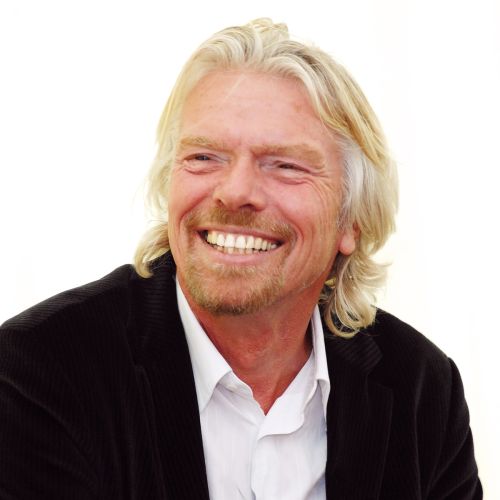 Inquire below to book
Sir Richard Branson
Founder, Virgin Group
At a Glance
Sir Richard Branson

: Biography at a Glance
Sir Richard Branson is the Founder of Virgin Group, a leading international investment group and one of the world's most recognized and respected brands
Virgin Group has grown successful businesses in sectors including mobile telephony, travel and transportation, financial services, leisure and entertainment and health and wellness
Holds the records for the fastest ever Atlantic Ocean crossing, a series of hot air balloon journeys and kitesurfing across the Channel
Established the non-profit foundation Virgin Unite to tackle tough social and environmental problems and strive to make business a force for good
Spends most of his time building businesses that will make a positive difference in the world and working with Virgin Unite and organizations it has incubated, such as The Elders, The Carbon War Room, The B Team, Ocean Unite and Branson Centre of Entrepreneurship
Biography
Sir Richard Branson is the founder of the Virgin Group, a leading international investment group controlling more than 400 companies, and one of the world's most recognized and respected brands. In November 2017, Forbes listed Branson's estimated net worth at $5.1 billion.
Conceived in 1970 by Sir Richard Branson, the Virgin Group has gone on to grow successful businesses in a range of sectors including mobile communications, travel and transportation, renewable energy, financial services, leisure and entertainment, and health and wellness.
Sir Richard has challenged himself with many record-breaking adventures, including the fastest ever Atlantic Ocean crossing, a series of hot air balloon journeys (he is the first person to cross the Atlantic in a balloon), and kitesurfing across the English Channel. He has described his company, Virgin Galactic, the world's first commercial spaceline, as "the greatest adventure of all."
In March 2000, Branson was knighted at Buckingham Palace for "services to entrepreneurship." In 2002, he was named in the BBC's poll of the 100 Greatest Britons and named in TIME magazine's "Top 100 Most Influential People in the World" of 2007.
He is the author of several books including "Losing My Virginity: How I Survived, Had Fun, and Made a Fortune Doing Business My Way" and most recently, "Finding My Virginity: The New Autobiography."
Since starting youth culture magazine Student aged 16, Sir Richard has found entrepreneurial ways to drive positive change in the world. In 2004 he established non-profit foundation Virgin Unite to tackle tough social and environmental problems and strive to make business a force for good. Most of his time is now spent building businesses that will make a positive difference in the world and working with Virgin Unite and organizations it has incubated, such as The Elders, The Carbon War Room, The B Team, Ocean Unite, and Branson Centre of Entrepreneurship. He also serves on the Global Commission on Drug Policy and supports ocean conservation with the Ocean Elders.
For speaker-related inquiries, email speakers@caa.com, or send us a message using the form below.