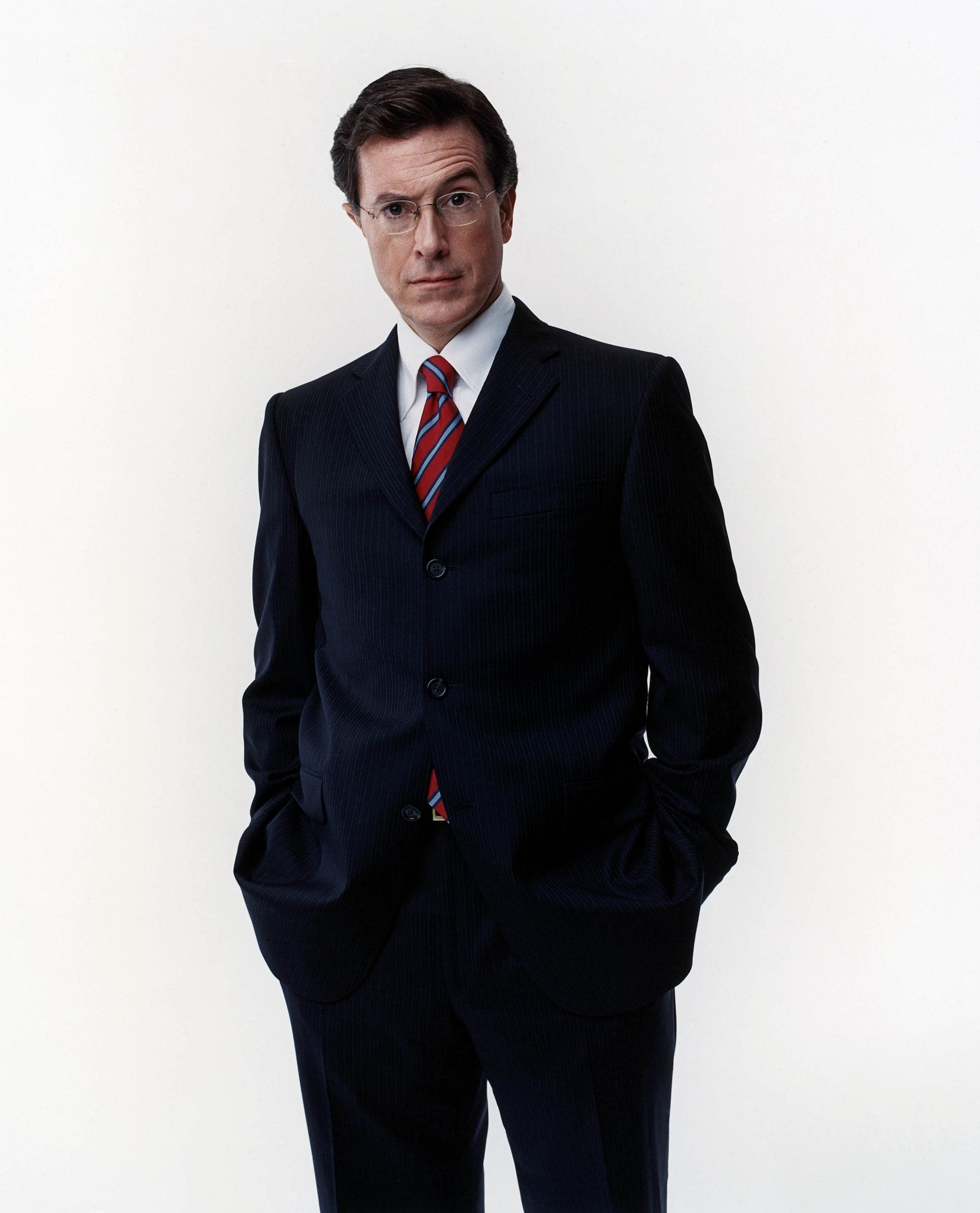 Stephen Colbert
Hosts "The Late Show With Stephen Colbert"
Previous host, writer and executive producer of the Emmy- and Peabody Award-winning series "The Colbert Report"
Best-selling author of "I Am America (And So Can You!)"
Two-time Grammy winner for "A Colbert Christmas: The Greatest Gift of All!" and "Re-Becoming the Greatness We Never Weren't"
"The Colbert Report"
Stephen Colbert is the host of CBS' "The Late Show with Stephen Colbert." Previously, he was the host, writer and executive producer of the Emmy and Peabody Award-winning series The Colbert Report on Comedy Central. He is also an accomplished author and actor.
The Colbert Report launched on October 17, 2005 and has garnered ratings and critical success as one of the top shows on television. Since its inception, the series has received a prestigious Peabody Award for Excellence in Broadcasting in 2008 and 33 Primetime Emmy nominations. In 2014, Colbert and his writing team won the show's fourth Emmy for Outstanding Writing for a Variety, Music or Comedy Program.
Colbert's book, I Am America (And So Can You!), spent 29 weeks on The New York Times bestseller's list; debuting and occupying the #1 spot for 13 weeks. In 2012, he released the follow-up America Again: Re-becoming the Greatness We Never Weren't.
Colbert has earned two Grammy Awards: Best Comedy Album for A Colbert Christmas: The Greatest Gift of All! in 2010 and Best Spoken Word Album for America Again: Re-becoming the Greatness We Never Weren't in 2014.
Since 1997, Colbert has been the longest-tenured and most diverse correspondent on The Daily Show with Jon Stewart. He helped the show win numerous Emmy and Peabody Awards as an on-air personality and writer of news satire. He contributed to America (The Book): A Citizen's Guide to Democracy In Action, which immediately topped The New York Times bestseller list for 15 consecutive weeks. He also co-authored the critically acclaimed book Wigfield, which Publisher's Weekly called "uproariously funny, painfully sharp and unlike anything the genre of humorous fiction has seen before."
Born and raised near Charleston, South Carolina, Colbert graduated from Northwestern University and quickly made a name for himself as a member of Chicago's famed Second City improv troupe where he met Amy Sedaris and Paul Dinello. The threesome moved to New York City where they created and starred in Exit 57, a half-hour sketch comedy series, which ran for three seasons on Comedy Central. Exit 57 received five CableACE nominations for Best Writing, Performing and Comedy Series.
Colbert's other on-camera appearances include shows such as HBO's Curb Your Enthusiasm and NBC's Law and Order: Criminal Intent. He was a cast member and writer on ABC's The Dana Carvey Show, wrote for Saturday Night Live and was the voice of Ace on the SNL animated series "The Ambiguously Gay Duo." He was also the voice of the President of the United States in Dreamworks animated film, Monsters Vs. Aliens.
Colbert, his wife Evelyn, and their three children reside in the New York metropolitan area.
To book a speaker, or for more information, call 424-288-2898, or send us a message using the form below.