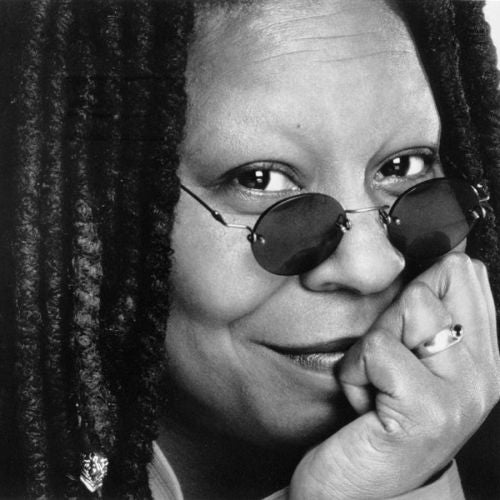 Inquire below to book
Whoopi Goldberg
Award-Winning Actress & Comedienne
Biography
In 2002, Whoopi Goldberg became one of a very elite group of artists who have won the Grammy (Whoopi Goldberg, 1985), the Academy Award (Ghost, 1991), the Golden Globe (The Color Purple, 1985 and Ghost, 1991), the Emmy (as host of AMC's Beyond Tara: The Extraordinary Life of Hattie McDaniel, 2002) and a Tony (Producer of Thoroughly Modern Millie, 2002). She is equally well known for her humanitarian efforts on behalf of children, the homeless, human rights, education, substance abuse and the battle against AIDS, as well as many other causes and charities. Among her many charitable activities, Whoopi is a Goodwill Ambassador to the United Nations.

Born and raised in New York City, Whoopi worked in theatre and improvisation in San Diego and the Bay Area. Whoopi made her motion picture debut in Steven Spielberg's The Color Purple, for which she earned an Academy Award nomination and a Golden Globe Award. Her performance in Ghost earned her the Academy Award and a Golden Globe Award for Best Supporting Actress.

Whoopi has also appeared in films such as Jumpin' Jack Flash, Burglar, Sister Act, The Long Walk Home, Clara's Heart, How Stella Got Her Groove Back, Boys on the Side, and Girl, Interrupted. She also voiced characters in the animated films The Lion King and Racing Stripes.

On television, Whoopi appeared for five seasons on Star Trek: The Next Generation, and hosted her own syndicated late-night talk show. She starred in the NBC sitcom, Whoopi, which she also executive produced. She produced and appeared on Nick Jr.'s Whoopi's Littleburg and currently appears as moderator on ABC's long-running talk show The View.

As she has in every other facet of her career, Whoopi has made her mark as a producer. She executive produced the Lifetime original drama series Strong Medicine, the highest-rated drama created for basic cable in 2001 and the first cable show to go into syndication. From 1998 through 2002, she executive produced and appeared in the center square on the Emmy Award-winning Hollywood Squares. Whoopi also executive produced the hit Broadway musical, Thoroughly Modern Millie, which won six Tony Awards, including Best Musical.

In addition to the Oscar, the Grammy and two Golden Globe Awards, Whoopi has been honored with multiple NAACP Image Awards, numerous People's Choice Awards (including a special tribute in 1998) and five Nickelodeon Kids' Choice Awards as "Favorite Movie Actress," as well as various awards and honors for her many humanitarian efforts.

In 1992, Whoopi made her debut as an author with her first children's book, Alice. Since then, Whoopi has penned a number of books, including Whoopi's Big Book of Manners in October, 2006, a children's book series Sugar Plum Ballerinas, and a humorous commentary Is It Just Me?: Or is it Nuts Out There? In October 2015, she released the relationship guide titled If Someone Says "You Complete Me," RUN!

Whoopi currently resides in New York City.
Reviews
Whoopi Goldberg was truly awesome – the way she incorporated our students into her act, the lifetime memory she created for the young man she called to the stage, the meet and greet after the show…She's a real class act!
Friends of NBFA
Really fun night. Whoopi was very generous and the audience was eating out of her hand. Love was in the air.
The Banff Centre
She was awesome! So great to work with. She arrived early (what a treat), and stayed well beyond 8:30 to talk to the last student. She was funny, down-to-earth and resonated with the students.
Colgate University
Whoopi was AWESOME! She took the talking points about the fundraising people and worked it into her remarks, and talked about comic relief.
Association of Fundraising Professionals
For speaker-related inquiries, email speakers@caa.com, or send us a message using the form below.