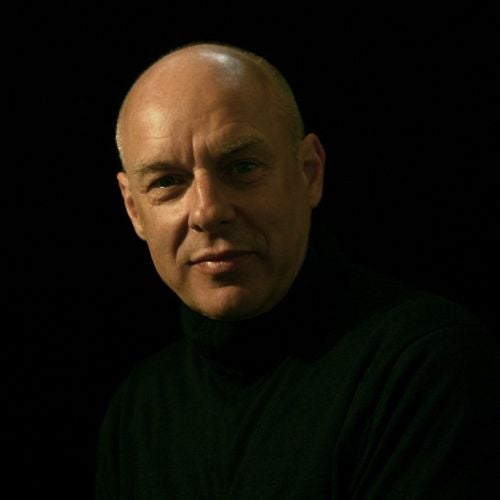 Inquire below to book Brian Eno
Musician
Brian Eno: Biography at a Glance
Produced albums for U2, Depeche Mode, Grace Jones, David Bowie and Coldplay
Widely credited with coining the term "ambient music," low-volume music designed to modify one's perception of a surrounding environment
Produced music that has appeared in the films "Trainspotting" and "Heat," as well as numerous TV programs and commercials
Musician
Perhaps best known as a musician and producer, Brian Eno is also an artist, writer and musical pioneer. Music-wise, even if you haven't heard any of his own records, you may have heard his production contributions to albums by rock legends U2, Depeche Mode, David Bowie and Coldplay. Widely considered a trailblazing innovator of ambient music, Eno's music has appeared in films (Trainspotting, Velvet Goldmine, Heat), television programs and commercials. He also created the iconic Windows 95 start-up sound.
Eno's professional music career began in London, as a member of the glam/art rock band Roxy Music, initially not appearing on stage with them at live shows, but operating the mixing desk, processing the band's sound with a VCS3 synthesizer and tape recorders, and singing backing vocals. He then progressed to appearing on stage as a performing member of the group, usually flamboyantly costumed.
As Eno's musical scope broadened, he embarked on a solo career creating four albums of largely electronically inflected pop songs – Here Come the Warm Jets, Taking Tiger Mountain (By Strategy), Another Green World and Before and After Science, though the latter two also contained a number of minimal instrumental pieces in the so-called ambient style. Tiger Mountain contains the galloping "Third Uncle", one of Eno's best-known songs, owing in part to its later being covered by Bauhaus.
A musical savant, Eno's original methods of making sound into music called for new ways to notate his compositions. Like some 20th-century composers of classical music, he used graphic notation to represent what could not possibly be conveyed by conventional notes on a staff. During this time, he continued his career by producing a larger number of highly eclectic and increasingly ambient electronic and acoustic albums. He is widely credited with coining the term "ambient music," low-volume music designed to modify one's perception of a surrounding environment.
Eno also pursues other multimedia ventures in parallel to his music career, including art installations, a column in The Observer and a column on society and innovation in Prospect magazine. He also co-created "Oblique Strategies," a deck of cards in which cryptic remarks or random insights are intended to resolve dilemmas and shake up the mind in the process of producing art.
Eno continues to collaborate with other musicians, produce records, release his own music, and write.
To book a speaker, or for more information, call 424-288-2898, or send us a message using the form below.