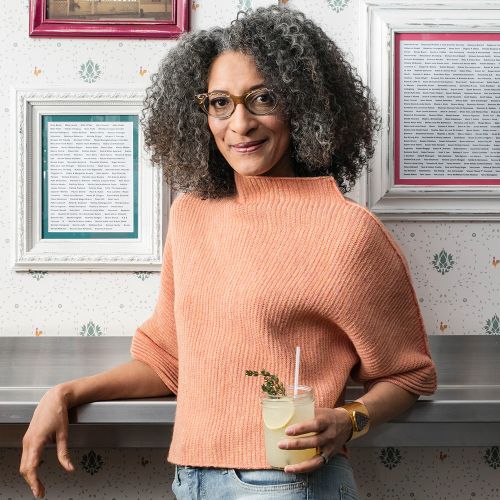 Inquire below to book
Carla Hall
Chef, Best Selling Author and Television Personality
At a Glance
Carla Hall

: Biography at a Glance
Carla Hall currently stars across Food Network's linear and digital programming, taking part in Halloween Baking Championship, Holiday Baking Championship, Worst Cooks in America, and Food Network's Kitchen app. In addition, she continues to develop and bring to fruition new passion projects for Food Network audiences.
Prior to that, Carla was the former co-host of ABC's Emmy award-winning, popular lifestyle series The Chew, and appeared on ABC's Strahan and Sara.
Her podcast, Say Yes! with Carla Hall, features conversations with people who have found success all while overcoming personal and professional challenges.
Her latest book, Carla Hall's Soul Food: Everyday and Celebration, takes us back to her Nashville roots to offer a fresh look at America's favorite comfort cuisine and the rich history behind it.
Carla got her start as a competitor and fan favorite on Bravo's Top Chef.

She served as Executive Chef at both The State Plaza Hotel and The Washington Club in Washington, D.C.

Carla cultivates audiences with discussing "Discovering Your Authentic Self", "Finding My Roots Through Food" and "Growth and Transformation Through Facing Your Fears".
Biography
Carla first won over audiences when she competed on Bravo's "Top Chef" and "Top Chef: All Stars" and shared her philosophy to always cook with love.  Since then she has co-hosted ABC's Emmy award winning, popular lifestyle series "The Chew", she brightens the mornings of millions as a Culinary Contributor to "Good Morning America", and in 2020 she will be featured as a judge on Crazy Delicious (Netflix) and on BakeAway Camp (Food Network) as well as numerous other shows and specials throughout the year.  Her latest cookbook, Carla Hall's Soul Food: Everyday and Celebration, was published in 2018, landing on annual "Best Cookbook" lists across the country and receiving an NAACP Image Awards nomination. 
Carla believes food connects us all, and she strives to communicate this through her work, her cooking, and in her daily interactions with others.
Born in Nashville, TN, Carla grew up surrounded by soul food. When the time came for her to select her career path, she first opted for a business route – she graduated from Howard University's Business School and worked as an accountant for two years – before deciding to switch gears to work as a runway model. It was during that time, as she traveled (and ate) her way through Europe for a few years, that she truly realized her deep-rooted passion for food could be her career path. Today, she is a trained chef who has worked in several professional restaurant kitchens in and around the Washington, D.C. area and is an accomplished television personality and author.
She has two previous cookbooks - Carla's Comfort Food: Favorite Dishes from Around the World and Cooking with Love: Comfort Food That Hugs You.  
Carla is very active with a number of charities and not-for-profit organizations that reflect her passion for causes close to her heart. Such organizations include Helen Keller International, an organization that works to improve the lives of those with blindness, and to prevent the causes and consequences of blindness, poor health, and malnutrition and the Pajama Program, which works to promote and support a comforting bedtime routine to help all children thrive by providing cozy pajamas, inspiring storybooks, and critical resources for caregivers.
Carla lives in D.C. with her husband, Matthew Lyons.
Reviews
Carla was spectacular!!! Carla is a true professional and we are honored she participated in this event. 
Citigroup
Carla was absolutely fabulous!!! Our social media sites are truly on fire. Carla is just as warm and personable in person as she appears to be on television. The event would not have been as wonderful without her.
Mott Community College
Carla Hall captivated our attendees with her blend of humor, southern humility and charm and business savvy.
Les Dames d'Escoffier
Everything went so well with Carla! She really added so much fun and laughter to her culinary demo that the audience truly enjoyed!
Culinary Chairperson, Mushroom Festival
She has an amazing personality and truly likes interacting with people. She was a perfect fit for this event – we couldn't have been happier.
Pensacola Beach Chamber of Commerce
Carla was so warm and welcoming to all her fans, and the dinner was a hit. We were very happy and certainly had some fun hanging out.
Barbados Food & Wine and Rum Festival 2015
She gave a wonderful speech and was very animated in her presentation, all from the heart and all without notes. Everyone was thrilled with the day.
The Women's Summit at Bryant University
It was wonderful! Everyone had a great time and Carla is amazing.
​Coppell Arts Center
For speaker-related inquiries, email speakers@caa.com, or send us a message using the form below.