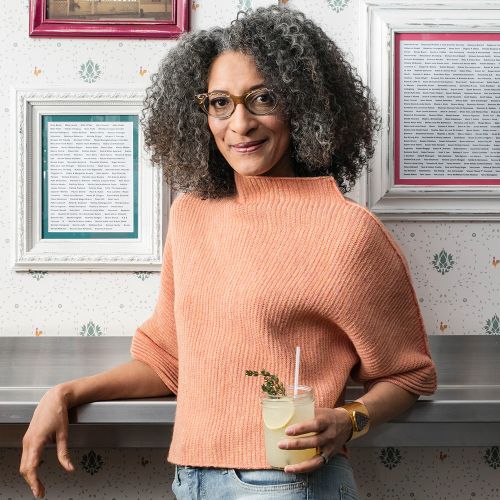 Inquire below to book Carla Hall
Chef, Best Selling Author and Television Personality
Carla Hall: Biography at a Glance
Carla Hall is a food contributor on ABC's Strahan and Sara
Former co-host of the ABC daytime talk show The Chew
Her book, Carla Hall's Soul Food: Everyday and Celebration, takes us back to her Nashville roots to offer a fresh look at America's favorite comfort cuisine and the rich history behind it
Got her start as a competitor and fan favorite on Bravo's Top Chef
Served as Executive Chef at both The State Plaza Hotel and The Washington Club in Washington, D.C.
Author of the cookbooks Carla's Comfort Food and Cooking with Love
Biography
Carla Hall is a chef and television personality who is currently the food contributor on ABC's "Strahan and Sara". She formerly co-hosted ABC's hit lifestyle series "The Chew." Starting with a lunch delivery service, Carla worked her way into the upper echelons of the restaurant business, and came to fame as a popular competitor on Bravo's "Top Chef."
Carla's approach to cooking blends her classic French training and Southern upbringing for a twist on traditional favorites. She is committed to health and balance in everyday living and is known for her philosophy of always cooking with love.
On "The Chew," Carla is seated alongside restaurateur and "Iron Chef America" star Michael Symon and entertaining expert Clinton Kelly. "The Chew" is one of broadcast's most popular lifestyle series and won the Daytime Emmy Award for Outstanding Informative Talk Show in 2015. Carla and the other co-hosts have been nominated for the Emmy for Outstanding Informative Talk Show Hosts for three consecutive years (2015, 2016, 2017) and won in 2015, while continuing to be nominated for Outstanding Talk Show in 2017 and 2018.
Carla Hall's Southern Kitchen—the chef's first restaurant—opened in NYC in 2015 and had a successful run before shutting down in 2017. A fast-casual love letter to Nashville, the restaurant featured iconic Nashville Hot Chicken and southern sides, anchored by Hall's family recipes and perfected with her personal touches. Hall is also the owner of Carla Hall Petite Cookies, an artisan cookie company that specializes in creating sweet and savory "petite bites of love" and other desserts. Her book "Carla Hall's Soul Food: Everyday and Celebration, which takes us back to her Nashville roots to offer a fresh look at America's favorite comfort cuisine and the rich history behind it, was released in 2019. Her cookbook, "Carla's Comfort Food: Favorite Dishes from Around the World," was published in April 2014, and her first cookbook, "Cooking with Love: Comfort Food That Hugs You," was published in November 2012 and recently re-released in paperback.
A native of Nashville, Tennessee, Hall received a degree in Accounting from Howard University, but traveling through Europe awakened her passion for food and inspired a new career path. Starting with a lunch delivery service called "The Lunch Bunch," Carla eventually enrolled in L'Academie de Cuisine in Maryland where she completed her culinary training, going on to work as a Sous Chef at the Henley Park Hotel in Washington, DC. She also served as Executive Chef at both The State Plaza Hotel and The Washington Club, and has taught classes at CulinAerie, Sur la Table and her alma mater, L'Academie de Cuisine. Hall is a true believer that, "If you're not in a good mood, the only thing you should make is a reservation."
Carla is also active with a number of charities and not-for-profit organizations that reflect her passion for causes close to her heart. She serves as a Board Member for the Pajama Program and GenYouth. Carla also actively works with Chef Jose Andres' World Central Kitchen Chef Network, DC Central Kitchen, The USO, St. Jude's Children's Hospital, Feeding America, WCR (Women Chefs and Restaurateurs) and she serves on the advisory boards for the Edible Academy for the New York Botanical Gardens and for the Food and Finance School in New York City.
She lives in Washington, DC with her husband, Matthew Lyons, and stepson Noah.
"Carla was absolutely fabulous!!! Our social media sites are truly on fire. Carla is just as warm and personable in person as she appears to be on television. The event would not have been as wonderful without her."

Mott Community College
"Carla Hall captivated our attendees with her blend of humor, southern humility and charm and business savvy."

Les Dames d'Escoffier
"Everything went so well with Carla! She really added so much fun and laughter to her culinary demo that the audience truly enjoyed!"

Culinary Chairperson, Mushroom Festival
"She has an amazing personality and truly likes interacting with people. She was a perfect fit for this event – we couldn't have been happier."

Pensacola Beach Chamber of Commerce
"Carla was so warm and welcoming to all her fans, and the dinner was a hit. We were very happy and certainly had some fun hanging out."

Barbados Food & Wine and Rum Festival 2015
"She gave a wonderful speech and was very animated in her presentation, all from the heart and all without notes. Everyone was thrilled with the day."

The Women's Summit at Bryant University
To book a speaker, or for more information, call 424-288-2898, or send us a message using the form below.