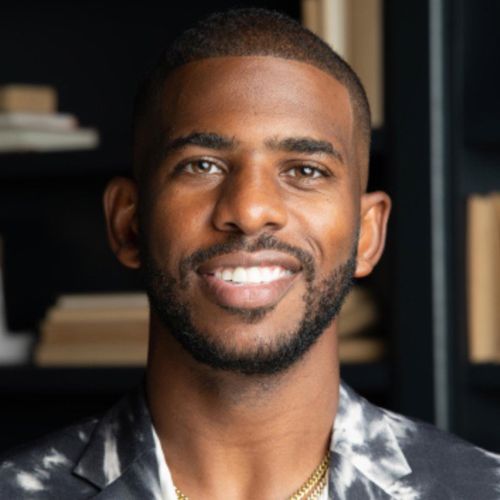 Inquire below to book
Chris Paul
Phoenix Suns Point Guard & Former NBA Players Association President
At a Glance
Chris Paul

: Biography at a Glance
Chris Paul is a Point Guard for the Phoenix Suns and served as President of the National Basketball Players Association from 2013-2021.
He is a nine-time NBA All-Star, All-Star Game MVP and Rookie of the Year.
Paul led Team USA to gold medals in the 2008 and 2012 Olympics.
Paul works closely with the nonprofits Feed the Children, the Special Olympics of North Carolina, Make-A-Wish Foundation and Meals on Wheels.
He founded the Chris Paul Family Foundation, which strives to have a positive impact on individuals and families by leveling the playing field in education, sports and life goals.
He has executive produced multiple projects focused on the intersection of sports and culture, including TV docuseries Why Not Us and TV movie The Day Sports Stood Still
Biography
On the court, Chris Paul is a force to be reckoned with, a fierce competitor, and one of the most talented, respected NBA players of all time. Off the court, he's a father, husband, compassionate philanthropist and businessman, who has built a robust brand and made a huge difference in his community, all while creating a powerful legacy. He is greatly respected by his peers as a leader both in and outside of basketball.
After leaving Wake Forest University (who retired his jersey in March 2013) at the end of his sophomore year, Chris was chosen by the New Orleans Hornets as the fourth pick in the 2005 NBA draft, which led to NBA Rookie of the Year honors, and the first of his ten All-Star selections.
Chris joined the Los Angeles Clippers in 2011 becoming the face of the franchise and helped lead the Clippers to their first ever Pacific Division title in 2013. After six years with the Clippers, Chris joined the Houston Rockets in 2017 and helped the team win a franchise-record 65 games in his debut season. Chris is currently playing with the Phoenix Suns, after one season with the Oklahoma City Thunder and two seasons with the Houston Rockets.
The Winston Salem, North Carolina native is a four-time NBA First Team selection, a seven-time All NBA Defensive First Team selection, a four-time NBA assist leader, and a six-time NBA steals leader, who won MVP honors at the 2013 All-Star game. He is also a two-time gold medal winner with Team USA at the 2008 and 2012 Olympic Games.
Chris has become a well-respected and admired leader as evidenced by his elected role as President of the National Basketball Players Association in August 2013. He served from 2013-2021, playing an instrumental role in making key decisions including the landmark decision to provide health insurance to retired players.
In addition to his leadership role with the NBA Players Association, Chris currently serves on the Board of Directors for the NBPA Foundation and the Brotherhood Crusade. He is the President of World Waters (WTRMLN WTR's Advisory Board) and an Advisory Board Member for College Track Los Angeles.
He is the co-founder of Go Hoop Day, a day for celebrating the game of basketball worldwide. He co- hosts The Baha Mar Showdown, the annual celebrity golf showcase created by Turner Sports and CAA Sports.
Chris's business partnerships include the Jordan Brand, State Farm Insurance, Spalding, Turner Impact Capital, Muzik, WTRMLN WTR, Beyond Meat, Uncharted Power, Calm, Fanatics, Panini Cards, and more.
Chris teamed up with Turner Impact Capital to raise awareness for the importance of affordable housing for working-class families. He's also an investor in the Turner Multifamily Impact Fund, which aims to invest, preserve and enrich existing multifamily properties in densely populated, ethnically diverse, underserved urban communities.
Chris's production company, Oh Dipp!!! Productions, creates content across multiple platforms. Oh Dipp!!! produced the three-part ESPN docuseries Chapter 3, which provides a behind-the-scenes look at Chris's decision to leave the L.A. Clippers and join the Houston Rockets. Chris served as an executive producer of the ESPN Sports Emmy-nominated documentary, Crossroads, featuring a high school lacrosse team's journey in overcoming adversity. He executive produced The Game Changers, an award- winning documentary about plant-based eating, protein, and strength. Chris executive produced Blackballed, the inside story of Donald Sterling and the L.A. Clippers. He also served as an executive producer of The Day Sports Stood Still, a documentary about sports shutting down due to Covid-19 as well as Why Not Us, a docuseries around HBCU basketball and the challenges they face.
His CP3 Basketball Academy is a premier training academy in Winston Salem and Greensboro, NC. The Academy provides skill development, basketball education, and leadership opportunities for young athletes of all skill levels. Chris also hosts youth clinics and camps, as well as an elite camp for top high school and college students from around the country.
In 2018, Chris became part owner of the Winston-Salem Dash, a minor league baseball team in Winston- Salem, North Carolina.
This past summer, Chris hosted his inaugural Club 61 Leadership Alliance. The mission of Club 61 is to provide experiences and opportunities for young adults to develop leadership skills.
Chris and his family established the Chris Paul Family Foundation in 2005, which strives to have a positive impact on individuals and families by leveling the playing field in education, sports and life goals. Leveling the playing field in education, the foundation provides technology opportunities for children in underserved communities across the United States. The foundation supports numerous organizations including the Boys & Girls Club, Shoes That Fit, Vision to Learn, the Brotherhood Crusade, Leaps n Boundz and Feed The Children. The foundation also hosts an annual Prom Pop-up Shop and Prom Takeover event, which provides high school students with all the necessities for a memorable prom experience.
The foundation donated $2.5 million to Wake Forest University to support their basketball program. The gift will be used to transform the men's and women's basketball clubhouses with expanded and enhanced locker rooms, nutrition resources and treatment areas. The new Chris Paul Locker Room for the men's team will be named in his honor.
The foundation's impact in local communities has earned Chris the NBA Community Assist Award five times. He has also received the 2016 ESPYs "Humanitarian of the Year" award and the 2016 Mannie Jackson Human Spirit Award from the Naismith Memorial Basketball Hall of Fame for his community efforts.
Chris hosted Nickelodeon's 5th Annual Kids' Choice Sports Awards in 2018. He teamed up with Nickelodeon in Houston for Worldwide Day of Play, a nationwide initiative to promote active, playful lifestyles in today's young generation.
Chris is a Co-Chair of When We All Vote, a new national, nonpartisan not-for-profit shaping the promise of democracy through voter registration and participation.
Chris is married to Jada Paul and they have two children; a daughter, Camryn, and a son, Chris II.
For speaker-related inquiries, email speakers@caa.com, or send us a message using the form below.