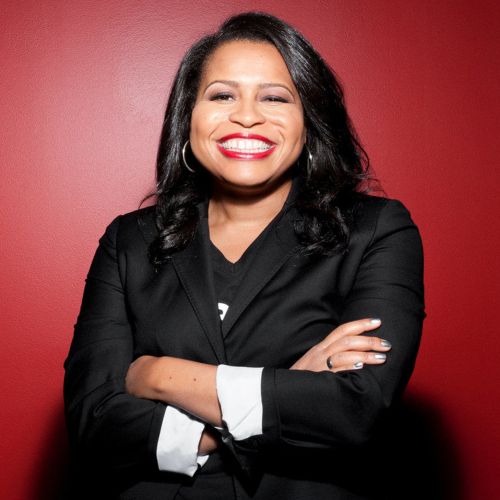 Inquire below to book
Courtney Kemp
Showrunner, Starz Network's Power
At a Glance
Courtney Kemp

: Biography at a Glance
Courtney Kemp is the showrunner for the Starz crime series "Power," one of the network's most successful ventures, alongside co-producer Curtis "50 Cent" Jackson
Wrote and produced episodes of the CBS Emmy-nominated series "The Good Wife"
As one of the few African-American showrunners in primetime television, has been at the forefront of immensely successful series across a number of networks
Other television credits include "The Bernie Mac Show," "Eli Stone" and "Hawaii 5-0"
Biography
A string of successes as both writer and producer on such series as The Good Wife (CBS, 2009-2016) paved the way for Courtney Kemp to create the highly-rated crime drama Power (Starz, 2014- ) and become one of the few African-American showrunners in primetime television.
Born May 4, 1977 in Westport, Connecticut, she began writing original stories before her teenaged years, and honed her talents at both Brown University and Columbia University, from which she received her Masters degree.
Upon graduating, Kemp wrote for such high-profile magazines as Mademoiselle and GQ before leaving journalism to write for the J. Crew catalog. While there, she was contacted by television producers who wanted to adapt a story about interracial dating that she'd written for GQ into a series; the project never materialized, but it sparked Kemp's interest in writing for television.
At the age of 26, she relocated to Los Angeles and landed work as a staff writer on The Bernie Mac Show (Fox, 2001-06). The experience led to other writing and story editing assignments on series like Eli Stone (ABC, 2008-09) before Kemp hit her stride as a writer and producer on The Good Wife. She shared a Emmy nomination for Outstanding Drama Series in 2011 with producers Ridley and Tony Scott before departing the CBS series the following year; Kemp then served as producer and occasional writer on network programs like Hawaii 5-0 (CBS, 2010- ) before moving up to showrunner with Power. The crime series, co-produced and co-starring rapper Curtis "50 Cent" Jackson, was one of the most successful series in the Starz stable, garnering the highest audience numbers for its second season premiere and finale in the network's history.
For speaker-related inquiries, email speakers@caa.com, or send us a message using the form below.