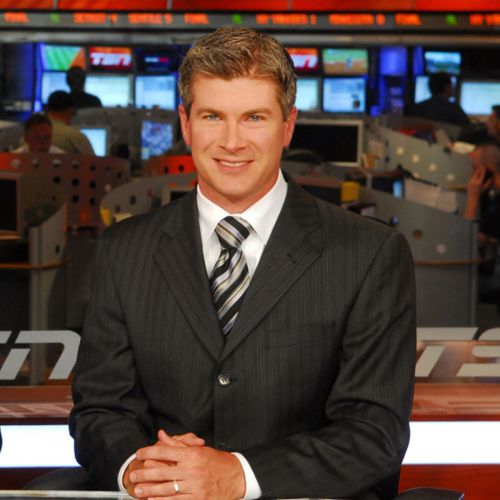 Inquire below to book Dan O'Toole
Co-Host, FSN's "SportsCentre"
Dan O'Toole: Biography at a Glance
Co-hosts the weekday broadcast of The Sports Network's "SportsCentre" alongside Jay Onrait
Previously co-hosted "FOX Sports Live"
Former news anchor at Vancouver's Citytv
Co-Host, FSN's "SportsCentre"
Dan O'Toole and Jay Onrait currently host SportsCentre on TSN.
O'Toole grew up in the rural community of Keene, Ontario, and graduated from Algonquin College (Ottawa).
From 2003 to June 28, 2013, O'Toole co-hosted the 1:00 AM (ET) weekday broadcast of SportsCentre alongside Jay Onrait. As host of Sportscentre, he brought viewers a complete summary of the day's sports events, including highlights and post-game reports.
O'Toole previously worked as a news anchor at Citytv Vancouver and moved to Vancouver in 1997 where he worked as a traffic reporter for CJJR-FM and CFUN-AM. He moved to Fort McMurray, Alberta in 1998 where he worked as a sports director for CJOK-FM and CKYX-FM for three years. While there, O'Toole called play-by-play for the Fort McMurray Oil Barons of the AJHL. He then worked for CTV Edmonton as the Fort McMurray evening news reporter.
During his time at TSN, O'Toole routinely traveled to communities across Canada co-hosting SportsCentre with Onrait as part of the annual summer TSN and Kraft Celebration Tour.
In 2013, O'Toole and Onrait left TSN and Canada to join the newly created Fox Sports 1 channel based in Los Angeles. There they were the hosts of Fox Sports Live. In early 2017, after FSN cancelled their show, O'Toole and Onrait both re-signed at TSN in their previous roles.
To book a speaker, or for more information, call 424-288-2898, or send us a message using the form below.