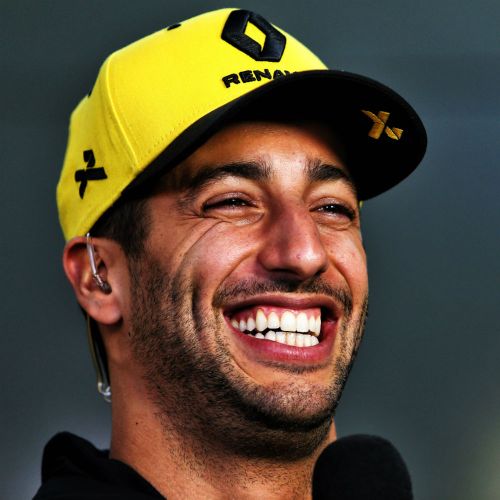 Inquire below to book
Daniel Ricciardo
Internationally-Renowned Racing Driver 
At a Glance
Daniel Ricciardo

: Biography at a Glance
Daniel Ricciardo is an Australian-born Formula 1 superstar, and s

even-time Formula 1 Grand Prix winner including 2018 victories in Monaco and China

He stars in the Netflix docuseries, "Formula 1: Drive to Survive"

Among the sport's leaders in social engagement, with 2M+ Instagram followers

Pushing boundaries to differentiate himself within Formula 1, he uses the mantra, "Stop Being Them," which can be seen on his driving helmet

Daniel's down-to-earth, playful vibe, approachability among fans and unforgettable smile help preserve his place as the most authentic personality within the sport
Biography
Daniel Ricciardo is a 29-year old, Australian-born Formula 1 superstar, now racing for Renault Sport after an accomplished eight-year start to his career, having captured seven Grand Prix victories racing for Scuderia Torro Rosso and Red Bull Racing. Widely considered the most charismatic driver in Formula 1, Daniel sets the pace in the sport when it comes to engaging with F1's truly global fanbase.
The Australian combines all-out speed with impressive driving craft. Never afraid to push to the limits if it means pulling off an overtake, Ricciardo is a proven race-winner, capable of consistently finishing at the business end of the championship table -- which he will regularly celebrate in trademark Aussie style via the iconic 'Shoey,' sipping champagne from atop the podium out of his soggy race boot alongside celebrity race-goers.
Furthermore, Daniel's down-to-Earth, playful vibe, approachability among fans and unforgettable smile help preserve his place as the most authentic personality within the sport. Daniel's love of the great outdoors, his interest of worldly culture, and most notably, his passion and love of music, help attract his sport-leading social following and ultimately serve as relatable elements of his outward-facing persona.
For speaker-related inquiries, email speakers@caa.com, or send us a message using the form below.