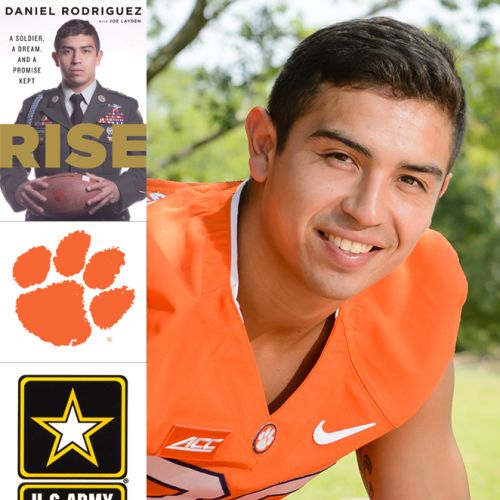 Inquire below to book Daniel Rodriguez
Purple Heart Recipient & NFL Recruit
Daniel Rodriguez: Biography at a Glance
Played for Clemson University's football team after surviving the war in Afghanistan and leaving the military
Earned a Purple Heart and bronze star for his bravery
Honored with the Discover Orange Bowl-FWAA Courage Award, the 2014 Armed Forces Merit Award and the American Hero Award by the Walter Camp Football Foundation
Author of "Rise: A Soldier, a Dream, and a Promise Kept"
Played for the St. Louis Rams
Purple Heart Recipient & NFL Recruit
Daniel Rodriguez has had an incredible journey. After surviving the bloodiest clash of the war in Afghanistan, he left the military and walked on the Clemson football special teams in order to fulfill a promise to a friend who died on the battlefield.
Rodriguez's father passed away four days after his high school graduation. He sought out the military and spent 15 months in Iraq before heading to Afghanistan, where he found himself in the bloodiest battle of the war. As more than 300 Tailban assaulted his combat outpost, it was partially overrun and nearly destroyed. During the 18-hour, point-blank battle, eight U.S. soldiers were killed, including Rodriguez's close friend, Pfc. Kevin Thompson. The two had bonded over making plans for what they would do after they got out of the military. Six months later, Rodriguez returned home, only to battle the psychological effects of war. After earning a Purple Heart and Bronze Star for his bravery, suicidal thoughts and heavy drinking became the new normal. Spurred by the desire to make his friend's death meaningful, Rodriguez decided to make a change. He enrolled in community college, raised his grades, and vowed to make good on the promise he had made to Thompson – to get his education and play college football.
Rodriguez committed to getting back in shape. He quit drinking and worked out more than six hours a day. Despite the training, he battled other stereotypes – he was older now than the typical college freshman and weighed less than 200 pounds. But Rodriguez didn't give up. With an utter devotion to accomplishing his goal, he found a friend with filmmaking experience and the two shot a unique recruitment video.
Never asking for a handout, only a chance, he reminds audiences what it means to take control and work to succeed with determination. Rodriguez shares the story of how he came back from the edge of war in order to honor his friend's life and create a new one for himself. His accomplishments resonate with anyone who has ever fought for what they wanted.
In 2012, Rodriguez was honored with the Discover Orange Bowl Courage Award for his display of courage on and off the field. In 2014, he received the Armed Forces Merit Award, presented by the Football Writers Association of America and honoring an individual with a military background that has made an impact in college football. He was also awarded the American Hero Award by the Walter Camp foundation. During his senior season with the Tigers, he published Rise: A Soldier, A Dream and a Promise Kept, the firsthand account of his journey from Kamdesh to Clemson.
In Spring 2015, Rodriguez was signed by the St. Louis Rams.
"Daniel's visit had a big impact on the cadets who met with him and heard him speak. His message, his story and his approachability resonated with our students. I'm not sure who enjoyed his visit more – him or our cadets!"

Virginia Military Institute
"Daniel was absolutely outstanding. Not only was his presentation incredibly inspiring and uplifting (the entire crowd was on their feet), but he is one of the brightest, most personable, and well met people that I have ever had the pleasure of meeting. We couldn't have found a better presenter or a greater life story anywhere."

Mechanical Contractors Association of America
"Daniel Rodriguez AMAZED our audience of nearly 500 sales people in Jan 2016. Not only is Daniel's story compelling, he is a compelling storyteller – authentic, humble, funny, charming. Daniel has an innate ability to connect personally with even a large audience, delivering a powerful keynote that will not be forgotten. His message of survival and achievement is universally relevant, as his story brings to life resilience, hard work, dreaming big, and a "no excuses" commitment to excellence. Congratulations on a multiple standing ovation delivery, Daniel! Thank you for your service, for being an inspiration to so many people, and for being a joy to work with!"

RCTaylor Group
"Daniel was outstanding! It was an excellent program. Our students really connected with him and he with them. I could not have asked for anything better."

Framingham State University
"I think he was great. It was very real. He made an impression and we appreciate seeing that."

Kansas City Life
"Daniel was amazing at our Safety Awards Luncheon. His story, personality, humor, and stage presence was incredible. We have received so many awesome comments about him and his speech…thanks for making this event truly awesome for us! I had the opportunity to spend some 1-on-1 time with Daniel prior to and following the luncheon and got a really good feel for the amazing man that he has become."

Master Builders of Iowa
"We have been receiving all glowing comments about Daniel. Our Veterans Center Director was thoroughly pleased. He worked most directly with Daniel during his visit. Daniel spoke to our veterans and guests at their recognition banquet, our radio station, and at his keynote. Everyone who came in to contact with Daniel was impressed with his passion, his commitment and determination, and his positive and thoughtful demeanor. We would be very glad and proud to recommend a visit from Daniel to any organization, school, community groups, veterans organizations, etc. Definitely positive all around. Thanks for everything you did to help make this a success for CWU and our veterans."

Central Washington University
"The event last night with Daniel at NWMSU was amazing! We had pretty good attendance, and Daniel far exceeded my expectations! His ability to tell his story, and how he overcame his personal struggles really coincided with what some of our students are currently going through, and they were able to relate to him in that way! He was super friendly and outgoing, and stayed almost an hour after the presentation to talk to students, football players, staff, and took pictures with everyone! Overall just a personable, down-to-earth speaker, and we were super thrilled to have him at our campus!"

Northwest Missouri State University
"Daniel was the luncheon speaker on the first day of our 2016 Annual Convention. Over 800 people gathered to hear his story of coming of age through the shock of warfare, substance abuse, loss, perseverance and redemption. He is an amazing young man with a powerful, well-delivered message.As his story unfolded he established an immediate connection with the audience and something deeper with the dozens of individuals that waited after his talk to meet him, shake his hand, share a hug or exchange tear-filled whispered words. Daniel made time for them all. It was impossible to tell who got more out of the experience – Daniel or those that he took the time to speak with.Our attendees responded to him in a way that exceeded all expectations."

Sheet Metal and Air Conditioning Contractors National Association
"Daniel was absolutely wonderful. We honestly couldn't have asked for more. He was warm, engaging, and supportive. His story spoke for itself, but I know he touched many people."

Casper College
To book a speaker, or for more information, call 424-288-2898, or send us a message using the form below.