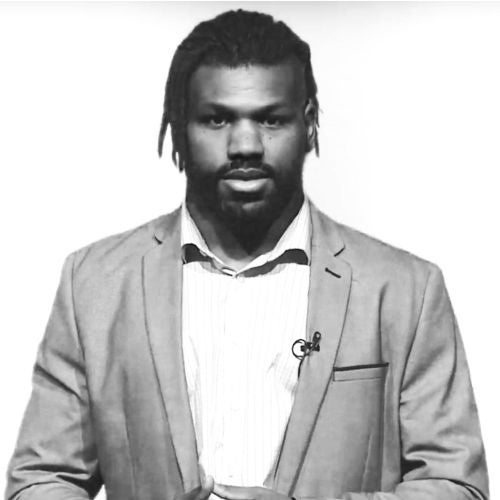 Inquire below to book
Dartanyon Crockett
Blind Judo World Champion
At a Glance
Dartanyon Crockett

: Biography at a Glance
Born with optic neuropathy, Dartanyon Crockett has been severely nearsighted his entire life.
Despite his disability, Dartanyon became the 2014 Blind Judo World Champion, and received bronze medals in the London 2012 and Rio 2016 Paralympics.
During Dartanyon's time as an elite athlete, he also served as a U.S. Athlete Envoy for the U.S. State Department.
He was profiled in the ESPN specials "Carry On" and "Carry On: Why I Stayed" with his best friend Leroy Sutton, which led to an invitation to learn judo at the U.S. Olympic Training Center.
ESPN producer Lisa Fenn told their story in her memoir, "Carry On."
Biography
Dartanyon was born in inner-city Cleveland, OH. Born with optic neuropathy, he has been severely nearsighted his entire life. Despite his disability, Dartanyon was a league champion high school wrestler. During Dartanyon's final year of high school, he and his friend, Leroy Sutton were featured on ESPN. After Dartanyon's first appearance on ESPN, many doors opened for him, not the least of which was an opportunity to train as a U.S. Paralympian in the sport of judo.
He ended his illustrious career as a London 2012 and Rio 2016 Paralympic Bronze medalist and 2014 World Champion. During Dartanyon's time as an elite athlete, he also served as a U.S. Athlete Envoy for the U.S. State Department. His mission took him to Turkmenistan, where he worked to strengthen the relationship between the U.S. and Turkmenistan through the power of sport and break the stigma of surrounding blindness in this part of the world.
Dartanyon is finishing a degree in Sociology with a minor in social work. He is studying the correlation between meaningful connections and the success of traditional underdogs and enjoys sharing his expertise with audiences around the world.
Reviews
With over 4,000 people assembled at the World Arena, one could hear a pin drop as Dartanyon shared his powerful story.
APR
Lisa and Dartanyon did an AMAZING job!!! The audience really responded well to their Keynote! There wasn't a dry eye in the house. They even received several standing ovations. I am so happy they were able to come to the event and share their story! Thank you for all of your help!
Franklin Covey
Our audience gained valuable perspectives on personal and team leadership, and I have no doubt that they are better equipped to contribute to their respective organizations as a result of his engagement with them.
United States Air Force Academy
We usually get about 30 people at these events; we had about 200 and sold out of all the books. We were thrilled. Leroy and Dartanyon were great - a lot of happy, crying people. It was a success.
Shore School
For speaker-related inquiries, email speakers@caa.com, or send us a message using the form below.