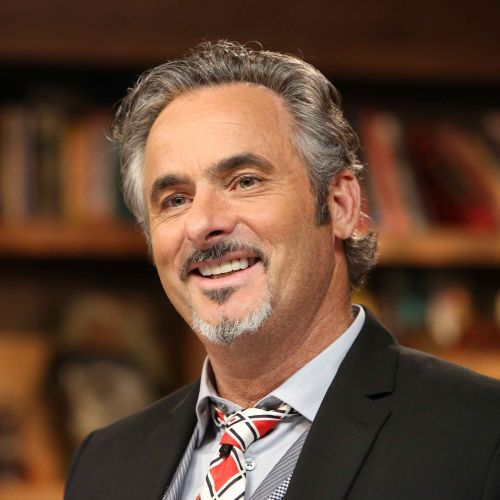 Inquire below to book
David Feherty
Host, Golf Channel's "Feherty"
At a Glance
David Feherty

: Biography at a Glance
Davis Feherty hosts "Feherty," Golf Channel's most popular program
He is also an NBC Sports analyst
David also served as an on-course reporter for CBS Sports
He is the winner of 10 world tournaments
Feherty is also the best-selling author of "An Idiot for All Seasons," "Somewhere in Ireland, A Village is Missing an Idiot" and "A Nasty Bit of Rough"
Biography
David Feherty was born in the seaside town of Bangor in Northern Ireland. He grew up with aspirations to become an opera singer, until he discovered he had the knack for hitting a golf ball. He jokes about his career change, "I was always interested in music from a very early age. But when I turned pro at age 17, I haven't sung a note since. Now, I only sing to punish my children."
David enjoyed a successful professional career, with 10 victories worldwide and over $3 million in prize money. He was a regular on the European Tour, with victories including the ICL International, the Italian Open, Scottish Open, South Africa PGA, BMW Open, Cannes Open, and Madrid Open. He captained the winning Irish team in the 1990 Alfred Dunhill Cup and played on the European Ryder Cup Team in 1991, an experience that rejuvenated his fervor for golf.
In 1997, David retired from professional golf when offered a position as a golf commentator for CBS Sports. "I always enjoyed talking more than playing, and now I'm being paid for what I like to do most." In 2015, David joined NBC for analysis on tournament coverage. Thanks to his sharp wit and colorful personality, he has become golf's favorite announcer.
The Golf Channel is currently airing its ninth season of Feherty -- its most popular program. No topic is off limits in this original series that shares revealing interviews with well-known personalities from sports and entertainment, including President Clinton, Donald Trump, Samuel L. Jackson and Bill Russell among others. As one critic observed, "Feherty is like the man: brutally honest, funny, maddeningly scattered." Thanks to a recent partnership with PGA Tour Radio and the Golf Channel, the program is now broadcast on Sirius and XM satellite radio.
David's success extends beyond broadcasting. He's authored 6 books, several making The New York Times bestsellers list, including An Idiot for all Seasons; Somewhere in Ireland, A Village is Missing an Idiot; and A Nasty Bit of Rough. Each is "chocked full with belly-busting humor," including his latest bestseller, The Power of Positive Idiocy.
For David, his most fulfilling activities are on behalf of badly injured U.S. troops. Through his Troops First Foundation, David stages events for wounded Special Forces, Green Berets and other U.S. heroes involving golf, hunting, bicycling and skiing. "Losing a limb, or the ability to use a limb, is one thing," David says. "But the dignity they lose with it is perhaps even more important. And to be able to give them some of that dignity back is my mission with these days. It's not a charity. It's just us trying to pay back a very small part of the check that we owe them."
 
Reviews
David was once again phenomenal as the raves are pouring in. Thanks for the ease in getting him to us. He had us stitches laughing as well as moved by his profound side. You guys really have a "gem".
Hickory Sportsman's Club
David Feherty was a super hit for Lincoln International. He was charming, spoke for a fascinating hour and 10 minutes, and then noticed his books – asked 'Are they signed?' He insisted on signing anyone's books who wanted a signature, even personalizing most, and had no intention of rushing off. He was a hero! I'm so glad that this date turned out to be a smash hit on every level!
Lincoln International
Everything went great! He was AWESOME. He totally carried the evening!
Wyndham Worldwide
This was our best event yet, the crowd was completely engaged with David as he stole the show! We told him say whatever you like and he did….it was amazing. We raised an additional $90,000 at our event last night. Thanks again for everything!
Synergy 8 Community Builders
It was a great showing and everyone had a good time. We were very appreciative with how gracious David was at the reception and we loved his time on stage. The leadership was extremely happy since we pulled in 540 people and have never had more than 300 attend this event.
St. Jude's
• David was a huge hit! A must-see presentation for anyone who is lucky enough to have the chance to see him speak. Honest and funny – a winning combination.
Turning Point Recovery Society
David was fantastic! The whole group very much appreciated his humor and insights. We were honored to have him.
Altamont Capital Partners
For speaker-related inquiries, email speakers@caa.com, or send us a message using the form below.