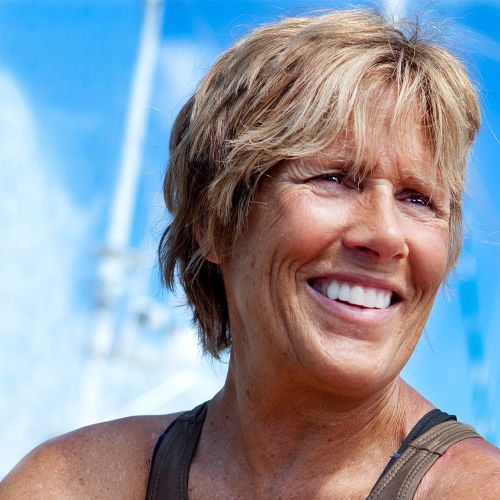 Inquire below to book
Diana Nyad
Record-Breaking Endurance Athlete & Sports Journalist
At a Glance
Diana Nyad

: Biography at a Glance
Diana Nyad is the first person to successfully complete the 110-mile swim from Cuba to Florida without the protection of a shark cage
Achieved the "Xtreme Dream," at age 64, 30 years after she had failed to finish the same route
Author of the 2015 memoir Find a Way: The Inspiring Story of One Woman's Pursuit of a Lifelong Dream
Launched an initiative, EverWalk, intending to turn us from a sedentary nation to a nation of millions of walkers
Developed Oceans Commit event dedicated to gathering commitment signatures from both individuals and businesses to reduce their single use plastic
Reported for a number of programs and publications, including NPR, ABC's Wide World of Sports, Fox Sports, New York Times and Newsweek
Inducted into the International Women's Sports Hall of Fame
Biography
25 million people worldwide rooted for Diana Nyad as she approached the Florida shore, at long last achieving her 35-year-old dream of becoming the first person to swim from Cuba to Florida.
Diana is not one to quit. On her fifth attempt, speaking the words "Never Ever Give Up" to the wildly cheering crowd on a Key West beach on September 2, 2013, Diana may have been dazed and physically spent, but she showed the world what persistence and bold spirit can manifest.
Diana stroked the amazing 110.86 miles in 52 hours, 54 minutes, 18 seconds.
A worldwide response of inspiration came flooding toward Diana, from personal messages from President Obama and Hillary Clinton to literally millions of people who felt their own lives lifted with Diana's "Find a Way" philosophy.
Daring to reach for the stars, this swim beginning to seem impossible (after her four attempts over 35 years and other strong swimmers trying and failing since 1950), Diana has motivated the world at large to live fearlessly, to chase one's dreams with unwavering commitment.
The second statement the victorious 64-year-old made on that Key West beach? "You're never too old to chase your dreams." And her third statement on that historic day:
"It looks a solitary sport, but it's a TEAM."
Courage, bold vision, and the ability to articulate her philosophies have propelled Diana through an inspiring life.
A prominent sports journalist, filing for National Public Radio, ABC's Wide World of Sports, The New York Times and others, Diana has carved her place as one of our compelling storytellers and sought-after public speakers.
In September, 2019, Diana's stage show "The Swimmer" played to sold-out audiences at the storied Minetta Lane Theater in New York City and the play is now being courted at other off-Broadway theaters.
Diana's memoir, Find a Way, has earned worldwide praise. She has written three other books and speaks French and Spanish fluently.
Diana and her Cuba Swim Head Handler Bonnie Stoll have launched an initiative called EverWalk, to lead us walking along the epic outdoor corridors of America. Diana and Bonnie intend to turn us into a nation of millions of walkers.
And Diana is yet again dreaming big, leading a million swimmers and walkers (Swimmers Commit, EverWalkers Commit) June 2020 from Miami to Washington, DC, in a push for American companies and individuals to reduce single use plastics in our businesses and our homes.
Reviews
I literally went through a roller coaster of emotions listening to her speak. She is the most inspirational speaker I've ever listened to.
Bank of America
She was polished, humorous, inspiring, motivational and I think everyone would have listened to her for another 2 hours - she was that captivating.
EXIT Reality Corp. International
Diana was amazing! Seriously, such an incredible story. Everyone I talked to afterwards said it was very inspiring.
Apple
Huge standing ovation when she walked onto the stage! Diana was warm, engaging and so darn funny!
SCA Americas
She is an amazing person, speaker, and storyteller! I could've listened to her speak longer. Just amazing!!!!!!
Long & Foster Real Estate
Diana was wonderful to work with, gracious with our guests and gave a wonderful presentation.
Guilford College
For speaker-related inquiries, email speakers@caa.com, or send us a message using the form below.