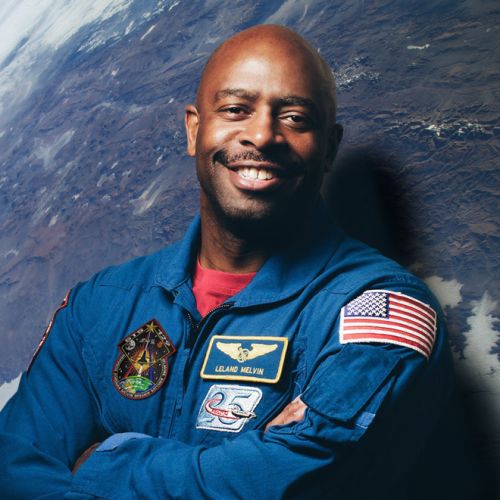 Inquire below to book
Leland Melvin
Astronaut & Space Thought Leader
At a Glance
Leland Melvin

: Biography at a Glance
Leland Melvin is a space thought leader, astronaut, engineer, educator, and former NFL wide receiver for the Detroit Lions
Leland is the only person drafted into the National Football League to have flown in space
He was featured on National Geographic's One Strange Rock, hosted by Will Smith, where he explained how his brain repaired itself after an injury that left him deaf and almost stopped him from ever going to space
Even after being medically disqualified to fly in space by NASA flight surgeons, Leland completed two Space Shuttle missions to help build the International Space Station
Served as the co-chair of the White House's Federal Coordination in STEM Education Task Force, developing the nation's 5 year plan for STEM education
His memoir, Chasing Space, shares his personal journey from the gridiron to the stars, examining the intersecting roles of community, perseverance and grace that align to create the opportunities for success
Consultant on National Geographic's second season of Mars
Biography
Leland Melvin is an engineer, educator, former NASA astronaut and NFL wide receiver. He served on board the Space Shuttle Atlantis as a mission specialist on mission STS-122 (2008) and STS-129 (2009), helping to construct the International Space Station.
Leland served co-chair of the White House's Federal Coordination in STEM Education Task Force and as NASA Associate Administrator for Education.
"Houston, we have a problem." Leland Melvin was 25 feet under water in the Neutral Buoyancy Laboratory, a 6 million gallon pool, training to perform spacewalks as a NASA astronaut when he called the test director and asked him to turn the volume up in his headset. He never heard a reply and was immediately hoisted out of the pool to learn that he was deaf. Emergency surgery resulting in only partial recovery to his hearing led him to being medically disqualified to fly in space by NASA flight surgeons.
This is just one of the many career ending challenges Leland has overcome in his life. Before becoming an astronaut Leland was drafted by the Detroit Lions in the 1986 College Draft to play professional football but a hamstring injury thwarted his NFL career with Detroit and then later with the Dallas Cowboys. Through determination and perseverance Leland ultimately traveled off-planet twice on Space Shuttle Atlantis to help construct the International Space Station, logging a over 565 hours in space. Leland is the only person drafted into the National Football League to have flown in space. The Pro Football Hall of Fame honored his athletic and academic accomplishments by placing his Detroit Lions jersey under glass in Canton, Ohio. Through these professional experiences working on high stakes teams he developed a deep and nuanced understanding of effective team dynamics.
Leland has a Bachelor of Science degree in chemistry and a master's degree in materials science engineering. He worked at NASA Langley Research Center in the area of nondestructive testing creating optical fiber sensors for measuring damage in aerospace vehicles resulting in publications in numerous scientific journals. After hanging up his space boots he was appointed head of NASA Education and served as the co-chair on the White House's Federal Coordination in Science, Technology, Engineering, and Mathematics (STEM) Education Task Force developing the nation's 5-year STEM education plan. Leland was the United States representative and chair of the International Space Education Board (ISEB), a global collaboration in space. He uses his life story as an athlete, astronaut, scientist, engineer, photographer, and musician to help inspire the next generation of explorers to pursue Science, Technology, Engineering, Art, and Mathematics (STEAM) careers. Leland was also recently seen as the host of the Lifetime competition series "Child Genius" and as a judge for ABC's robot competition series "BattleBots." He was featured on National Geographic's "One Strange Rock", hosted by Will Smith, where he explained how his brain repaired itself after an injury that left him deaf and almost stopped him from ever going to space. Leland was also a consultant for the second season of National Geographic's "Mars."
Leland holds four honorary doctorates for his service in education, the sciences, and philanthropy. He was chosen as an ICON MANN with Quincy Jones, Forrest Whitaker, Steve Harvey and 24 other men selected for their ability to inspire people of all ages through their vision and commitment to creating positive change throughout the world. Leland has been honored with the NFL Players Association "Award of Excellence" for inspiring athletes to pursue excellence on and off the field.
He has written a chapter on the power of visualization in Venus Williams' book "Come to Win." Leland has appeared on "Top Chef" as a celebrity judge and "Bizarre Foods with Andrew Zimmerman," while Cesar Milan helped him with his unruly pooch Jake on an episode of "The Dog Whisperer." He was featured in a Sci Fi Channel program documenting the making of the "Reach for the Stars" will.i.am song, which was transmitted to Mars and back to inspire students to pursue STEAM. After 24 years with NASA as a researcher, astronaut, and Senior Executive Service leader, Leland looks to share his stories of perseverance and excellence to inspire communities for lasting positive change.

In 2017, Leland released his memoir, "Chasing Space: An Astronaut's Story of Grit, Grace, and Second Chances." In "Chasing Space," Leland shares his personal journey from the gridiron to the stars, and examine the intersecting roles of community, perseverance, and grace that align to create the opportunities for success.
Reviews
Leland was a huge hit! His presentation was extremely well received (rave reviews in the chat room), and he did a great job with the Q&A. In whole, it wildly exceeded my expectations!
Experient
Leland captivated the audience and at various moments had them laughing, feeling inspired, close to tears, and motivated. I was blown away at how he was able to relate his stories to our program. It was a home run!
US Navy
Leland was such a pleasure to work with. He's so natural and brought such a great energy to this announcement.
Lockheed Martin
Leland Melvin was a sensation!! We have never had so many students and parents go to the stage afterwards to stand in line to say something to Leland. He connected with our students probably better than any speaker we have ever had!!! We couldn't be more pleased that Leland ended up our speaker!!!
Oklahoma Foundation of Excellence
Leland was phenomenal. He connected with the audience in a very special way. Honestly, blew me and everyone else away. I especially appreciated how he wove in Northwestern specific names, events and themes - all in an absolutely spot-on and accurate manner.
Northwestern University
We were delighted with Leland's presentation and participants were more impressed that he took the time to come to the dinner and socialize that evening. I hope that we will have the opportunity to work with Leland and you again.
Sterling Publishing
It was excellent. Leland was friendly and flexible and his speech was fantastic. The only speaker of the conference I saw get a standing ovation. Thank you.
National Association for Multi-Ethnicity in Communications
Mr. Leland Melvin was everything we had hoped. His slides were particularly valuable.
Central College
Aside from his remarkable story of overcoming adversity on the football field in his training to become a NASA Astronaut, personally I was blown away with Leland's infectious spirit and huge, humble heart.
Lipscomb Pitts Breakfast Club
Leland was beyond amazing! The conference ended this morning and our delegates were still buzzing about him. He was a perfect fit for our event. What an impressive story and what an incredible guy.
Building Owners & Managers Association
All I can say is wow! I can't imagine anyone more perfect than Leland for our event. He was intelligent, inspiring, charming, and humble. Everyone fell in love with him.
The College Board
Leland was an amazing speaker – the feedback that we received was absolutely outstanding. I'm certain I had at least 50 conversations where someone told me how inspired they were after hearing Leland.
Synergy Technical
Well, omg!  People can't stop talking about Leland.  People are stopping me in the hallway to say how inspiring he was, how humble he was, and how very much they liked him.
Telluride Ski Resort
The whole team learned so much from him. What a complete privilege it was to hear from Leland.
Accolade
For speaker-related inquiries, email speakers@caa.com, or send us a message using the form below.