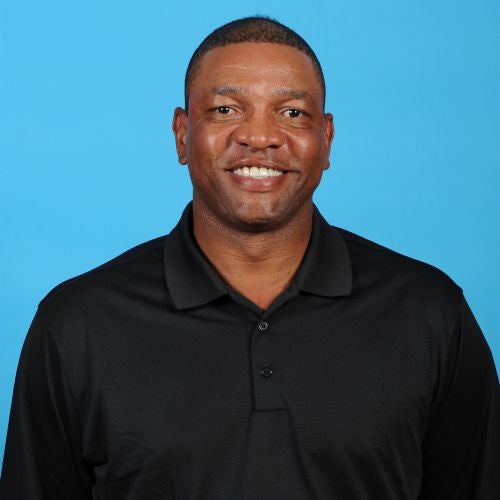 Inquire below to book
Doc Rivers
Head Coach, Philadelphia 76ers
At a Glance
Doc Rivers

: Biography at a Glance
Head Coach of the Philadelphia 76ers
Former Head Coach and President of Basketball Operations for the Los Angeles Clippers
Led the Boston Celtics to the 2008 NBA Championship
Named Coach of the Year in 2000 while Head Coach of the Orlando Magic
Previously played for the Atlanta Hawks, Los Angeles Clippers, New York Knicks and San Antonio Spurs
Works closely with the National Advisory Board for Positive Coaching Alliance
Biography
Doc Rivers is Head Coach of the Philadelphia 76ers. Prior to that, he was Head Coach and President of Basketball Operations for the Los Angeles Clippers.
Attending Marquette University on a basketball scholarship, he also represented the United States as a member of the 1982 FIBA World Championship team. Despite losing the title, Rivers was named MVP. After his third season with the Golden Eagles, he was drafted by the Atlanta Hawks. He managed to juggle his professional career while finishing his classwork and earned his degree in 1985. Over his thirteen seasons in the NBA, he also played for the Los Angeles Clippers, New York Knicks and San Antonio Spurs. He was named to the NBA All-Star team in 1988.
Three seasons after he retired he returned to the court as head coach of the Orlando Magic. In 2000, he was named Coach of the Year and went on to lead the Magic to three consecutive post-season appearances. After leaving the Magic he spent a year as a commentator for NBA on ABC. The following year he was hired as head coach of the Boston Celtics. In 2008, he had the best winning percentage which earned him the honor to coach the East for the All-Star Game. That same year he led the Celtics to the NBA Championship. He stayed in Boston until 2013 when he joined the Clippers. In his first season with the team, he achieved a franchise record 57 wins.
Rivers is a current member of the National Advisory Board for Positive Coaching Alliance, a nonprofit that helps student athletes and their coaches. He currently lives in Los Angeles with his wife and is the father of four children.
For speaker-related inquiries, email speakers@caa.com, or send us a message using the form below.