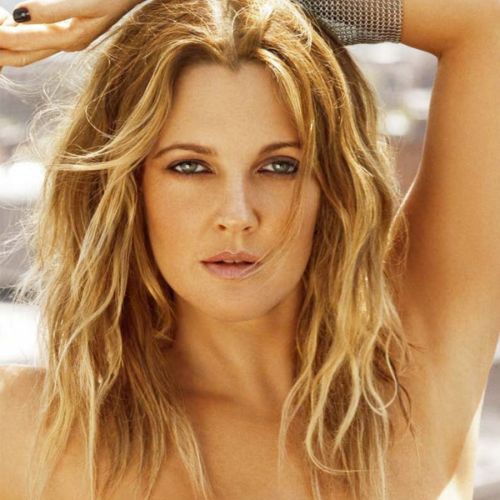 Inquire below to book
Drew Barrymore
Award-Winning Actress
At a Glance
Drew Barrymore

: Biography at a Glance
Drew Barrymore stars in the Netflix series "Santa Clarita Diet"
Known for her roles in "E.T. the Extra-Terrestrial," "Scream," "Charlie's Angels," "50 First Dates" and "The Wedding Singer"
Won a Screen Actors Guild Award and a Golden Globe for her role in "Grey Gardens"
Co-founded the production company Flower Films, which produced "Donnie Darko," "Fever Pitch," "He's Just Not That Into You" and other hits
Wrote the memoir "Wildflower"
Biography
Drew Barrymore, a successful actress since her feature film debut in Altered States at the age of 3, has been captivating movie-going audiences for more than three decades.
She released her first memoir about her life since age 14. Wildflower shares Drew's funny, insightful and heartfelt stories from her past and present told from the wonderful place of happiness she's achieved.
Drew recently added entrepreneur to her resume. She created Flower, an affordable makeup line sold throughout the United States and Canada.
Founded in 1995, her production company Flower Films has produced an impressive array of films with Drew's business partner and friend Nancy Juvonen; from edgier fare such as Donnie Darko, to major studio releases like the Charlie's Angels' films, which to date have grossed over half a billion dollars worldwide.
Her recent film credits include Blended, Going the Distance, Whip It, He's Just Not That Into You and Music and Lyrics. In 2010, she earned the Screen Actors Guild Award and Golden Globe for her portrayal of 'Little Edie' in Grey Gardens.
In 2005, Drew wrapped production on the romantic comedy Fever Pitch opposite Jimmy Fallon. Drew starred opposite Adam Sandler in the smash hit romantic comedy Fifty First Dates in 2004, a Flower Films and Happy Madison co-production, which to date has grossed almost $200 million worldwide. 2004 also brought Drew's directorial debut with The Best Place to Start, a documentary she also executive produced about the importance of youth voting.
In summer of 2003, Drew produced and starred with Cameron Diaz and Lucy Liu in Charlie's Angels: Full Throttle, the sly and sexy sequel to the blockbuster action-adventure-comedy hit Charlie's Angels.
In December 2002, she was seen in a cameo role in the cult classic Donnie Darko. The film, which she produced, starred Jake Gyllenhaal and Jena Malone and received three Independent Spirit Award nominations.
Prior to that, her 30th film was the romantic comedy Never Been Kissed, which marked the first production for Barrymore's Flower Films. The movie grossed $85 million worldwide and featured a stellar ensemble cast including David Arquette, Molly Shannon and John C. Reilly.
Barrymore also starred with Anjelica Huston in the hit Ever After. The film has grossed over $100 million in worldwide box-office. She then starred in the box-office hit Scream, featuring Courteney Cox and Neve Campbell.
Barrymore made her feature film debut in the 1980 film Altered States. Her next film was E.T. the Extra Terrestrial, where her portrayal of 'Gertie' earned her a Youth in Film Award and a BAFTA Award nomination for Most Outstanding Newcomer.
She went on to star in such films as Stephen King's Firestarter, Irreconcilable Differences, for which she received a Golden Globe nomination for Best Supporting Actress, and Stephen King's Cat's Eye, written especially for her, in which she played five different roles.
Throughout her career Drew has been dedicated to giving back. Since she was named an Ambassador Against Hunter for the UN Whole Food Programme, she has donated over $1 million.
For speaker-related inquiries, email speakers@caa.com, or send us a message using the form below.