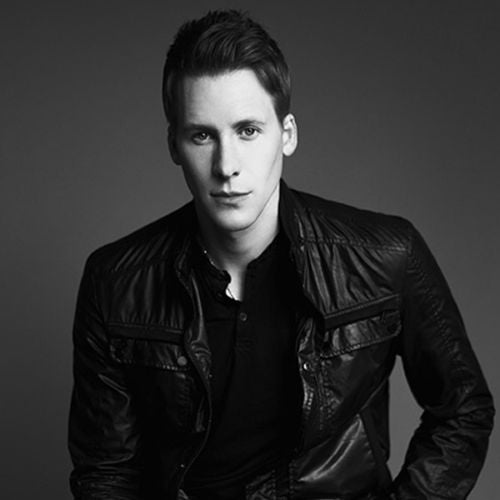 Inquire below to book
Dustin Lance Black
Academy Award-Winning Screenwriter, Milk
At a Glance
Dustin Lance Black

: Biography at a Glance
Won an Oscar and two Writers Guild of America Awards for best original screenplay for Milk
His book, Mama's Boy: A Story from Our Americas is a deeply personal memoir that explores the turmoil and division within his family as he revealed his identity
Founding board member of the American Foundation for Equal Rights
Created When We Rise, an ABC miniseries about the modern LGBT rights movement
American Film Festival's "10 Best of the Year" award winner for original screenplay J. Edgar
Named one of "40 under 40" and the "50 Most Powerful LGBT People in America Today" by Out Magazine
Playwright behind 8, based on the federal trial that led to the overturn of Proposition 8
Biography
Dustin Lance Black is an Academy Award® winning filmmaker, writer, and social activist.  He won the Oscar and two WGA Awards for his screenplay MILK, the biopic of activist Harvey Milk starring Sean Penn, and in 2018 received the Valentine Davies Award from the Writers Guild of America for his body of work.  Black was also a founding board member of the American Foundation for Equal Rights (AFER), which successfully led the federal cases for marriage equality in California and Virginia, putting an end to California's discriminatory Proposition 8.
Black's best-selling, award winning memoir MAMA'S BOY was released in 2019 by Knopf in the United States and in the UK by John Murray. Black is currently adapting Jon Krakauer's acclaimed book UNDER THE BANNER OF HEAVEN as a limited series for FX and Imagine Entertainment, and is developing MR. RUSTIN, a biopic about the esteemed civil rights organizer Bayard Rustin for Netflix and Higher Ground Productions.
In 2017 Black created, produced, and directed the ABC miniseries WHEN WE RISE, which chronicled the true stories of the personal and political struggles, setbacks, and triumphs of a handful of activists who pioneered the modern LGBTQ+ rights movement.  Among the series' many accolades, it took home the 2017 Palm Springs International Film Festival Audience Award as well as Outstanding TV Movie/Mini-Series at the 2018 GLAAD Media Awards.
In 2012, Black merged his creative and civil rights work with "8," a play based on the Federal Proposition 8 trial.  The play's casts have included George Clooney, Brad Pitt, Morgan Freeman, Jane Lynch, Martin Sheen, and John Lithgow.  "8" broke records when it was first broadcast live online from the Wilshire Ebel Theatre and has now been staged in eight countries and all fifty states with all proceeds benefiting LGBTQ+ equality efforts worldwide.
In 2011, Black earned his second "10 Best of the Year" award from the American Film Institute for J.EDGAR which starred Leonardo DiCaprio and was directed by Clint Eastwood.  From 2004-2008 Black drew on his Mormon upbringing in San Antonio as a writer and co-producer on HBO's Emmy® and Golden Globe® nominated drama BIG LOVE starring Bill Paxton.  During this period Black also penned the screenplay PEDRO, about the life and legacy of famed, openly gay, HIV positive Real World cast member Pedro Zamora.  The film premiered on MTV and VH1 in 2009 and earned Black his second WGA Award nomination.
In additions to his creative work, Black is one of the co-founders of the Uprising of Love Coalition that seeks to raise awareness of violence and discrimination committed against LGBTQ+ people in the global community.  Black also served three years on the board of the Trevor Project, a national LGBTQ youth crisis hotline, where he established a hotline in Harvey Milk's former camera shop on Castro Street in San Francisco.  And in 2009, Black was also one of a handful of organizers of the National Equality March where he demanded full federal LGBTQ equality before an audience of over 200,000 demonstrators on the steps of the Nation's Capitol.
An honors graduate of UCLA's School of Film and Television, Black began his career as an art director before moving into directing documentaries and commercials.  His documentaries ON THE BUS (2001) and MY LIFE WITH COUNT DRACULA (2003) led to producing and directing TLC and BBC's hit program FAKING IT which received notices for its unflinching sociological commentaries.
To date, Black has taught MFA screenwriting at UCLA, has lectured at a long list of international Universities including Oxford, Cambridge, USC, and Harvard, has appeared regularly on MSNBC, BBC, CNN, has had four books published, and has been named as one of the 50 most powerful LGBTQ+ people in America for the last decade now.
Reviews
Black provides a wholly engrossing account of how a mother and son evolved beyond their potentially divisive religious and political beliefs to uncover a source of strength and unity through their enduring bond.
Kirkus Reviews on "Mama's Boy"
It actually gave me hope for the future of the republic, which is no mean feat, given the dark mood of our current moment.
Jon Krakauer on "Mama's Boy"
Black seems incapable of writing a dull word as he evokes his stirring life and times, ultimately inspiring comity by word and example. His book belongs in every library.
Booklist on "Mama's Boy"
DLB was an absolute hit! I'm confident he was the highlight of the event.
Creative Republic
Lance was utterly amazing and the students were mesmerized. Lance is one of the most sincere and motivating people I've ever met from the entertainment industry. We were all so moved by his talks. Absolutely phenomenal. 
Emerson College
For speaker-related inquiries, email speakers@caa.com, or send us a message using the form below.