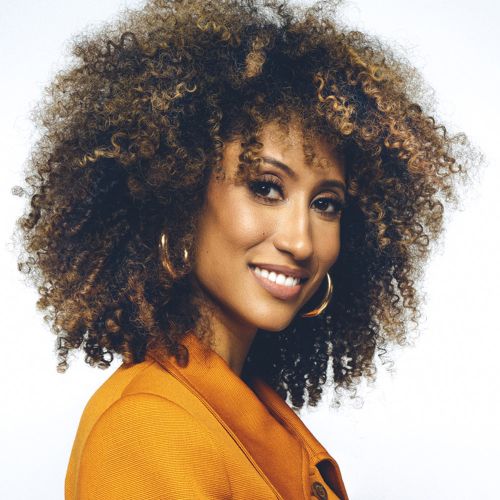 Inquire below to book
Elaine Welteroth
New York Times Bestselling Author, Award-Winning Journalist, Former Editor-in-Chief of Teen Vogue and Judge on the new Project Runway
New & Noteworthy
Elaine's book, "More Than Enough," became an instant New York Times bestseller
At a Glance
Elaine Welteroth

: Biography at a Glance
Elaine Welteroth is the former editor-in-chief of Teen Vogue, making her the second African-American in Condé Nast's 107-year history to hold such a title and the youngest in Condé Nast history to become editor
She is a  judge on Bravo's hit series, Project Runway

In 2020, Elaine was appointed as Cultural Ambassador for Michelle Obama's When We All Vote initiative

Her book, More Than Enough: Claiming Space for Who You Are (No Matter What They Say), became an instant New York Times bestseller
She is credited for the notable increase of Teen Vogue coverage of politics and social justice, encouraging readers to become civically engaged, specifically since the last presidential election
Biography
Elaine Welteroth is an award-winning journalist, author, and the former Editor-in-Chief of Teen Vogue. Throughout her magazine career Elaine broke new ground as the youngest person and the second African-American to hold this title in Condé Nast's 107-year history. Under her leadership, Teen Vogue notably increased coverage of news and politics, encouraging readers to become civically engaged, specifically during the 2016 U.S. presidential election. She's now a leading expert, advocate and voice for the next generation of change-makers. She has written for the hit show Grown-ish and has appeared on-camera for a range of media outlets including ABC News and Netflix. In 2020, Elaine was appointed as Cultural Ambassador for Michelle Obama's When We All Vote initiative.
Elaine is a San Francisco Bay Area native who currently resides in Brooklyn with her fiancé and is a proud volunteer at the Lower East Girls Club in New York City.
Reviews
Elaine Welteroth was an excellent, excellent host. She acted as the glue for the event through her engaging presence and oratory.
Google Soul Fest
She did a fantastic job and was an absolute pleasure on site! The YouTube team could not have been more excited!
YouTube
Elaine was amazing!  She is so authentic and personable. She is going to be a star!
LinkedIn
Our students absolutely loved Elaine. We had great attendance and saw that Elaine attracted a considerable cross section of undergraduate students and community members.
Ball State University
We're all still beaming from Elaine! She is absolutely wonderful.
Gilead Sciences Inc
Tonight was a home run. Elaine was absolutely wonderful. Her connection on stage with the audience was phenomenal and so genuine. 
iMentor
For speaker-related inquiries, email speakers@caa.com, or send us a message using the form below.