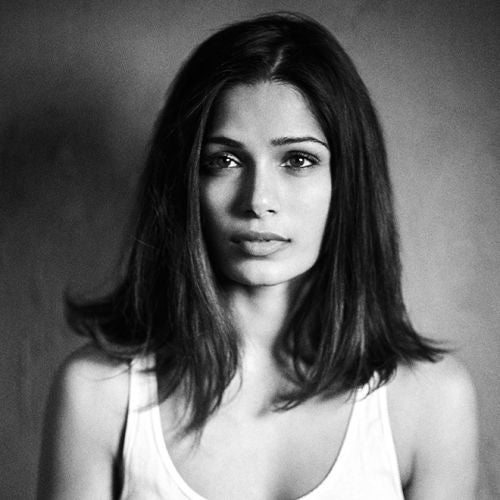 Inquire below to book Freida Pinto
Actress & Activist
Freida Pinto: Biography at a Glance
International actress and model who made her global breakthrough as the star of the award-winning film "Slumdog Millionaire"
Stars in the Showtime series "Guerrilla"
Credits include "Rise of the Planet of the Apes," "Immortals," "You Will Meet a Tall Dark Stranger," "Knight of Cups" and "Blunt Force Trauma"
Narrated the documentary, "Girl Rising," which tells the stories of nine girls from different parts of the world who face various heartbreaking injustices
Partnered with Copia to recover excess food waste from entertainment industry events and redistribute to those in need
Actress & Activist
After becoming a fixture on the big screen with the critically and commercially acclaimed Slumdog Millionaire, Freida Pinto quickly became an international film star and household name. She garnered international attention for her debut film role as 'Latika' in Slumdog Millionaire and was nominated for "Best Supporting Actress in a Motion Picture" for her role at the 2009 BAFTA Awards.
The film itself won 8 Academy Awards including "Best Motion Picture" and had another 100 wins and 51 nominations. Pinto can currently be seen opposite Idris Elba in John Ridley's series Guerrilla. The six-episode series focuses on a politically active couple who set out to change the world in 1970s London, airing on Showtime and Sky UK.
Most recently, Pinto was seen in Richard Raymond's Desert Dancer and Terence Malick's Knight of Cups. She will next be seen in Andy Serkis' Jungle Book, set for release by Warner Brothers on October 19, 2018, as well as the independent feature Love Sonia, expected to premiere later this year.
Previously, Pinto starred in The Weinstein Company's Miral. She can also be seen opposite James Franco in Rise of the Planet of the Apes, opposite Antonio Banderas in Black Gold and opposite Henry Cavill and Mickey Rourke in Immortals.
Other credits include Trishna from British director Michael Winterbottom, and You Will Meet a Tall Dark Stranger from director Woody Allen alongside Sir Anthony Hopkins, Naomi Watts and Josh Brolin.
In 2013, Pinto participated in the documentary Girl Rising which tells the stories of nine girls from different parts of the world who face various heartbreaking injustices. She continues to support the rights of young women through the organization The Girl Effect. Pinto recently partnered with Copia, an organization that targets food waste, to recover excess foods from big entertainment industry events and redistribute to those in need. This past Oscar Weekend, they were able to gather enough leftovers to feed over 1,100 people in the Los Angeles area.
Before hitting the big screen, Pinto made her mark anchoring Full Circle a travel show which was telecast on Zee International Asia Pacific. She went on assignments to Afghanistan, Thailand, Malaysia, Singapore, Indonesia and Fiji among other countries.
To book a speaker, or for more information, call 424-288-2898, or send us a message using the form below.