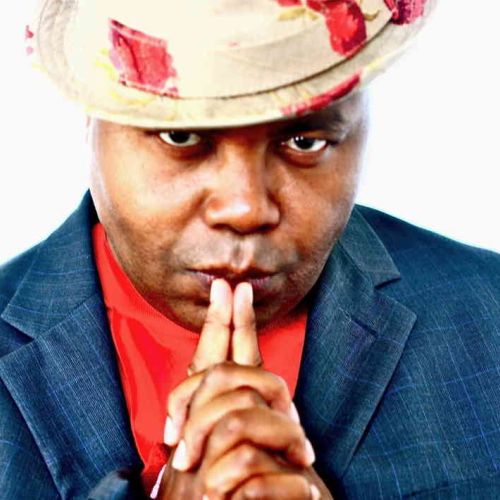 Inquire below to book
Glynn Washington
Host & Executive Producer of NPR's "Snap Judgment"
At a Glance
Glynn Washington

: Biography at a Glance
Host of the WNYC hit show "Snap Judgment," which airs on more than 360 NPR stations and is downloaded more than 3 million times a month
The traveling "Snap Judgment" show electrifies audiences nationwide, often sparking viral content
Credits his childhood, which he spent in an apocalyptic cult, for helping develop his sense of narrative
Biography
Before rocking storytelling as the host of WNYC / NPR's hit show Snap Judgment, Glynn Washington landed with his own story to tell.
A native of Detroit, Glynn was moved to an all-white, rural Michigan, farm town by his parents at an early age.  Washington and his family had fallen under the sway of a television evangelist, Herbert W. Armstrong, who preached that the "End of Days" was near.  Thus, they decided to await Jesus' return while assuming the humble occupation of farming.
Farm life did not prove financially successful for the Washington family; while they provided food for others, they sometimes did not even have food for themselves.  In response to their hunger, Washington quotes, "Our cult leaders told us not to worry about any of that because Jesus was gonna return soon and all of our troubles would be over."
Herbert Armstrong taught that the members of his church would leave their lives behind and flee to a "Place of Safety" in the caves of Petra, Syria while all others would be destroyed by the flame.  Washington credits his early religious training for helping develop his current sense of narrative.  He explains that "if you tell everybody that Jesus is coming next week, and Jesus doesn't show up—you've got some explaining to do.  That they kept missing dates, but still kept filling up the church every week is a testament to the power of storytelling."
Washington admits that he was a true believer until his late teens.  "Then [he] dug deeper into the doctrines and found a strong racist strain.  [Herbert W. Armstrong's Worldwide Church of God] taught that Black people were cursed by the Lord.  [Washington and his family] were a Black family living in a White Supremacist organization, and nothing could be more crazy. [He] fled."
Washington later attended the University of Michigan and received a fellowship to study in Japan, which he credits with changing his world view.  After studying Japanese language and culture, Washington returned to the University of Michigan to attend law school. He served briefly as a Junior Diplomat in Malaysia, and then started running various non-profit organizations.
He had long been a dedicated fan of NPR, and one day heard about a contest to find the next Public Radio Host.  Washington spent the entire night creating his two-minute entry to meet the 24 hour deadline.
About three months later, Washington got a call from someone saying that he was one of ten finalists nationwide in the Public Radio Talent Quest.  Initially, he thought the call was a prank by one of his friends but soon realized the call was no joke.  Washington went on to win the Public Radio Talent quest, and eventually launch the hit NPR show, Snap Judgment.
The "Powers-That-Be" did not expect the success that would soon emanate from the show.  Thus, they had a laissez-faire approach which allowed it to evolve organically.
Now broadcast broadcast on over 360 NPR stations nationwide, downloaded over three million times a month, with a traveling live stage show, and series of television specials, the Atlantic Magazine calls Washington, "the first African American host to swing a big cultural stick, the first who seems likely to become a public-radio superstar on the order of [Ira] Glass or Garrison Keillor." The traveling Snap Judgment LIVE Stageshow continues to electrify audiences nationwide, routinely sparking viral content.
For speaker-related inquiries, email speakers@caa.com, or send us a message using the form below.