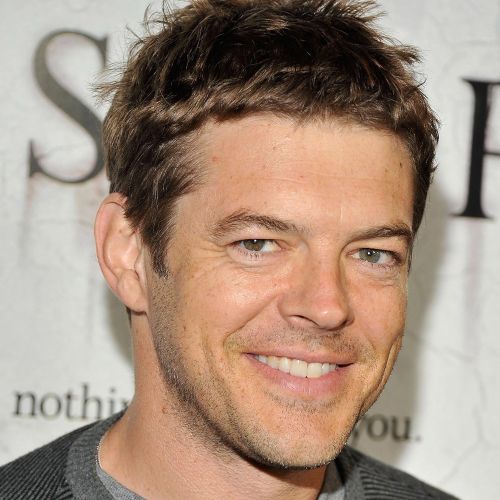 Inquire below to book
Jason Blum
Founder & CEO, Blumhouse Productions
At a Glance
Jason Blum

: Biography at a Glance
Producer of highly-profitable films including "Get Out," "The Purge," "Insidious," "Ouija" and the "Paranormal Activity" franchises, which have grossed more than $2 billion worldwide
His multi-media company, Blumhouse Productions, pioneered a new model of studio filmmaking: producing high-quality micro-budget films
Nominated for an Academy Award for producing Whiplash
Won Emmy's for producing HBO's "The Normal Heart" and "The Jinx" and two Peabodys for "The Jinx" and the documentary "How To Dance in Ohio"
Expanded Blumhouse's multi-platform offerings to include BH Tilt, Blumhouse Books, the digital genre network CryptTV, Blumhouse.com and Blumhouse Live
Named one of TIME magazine's "100 Most Influential People"
Biography
Jason Blum is an Academy Award-nominated and two-time Emmy and Peabody Award-winning producer. His multi-media company, Blumhouse Productions, pioneered a new model of studio filmmaking: producing high-quality micro-budget films. Blumhouse, which is in the midst of a ten year first look deal with Universal Pictures, has produced films like the highly profitable The Purge, Insidious, Ouija and Paranormal Activity franchises which have grossed more than $2 billion at the worldwide box office. Blumhouse's most recent film is M. Night Shyamalan's Split which has spent the past two weekends #1 at the North American box office grossing over $77 million. Blumhouse's next film is Jordan Peele's directorial debut Get Out which recently debuted at the Sundance Film Festival and has a 100% score on Rotten Tomatoes. The company's model began with the original Paranormal Activity, which was made for $15,000 and grossed close to $200 million worldwide, making it the most profitable film in Hollywood.
Blum, who was nominated for an Academy Award for producing Whiplash, was named to Vanity Fair's 2015 and 2016 New Establishment lists and received the Producer of the Year Award at CinemaCon in 2016.
In television, Blum won Emmys for producing HBO's The Normal Heart and The Jinx and two Peabodys- for The Jinx and the documentary How To Dance in Ohio. Blumhouse is currently producing Sharp Objects for HBO starring Amy Adams based on Gillian Flynn's bestselling novel and is serving as the studio for a limited series adaptation of Gabriel Sherman's acclaimed reporting on Roger Ailes, shepherded by Academy Award winner Tom McCarthy.
He was named one of TIME magazine's "100 Most Influential People."
Blumhouse has recently expanded its multi-platform offerings which include BH Tilt, a releasing label that takes advantage of new marketing strategies, Blumhouse Books, a publishing imprint with Doubleday, the digital genre network CryptTV, Blumhouse.com, a consumer-facing site for all things scary and Blumhouse Live which produces live scary events for companies like AB InBev.
Blum is a member of the Sundance Institute's Director's Advisory Group. Before Blumhouse, Blum served as co-head of the Acquisitions and Co-Productions department at Miramax Films in New York. He began his career as the producing director of the Malaparte Theater Company, which was founded by Ethan Hawke.
Reviews
Jason was a hit! This was confirmed by our senior leadership as well as our clients in attendance, and I was the beneficiary of many compliments throughout the rest of the conference. His business and marketing smarts, his style and unique perspective came across beautifully. The live interview format worked really well. We were relaxed and there was great audience engagement throughout, evidenced by strong questions at the end.
CEB Iconoculture
Thank you for a great event! Jason was fabulous. All the delegates, including the chairman, were extremely happy.
Zee Entertainment Enterprises
For speaker-related inquiries, email speakers@caa.com, or send us a message using the form below.