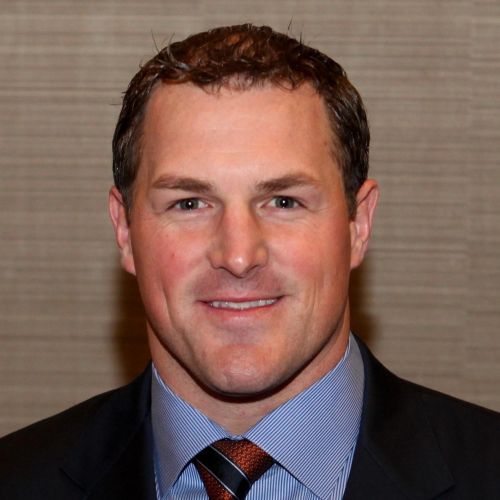 Inquire below to book
Jason Witten
Tight End, Dallas Cowboys
At a Glance
Jason Witten

: Biography at a Glance
Dallas Cowboys tight end, eight-time Pro Bowl selection and six-time NFL All-Pro
Second all-time in career receptions and receiving yards by a tight end
2012 Walter Payton NFL Man of the Year Award recipient
Launched Jason Witten's SCORE Foundation dedicated to assisting families of domestic violence
Biography
Jason Witten is a tight end for the Dallas Cowboys.
Since the start of his football career, Jason Witten was one of the top tight ends in the NFL and one of the most prolific pass-catchers in Cowboys history. A ten-time Pro Bowl selection and six-time NFL All-Pro, Witten's career receptions are the most ever among Cowboys tight ends, and the second-most in NFL history.
Jason is known nearly as well for his extensive charity work off the field. Jason and his wife Michelle, started Jason Witten's SCORE Foundation in 2007 and it has rapidly become one of the largest and most impactful foundations among NFL players. His foundation's work against domestic violence and to promote education in Texas and Tennessee won him the Home Depot Neighborhood MVP in 2008 and the Pro Football Weekly Humanitarian of the Year award in 2010. In 2012 he earned one of the NFL's top honors, the Walter Payton Man of the Year.
In 2008, Jason launched the Jason Witten SCOREkeepers program, which places positive male mentors on staff at six different family abuse shelters across Texas. In partnership with Boys & Girls Clubs, the foundation has opened Jason Witten Learning Centers in East Dallas and Elizabethton, Tennessee, and operates a youth wellness program called "Play.Move.SCORE" in Dallas and Fort Worth. Jason and Michelle also donated the Jason Witten Emergency Waiting Room at the Niswonger Children's Hospital in Johnson City, Tennessee.
Each June, Jason hosts his annual football camp in Elizabethton, Tennessee. The Jason Witten Football Camp is one of the nation's largest free football camps and attracts over 1,000 children from the area.
To book a speaker, or for more information, call 424-288-2898, or send us a message using the form below.