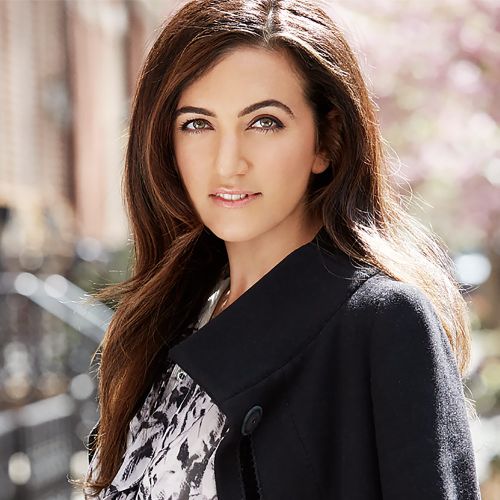 Inquire below to book
Jennifer Hyman
Chief Executive Officer & Co-Founder, Rent the Runway
New & Noteworthy
Jennifer Hyman is named one of TIME's 100 Most Influential People in 2019
At a Glance
Jennifer Hyman

: Biography at a Glance
Jennifer Hyman is the Chief Executive Officer and Co-Founder of Rent the Runway, an 11 million member startup that pioneered dynamic ownership in the fashion industry by enabling women to rent designer clothing.
Rent the Runway is one of only 20 female-led "unicorn" companies in the U.S. to achieve a $1B valuation.
Leads a team of 1800 people that is 93% female and non-white, honored as a top company to launch one's career and identified as one of "The Best Places to Work" in New York.
One of the most accomplished startup leaders in the U.S. having raised over $525M from top venture capitalists and honored with recognitions like the TIME "100 Most Influential People in the World", Forbes "12 Most Disruptive Names in Business", Fortune's "Most Powerful Female Entreprenuers", "Trailblazers", "40 under 40" and Fast Company's "Most Creative People in Business."
Under Jennifer's leadership, Rent the Runway has been named to CNBC's "Disruptor 50" and Fast Company's Most Innovative Companies list multiple times.
Frequent guest on television - The Today Show, Good Morning America, CBS This Morning, Fox Business and at major industry events and as a university lecturer.
Founded the Rent the Runway Foundation, a non-profit organization to empower and scale female entrepreneurs; serves on the Board of Directors of The Estee Lauder Companies,

 the Women.nyc Advisory Board, and is a Founding Member of the NYSE Board Advisory Council

. Advisor and Investor in many high-growth startups throughout U.S.
Biography
Jennifer Hyman serves as the CEO of Rent the Runway (RTR), which she co-founded in 2009 while a business student at Harvard. RTR is transforming the way modern women get dressed by enabling women to rent clothing. RTR has not only become a $1 billion business—a valuation fewer than 20 women-owned companies in the U.S. have ever reached—but also did so when Jennifer was nine months pregnant. Jennifer is a mission-driven leader and has built Rent the Runway from an idea into a high-growth company with one of the most beloved brands in the country.  Her proudest accomplishment has been to equalize benefits for her salaried and hourly workers and to become a national advocate of business leaders' responsibility to become moral leaders. Ms. Hyman serves on the Board of Directors of The Estée Lauder Companies and Zalando, and is a Founding Member of the NYSE Board Advisory Council, which champions increased board diversity.
Reviews
I wish all of our sessions could be like Jenn's. Members were super engaged and hovering into their cameras to listen -- nothing but positive feedback from them. 
World50
She exceeded our expectations in her keynote presentation to our 1,000+ participants and captivated the entire room. In fact, she was, hands-down, my favorite speaker to date.
Founder & CEO, Girls in Tech
Jennifer was FANTASTIC. Totally on point and in the end her presentation helped tie everything together. 
CESSE
Jennifer was great! The members had a great time thinking about supply chains from a disruptive point of view. Controversial in all of the right ways.
World50, Inc.
Jennifer was great! She was a real hit with our clients. We loved hosting her for our event.
Chase Bank
We loved having Jenn. Her message really resonated with our audience. She was a polished and poised speaker.
Northwestern Mutual
For speaker-related inquiries, email speakers@caa.com, or send us a message using the form below.