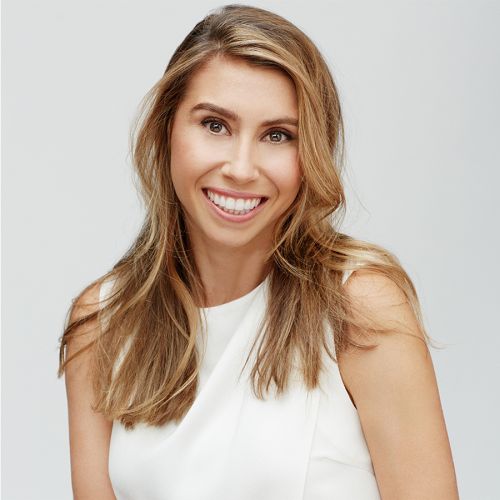 Inquire below to book
Jenny Fleiss
Co-Founder, Jetblack & Rent the Runway; Venture Partner, Volition Capital
At a Glance
Jenny Fleiss

: Biography at a Glance
Jenny Fleiss is the Co-Founder and Board Member of Rent the Runway, an 11 million-member startup that pioneered dynamic ownership in the fashion industry by enabling women to rent designer clothing. 
In 2021, Rent the Runway, one of only 20 female-led "unicorn" companies in the U.S. to achieve a $1B valuation, went public.
She is a Venture Partner at Volition Capital.
Co-Founder of Jetblack, the first start-up in Walmart's tech incubator, which reshaped the way consumers shop through one-to-one, highly personalized experiences.
Named one of Inc. Magazine's "30 Under 30," Fortune Magazine's "40 Under 40" and "Most Powerful Women Entrepreneurs" and Fast Company's "Most Influential Women in Technology."
Jenny uses her career experience to speak to business trends as well as entrepreneurship, Intrapreneurship, and Machine Learning
Biography
Jenny Fleiss is an entrepreneur and intrapreneur, founding two scaled digitally native businesses from scratch: Rent the Runway and Jetblack. She is a Venture Partner at Volition Capital.
Jetblack was the first portfolio company within Walmart's technology incubator, disrupting traditional ecommerce with a personal shopping service over text message and voice. Previously, Jenny co-founded Rent the Runway, a business that has transformed the retail industry by making designer clothing rentals a convenient and accessible luxury experience for millions of women. During her time at Rent the Runway, Jenny wore many different hats, serving as President, Head of Logistics, and Head of Business Development. Jenny remains a Rent the Runway board member and adviser, a board member of Shutterfly, and an adviser to and investor in various businesses, many with female founders. She is Co-founder of the RTR Foundation, and guest lecturer at various universities and professional forums.
Jenny has been honored with numerous recognitions including Inc. Magazine's "30 Under 30"; Fortune Magazine's "40 Under 40" and "Most Powerful Women Entrepreneurs"; and Fast Company's "Most Influential Women in Technology."
She earned her MBA from Harvard Business School and graduated Cum Laude from Yale University. She currently resides in New York City with her husband and three children.
Reviews
Jenny was wonderful on stage and we appreciate her coming to the estate dinner. We've been so thrilled by the event and everything has gone smoothly!
Lexus
Jenny knocked her presentation out of the park! It resonated extremely well with our employee audience and she was an absolute delight to work with!
Maritz
The event was awesome!! We love Jenny. She was great!
Dell
The event went so incredibly well! Jenny really just knocked her talk out of the park. I didn't meet a single person there that didn't mention how incredible she was. Thanks again for all your help with this!
Tedco
Jenny was absolutely great! She is a total pro and genuinely sweet, all around. Everyone was very impressed.
WhoSay Inc.
Jennifer was so nice and easy to work with. Her presentation was spot on with our audience. It was exactly what our members wanted to hear and she nailed it.
International Council of Shopping Centers, Inc.
She's amazing. She hits so many hot buttons I can't even begin to count them - plus she's super personable.
Rave Speakers
Jenny was AMAZING!! She definitely set the bar for our event next year.
TEMPO Milwaukee
She was amazing! Everyone was singing her praises.
Madison Square Garden
For speaker-related inquiries, email speakers@caa.com, or send us a message using the form below.