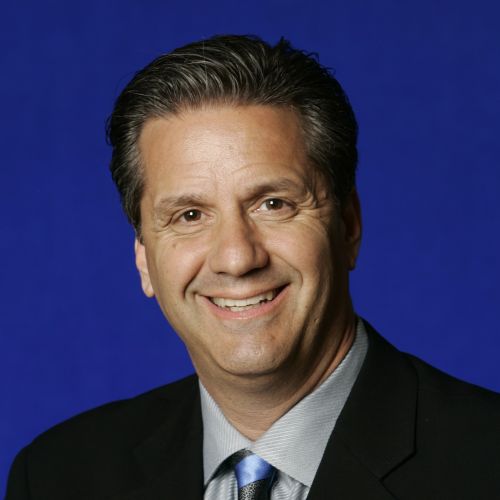 Inquire below to book John Calipari
Head Basketball Coach, University of Kentucky Wildcats
John Calipari: Biography at a Glance
Head coach of the 2012 NCAA champions, the University of Kentucky Wildcats
The second coach in NCAA history to bring three different teams to the Final Four
One of just three coaches ever to make four Final Fours in a five-year span
Inducted into the Naismith Memorial Basketball Hall of Fame in 2015
Author of "Players First" and "Success Is the Only Option"
Biography
A "players-first" coach with a penchant for helping people reach their dreams, John Calipari, a Naismith Memorial Basketball Hall of Famer, has guided six teams to the Final Four, led one to a national championship and helped 39 players earn selection in the NBA Draft during his 24-year college coaching career.
From UMass to Memphis and now Kentucky, Calipari's career has been successful throughout, but his most recent run in Lexington has been the best stretch of his career.
In advancing to the 2015 Final Four, Coach Cal became one of just three coaches all-time to make four Final Fours in a five-year span, joining Mike Krzyzewski and John Wooden as the other coaches to achieve that feat. Twice at UK (in 2012 and in 2015) his teams have won 38 games, tying his 2008 Memphis team for the most wins in college basketball history.
At the end of the 2014-15 season, Calipari became the 96th coach to join the Naismith Memorial Basketball Hall of Fame, considered to be one of the ultimate achievements in the game.
John Calipari won his first national championship in 2012. Calipari reached the mountaintop in his third year in Lexington, guiding Kentucky to its eighth national championship and his first national title. He is one of only two coaches to lead three different schools to a Final Four (UMass-1996; Memphis-2008; Kentucky-2011, 2012, 2014, 2015).
The Wildcats rode the trademark hard-nosed Calipari defense to the 2012 title, finishing the season as the nation's top-ranked team in field-goal percentage defense and blocked shots.
Kentucky lost three members of its 2011 Final Four team (two to the draft, one to graduation), but Calipari reloaded with the nation's top-ranked recruiting class for the third straight season. Included in the class were eventual National Player of the Year Anthony Davis and All-American Michael Kidd-Gilchrist.
En route to the national championship, Calipari guided the Wildcats to an NCAA record-tying 38 wins, a perfect 16-0 mark in the Southeastern Conference and an SEC Tournament championship, all while extending his winning streak in Rupp Arena to 51 straight games. Calipari later extended his perfect mark at home as UK's coach to 54 games before finally losing in his fourth year at Kentucky.
The honors continued after the 2009-10 season as Calipari became the first coach in UK history to receive the Adolph Rupp National Coach of the Year award. He then watched as five of his players were selected in the first round of the 2010 NBA Draft, the first time a school has ever produced five first-round picks in a single draft. Among those picks was the first Wildcat ever taken as the No. 1 overall pick, John Wall.
Calipari's foundation, The Calipari Foundation, has raised millions of dollars to help the lives of those in need in the Commonwealth and across the country, and in 2010, he used a telethon to raise more than $1 million for victims of the devastating earthquake in Haiti. He followed that up with another telethon in 2012 that raised $1 million for victims of Superstorm Sandy.
Author of five books, including the New York Times bestseller Players First: Coaching from the Inside Out and his latest Success is the Only Option: The Art of Coaching Extreme Talent, Calipari is a master of communication and maximizing talent. He lives by the motto "that it's never a matter of how far you have fallen, but instead it's about how high you bounce back."
"Coach did an awesome job and really connected with our team and delivered exactly what we were looking for about leadership."

Davis H. Elliot Company, Inc.
"Coach was amazing. He was engaging, personal, took his time, motivation, and effective. I'd be happy to give a recommendation to anyone thinking about bringing him in as a speaker."

Power Home Remodeling Group
To book a speaker, or for more information, call 424-288-2898, or send us a message using the form below.