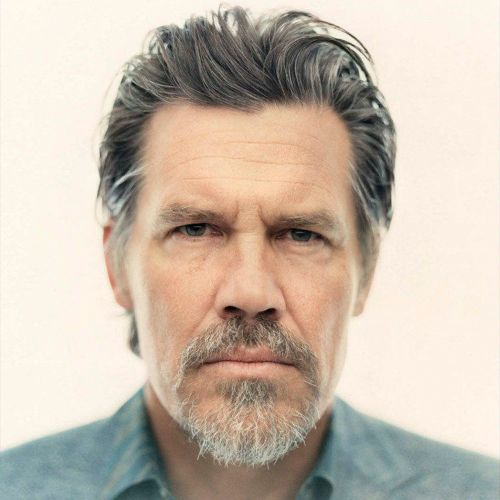 Inquire below to book
Josh Brolin
Academy Award-Nominated Actor 
At a Glance
Josh Brolin

: Biography at a Glance
Starred as super-villain 'Thanos' in Avengers: Infinity War
Starred opposite Ryan Reynolds in the highly anticipated sequel Deadpool 2, starring as 'Deadpool's' nemesis 'Cable'
Starred in Sicario: The Day of the Soldado, which he reprised his role as special agent 'Matt Graver' 
Starred in the Coen Brothers' True Grit, which was nominated for 10 Academy Awards including Best Picture
Nominated for an Academy Award, a Screen Actors Guild Award, and received awards from the New York Film Critics Circle and the National Board of Review for his portrayal of Dan White in Gus Van Sant's acclaimed film Milk
Earned a Screen Actors Guild Award as part of an ensemble for his work in the Coen Brothers' No Country for Old Men, which won four Academy Awards, including Best Picture and Best Director
Biography
Academy Award nominated actor Josh Brolin is one of Hollywood's top leading men who continues to balance challenging roles in both mainstream studio productions as well as thought-provoking independents. 
He starred as super-villain 'Thanos' in Avengers: Infinity War, which was released by Disney in April 2018. He then starred opposite Ryan Reynolds in the highly anticipated sequel Deadpool 2, starring as 'Deadpool's' nemesis 'Cable'. He also starred in Sicario: The Day of the Soldado, which he reprised his role as pragmatic special agent 'Matt Graver' opposite Benecio Del Toro's mercurial 'Alejandro'. The original film, which also starred Emily Blunt and was directed by Denis Villeneuve, was nominated for three Academy Awards.
Other recent credits include Joseph Kosinski's film Only the Brave, the true story of the Granite Mountain Hotshots, Joel and Ethan Coen's comedy Hail, Caesar!, opposite George Clooney, Channing Tatum, and Tilda Swinton; Everest, opposite Jake Gyllenhaal, Jason Clarke, and John Hawkes. Based on the book Into Thin Air, the film recounts the devastating events which occurred as a group of hikers attempted to conquer that summit in 1996; Robert Rodriguez & Frank Miller-directed Sin City 2: A Dame To Kill For; Paul Thomas Anderson's Inherent Vice, an adaptation of the Thomas Pynchon detective novel of the same name alongside an all-star cast including Joaquin Phoenix, Reese Witherspoon, and Owen Wilson.
He starred in the Coen Brothers' True Grit, which was nominated for 10 Academy Awards including Best Picture, and Oliver Stone's Wall Street: Money Never Sleeps opposite Shia LaBeouf and Michael Douglas.  He received rave reviews for his portrayal of George W. Bush in Oliver Stone's biopic, W. 
In 2008, Brolin was nominated for an Academy Award, a Screen Actors Guild Award, and received awards from the New York Film Critics Circle and the National Board of Review for his portrayal of Dan White in Gus Van Sant's acclaimed film Milk. 
Prior to that, Brolin earned a Screen Actors Guild Award as part of an ensemble for his work in the Coen Brothers' No Country for Old Men, which won four Academy Awards, including Best Picture and Best Director. Additionally, Brolin starred in Ridley Scott's blockbuster American Gangster and was nominated for a Screen Actors Guild Award as part of this ensemble.
Other film credits include: Labor Day directed by Jason Reitman; Spike Lee's Old Boy; Gangster Squad; Men in Black 3; Planet Terror; part of the critically acclaimed Quentin Tarantino and Robert Rodriguez double feature, Grindhouse; You Will Meet a Tall Dark Stranger opposite Anthony Hopkins and Naomi Watts; In the Valley of Elah; John Stockwell's Into the Blue; Victor Nunez's Coastlines; Paul Verhoeven's blockbuster hit, Hollow Man; Scott Silver's Mod Squad; Ole Bornedal's psychological thriller Nightwatch; Best Laid Plans opposite Reese Witherspoon, produced by Mike Newell; All the Rage; and Guillermo Del Toro's science-fiction thriller, Mimic.  Brolin also received recognition from critics and audiences in David O. Russell's Flirting with Disaster, portraying a bisexual federal agent alongside an outstanding ensemble cast led by Ben Stiller.  Brolin made his feature film debut starring in the action-comedy classic Goonies, directed by Richard Donner for producer Steven Spielberg.
On television, Brolin made his mark as a series regular in the popular ABC series "The Young Riders," as well as "Private Eye" for NBC and "Winnetka Road" for CBS. Brolin also received critical praise in the TNT epic miniseries Into the West, opposite Beau Bridges, Gary Busey and Jessica Capshaw. In addition, Brolin starred in the title role of NBC's acclaimed political drama, Mr. Sterling.
As a producer, Brolin joined Matt Damon, Chris Moore, Anthony Arnove, and Howard Zinn, in a documentary entitled The People Speak, based on Zinn's influential 1980 book A People's History of the United States. The film, which aired on the History Channel in 2009, looked at America's struggles with war, class, race, and women's rights, and featured readings by Viggo Mortensen, Sean Penn, and David Strathairn, among others.  Brolin made his directing debut in 2008 with a short-entitled X, which he also wrote and produced. It premiered at the Santa Barbara International Film Festival before screening at such festivals as South by Southwest and the AFI Dallas Film Festival.
For speaker-related inquiries, email speakers@caa.com, or send us a message using the form below.