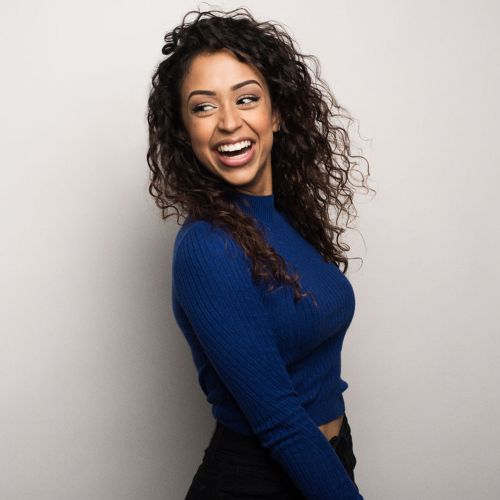 Inquire below to book
Liza Koshy
Actress & YouTube Personality
At a Glance
Liza Koshy

: Biography at a Glance
On YouTube alone, she grew her audience from a few thousand subscribers to over 14M; with over 1.5B total views on her channel – an unprecedented growth rate by YouTube standards
Host of the game show "Double Dare" on Nickelodeon
Liza has broken into the world of film and television as one of the young stars in Tyler Perry's Boo! A Madea Halloween which was the #1 film in the country for two weekends in a row
Starred as Violet Adams in the Hulu Original series Freakish
Liza made Teen Vogue's list of "The 7 Female Comedians You Need to Know" and is named as Variety's 2016 "Up Next Honoree" in their Youth Impact Report
She has partnered in successful campaigns with brands like Nike, Beats by Dr. Dre and M&M's
Biography
Hailing from Houston, Texas, Liza Koshy describes herself as "just a little brown girl with big dreams" (she is half Indian and half Caucasian), but she is just being modest. Liza is beautiful, diverse and incredibly talented.  Her relatable comedic sensibility, characters and physical comedy have made her one of the industry's hottest stars.  The growth and momentum across all of her social media platforms has been meteoric.
On YouTube alone, she grew her audience from a few thousand subscribers to over 14M; with over 1.5B total views on her channel – an unprecedented growth rate by YouTube standards.   In addition to her success in digital, Liza has broken into the world of film and television as one of the young stars in Tyler Perry's BOO! A MADEA HALLOWEEN which was the #1 film in the country for two weekends in a row.  She is also the lead in the Hulu Original series Freakish.  Liza made Teen Vogue's list of "The 7 Female Comedians You Need to Know" and is named as Variety's 2016 "Up Next Honoree" in their Youth Impact Report.  She has also partnered in successful campaigns with brands like Nike, Beats by Dr. Dre and M&Ms.
Reviews
Liza was an absolute superstar! Amazing energy! 
Informa
For speaker-related inquiries, email speakers@caa.com, or send us a message using the form below.