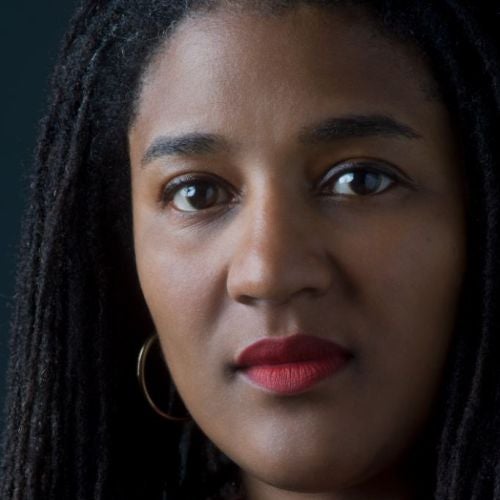 Inquire below to book
Lynn Nottage
Pulitzer Prize-Winning Playwright
At a Glance
Lynn Nottage

: Biography at a Glance
Writer of the internationally produced, Pulitzer Prize-winning plays "Ruined" and "Sweat"
The first female playwright to win the Pulitzer Prize for drama twice
Other plays include "Sweat"; "By The Way," "Meet Vera Stark," "Apparel," "Fabulation, or The Re-Education of Undine," "Crumbs From the Table of Joy," "Las Meninas," "Mud, River, Stone," "Por'knockers" and "Poof!"
Co-founder of the film production company Market Road Films, which produced "The Notorious Mr. Bout," "First to Fall" and "Remote Control"
Recipient of a MacArthur "Genius Grant," a Steinberg "Mimi" Distinguished Playwright Award and a Hull-Warriner Award
Biography
Lynn Nottage is a Pulitzer Prize-winning playwright and a screenwriter. She is the first female playwright to win the Pulitzer for Drama twice. Her plays have been produced widely in the United States and throughout the world. They include Sweat, currently on Broadway (Pulitzer Prize), By The Way, Meet Vera Stark (Lily Award, Drama Desk Nomination), Ruined (Pulitzer Prize, OBIE, Lucille Lortel, New York Drama Critics' Circle, Audelco, Drama Desk, and Outer Critics Circle Award), Intimate Apparel (American Theatre Critics and New York Drama Critics' Circle Awards for Best Play), Fabulation, or The Re-Education of Undine (OBIE Award), Crumbs from the Table of Joy, Las Meninas, Mud, River, Stone, Por'knockers and POOF!. She is currently developing a new play and multimedia performance installation based on two years of research and interviews conducted in Reading, PA. (w/ Oregon Shakespeare, Arena Stage & Labyrinth Theatre Company). In addition, she is working with composer Ricky Ian Gordon on adapting her play Intimate Apparel into an opera (commissioned by The Met/LCT).
She is the co-founder of the production company, Market Road Films, whose most recent projects include The Notorious Mr. Bout directed by Tony Gerber and Maxim Pozdorovkin (Premiere/Sundance 2014), First to Fall directed by Rachel Beth Anderson (Premiere/ IDFA, 2013) and Remote Control (Premiere/Busan 2013- New Currents Award) Over the years, she has developed original projects for HBO, Sidney Kimmel Entertainment, Showtime, This is That and Harpo. She recently finished working on Spike Lee's new Netflix series She's Gotta Have It.
Nottage is the recipient of a MacArthur "Genius Grant" Fellowship, Steinberg "Mimi" Distinguished Playwright Award, the Dramatists Guild Hull-Warriner Award, the inaugural Horton Foote Prize, Lilly Award, Helen Hayes Award, the Lee Reynolds Award, and the Jewish World Watch iWitness Award. Her other honors include the National Black Theatre Fest's August Wilson Playwriting Award, a Guggenheim Grant, PEN/Laura Pels Award, Lucille Lortel Fellowship and Visiting Research Fellowship at Princeton University. She was most recently named to Variety's 2017 Women's Impact Report. She is a graduate of Brown University and the Yale School of Drama, where she has been a faculty member since 2001. She is also an Associate Professor in the Theatre Department at Columbia School of the Arts.
Nottage is a board member for Theatre Communications Group, BRIC Arts Media Bklyn, Donor Direct Action, Second Stage, The New Black Fest, and the Dramatists Guild. She recently completed a three-year term as an Artist Trustee on the Board of the Sundance Institute.
Reviews
She was fabulous—thoughtful, inspiring, engaging! There was a wonderful sense of excitement and inspiration in the crowd. She addressed the audience questions deftly and thoughtfully. So many people came up to me after the talk to tell me how much they enjoyed and appreciated all that she had to say. From our perspective—it was a tremendous success.
University of Texas
Absolutely FABULOUS...she blew the audience away! It was one of those programs that people will be talking about for years!
YWCA
The students loved Lynn! She was so generous with her knowledge! We are so grateful and honored!
Stanford University
It was a wonderful event: Lynn gave a smart and impassioned introduction to the scene reading, the actors had all the beats down and read their parts movingly, and the Q & A after was elevated by thoughtful questions from the audience. The rest of the day went great as well. Lynn was fabulous with the students, both grad and undergrad. All in all, a terrific event! Thanks for all CAA's help.
University of Minnesota
Our event went very smoothly, and Lynn was great. She gave a very passionate talk about the importance of the arts as a means of bridging differences. It was well received by the students and faculty. I especially appreciated that she was so approachable to the students and so patient answering their questions.
Lafayette College
Lynn was totally, totally wonderful, and the panel was fantastic! Thank you for all your help!
Silver Eye
For speaker-related inquiries, email speakers@caa.com, or send us a message using the form below.