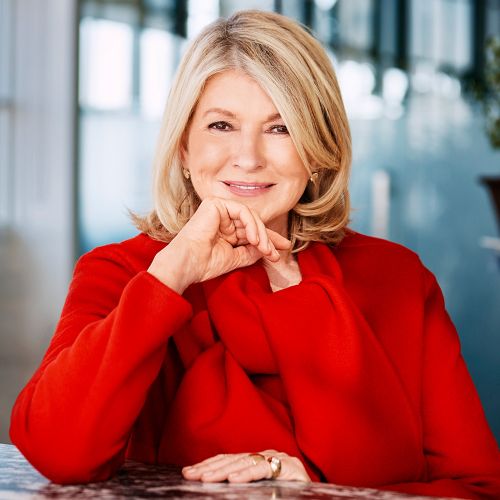 Inquire below to book
Martha Stewart
TV Personality; Founder, Martha Stewart Living Omnimedia
At a Glance
Martha Stewart

: Biography at a Glance
Martha Stewart is an Emmy Award-winning television show host, entrepreneur and best-selling author, and Founder of Martha Stewart Living Omnimedia
Author of over 94 lifestyle books, including the bestsellers Martha Stewart's Baking Handbook, Martha Stewart's Homekeeping Handbook and Martha Stewart's Cooking School
Martha Stewart Living Omnimedia, which was founded in 1996, reaches approximately 66 million consumers across all media platforms each month and has a growing retail

 

presence with 8,500 products in thousands of retail locations
Named one of Forbes' "100 Greatest Living Business Minds" in 2017

Reaching more than 100 million devoted fans on a monthly basis through her magazines, television shows, books, digital platforms, and products for the home
Biography
Martha Stewart is an entrepreneur, bestselling author of 94 lifestyle books,  Emmy Award-winning television show host, and founder of the first multi-channel lifestyle company, Martha Stewart Living Omnimedia. Reaching more than 100 million devoted fans on a monthly basis through her magazines, television shows, books, digital platforms, and products for the home, Martha is America's most trusted lifestyle expert and teacher. The Martha Stewart brand provides trusted, reliable, and useful information on all aspects of everyday living - cooking, entertaining, gardening, home renovating, collecting, organizing, crafting, healthy living, holidays, weddings and pet care. Her branded products can be found in tens of millions of homes and in thousands of retail locations and online outlets.  
Reviews
She was fantastic! The group loved her. Really funny and genuine. Thanks for your help!
ChannelAdvisor Corporation
Martha did a great job! She's smart & funny. I enjoyed, & the crowd did as well.
Infor
For speaker-related inquiries, email speakers@caa.com, or send us a message using the form below.